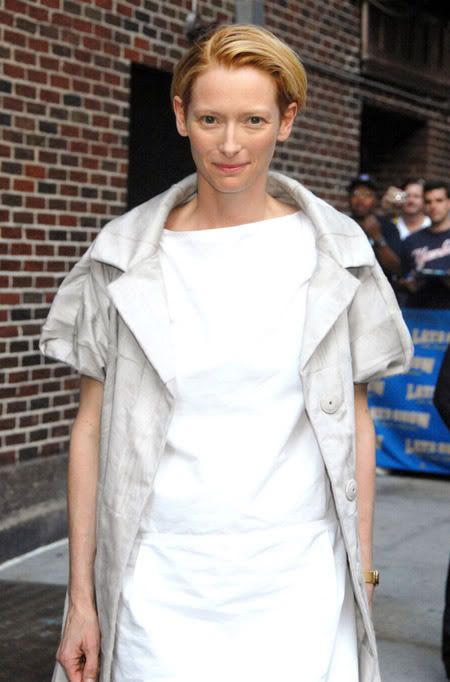 Actress Tilda Swinton, 47, has a very amusing interview with Newsweek in which she kind of jokes around with the journalist, telling him she's naked and acknowledging the rumors that she's really a guy in disguise. She says that after she won the Oscar for best supporting actress for last year's Michael Clayton she decided to give it to her agent. An Oscar isn't that big of a deal in her household, she explains:
One of your fans writes about you online, "This dude is my favorite actor."
Really? It's a very nice compliment to be called a dude.

Is it true you don't like wearing makeup?
Well, I mean, I love wearing makeup. But if you want to look like yourself, it's not such a good plan. You end up looking like someone else.

Are you wearing makeup now?
Right now? Not a stitch. I'm not actually wearing any clothes right now. The man who's driving the car is enjoying this very much. No, he's enjoying the joke. There isn't time. Think how much time it takes people to get made up.

I wouldn't know. I'm a guy.
Well, so am I, then. And there are people who think I am.

Where's your Oscar?
I gave it away to my agent.

Did you even keep it for a night?
I took it to Scotland, as some kind of proof mechanism, and everybody got bored with it after four or five hours.

Why?
Believe it or not, I feel it's almost sacrilegious to say this, it really doesn't mean that much to people where I live. In my house, they don't even recognize the shape of it. We don't even have a television. They were kind of intrigued with it, like they'd be intrigued if you had come in with a cucumber and put it on the table, and say, "This is interesting."
[From Newsweek via Huffington Post]
Swinton definitely is a character and you can tell she doesn't take herself too seriously – kind of like George Clooney. No wonder those two get along so well.
Earlier this year there were stories about Swinton's relationship with a 29 year-old German artist who has been photographed accompanying her on the red carpet and at events. She still lives with the father of her 10 year old twins, a 48 68 year-old painter named John Byrne. Byrne is said to be ok with the situation, and Swinton's younger lover has even been seen visiting the family home in Scotland. No wonder people joke that she's a dude. There are plenty of men who would love to get away with Swinton's arrangement.
Swinton stars with George Clooney, Brad Pitt, John Malkovich and Frances McDormand in Burn After Reading, which is currently number one at the US box office after its opening weekend.
Swinton is shown outside The Late Show on 9/3/08. Credit: Patricia Schlein/WENN