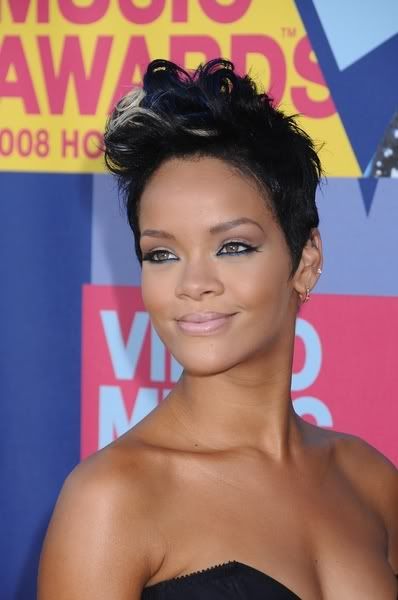 Last summer Rihanna told Maxim Magazine's German edition that she'd never been drunk in her life. She was asked "Did you ever get wasted?" and replied "I do like to go out. Here in Europe I [am] allowed to drink alcohol. I never have been really drunk. One, two cocktails, that's it." Rihanna is 20 years old and was 19 when that interview was conducted. The singer is from Barbados, where the drinking age is 18 but younger teens are allowed to drink when they're with their parents.
Rihanna changed her story in a recent interview, saying she did get drunk as a young teen, but she added that she "wasn't exactly in Amy Winehouse mode." Rihanna's father was addicted to crack when she was a child and she's admitted in the past that seeing her father in that state was a powerful lesson:
Rihanna spent her time as a teenager in Barbados getting drunk with her friends — but insists she never "went over the top" like Amy Winehouse.

"I'd go out and get drunk, but that's what teenage girls do in Barbados," the singer, 20, says of her rebellious phase at the age 14.

"The country's pretty laid-back about the legal age for drinking. But I never went too over the top," she tells Britain's Live magazine.

"I wasn't exactly in Amy Winehouse mode. I'd seen what alcohol and drugs had done to my dad and I wasn't going to follow in his footsteps. I knew my limits when I was a kid and I still do.

"If I go to a club, I go for the sounds. I go out to have fun, to dance and laugh at people fighting or dressed like whores. I might have a few drinks, but I don't get tipsy too easily. I don't ever get to the point where I want to throw up, can't stand up straight or say things I'm likely to regret in the morning."
[From Showbizspy via Gossip Rocks]
A lot of teenagers do that, but why did she say she'd never been drunk before? The original "I never have been really drunk" article was in German but my husband translated it for me and that's exactly what she said unless she was misquoted. Maybe by really drunk she meant falling down, but her definition seems to have changed. It's also pretty rude to use a notorious addict and fellow singer as a comparison.
Rihanna had another recent interview in which she skirted the issue of whether she's broke or not. Her ex business manager claimed that Rihanna only had $20,000 to her name after her other manager invested all her money into her career and music videos. Rihanna said she "stays on top" of her money but didn't really acknowledge the rumors:
"I get business reports all the time because it's my money. And I stay on top by living it, breathing it, thinking about it every day and every night."
[From ONTD]
So she admits that she's consumed by the situation whatever it may be. Rihanna must be so busy thinking about her money that she doesn't remember what she was up to a few years ago.