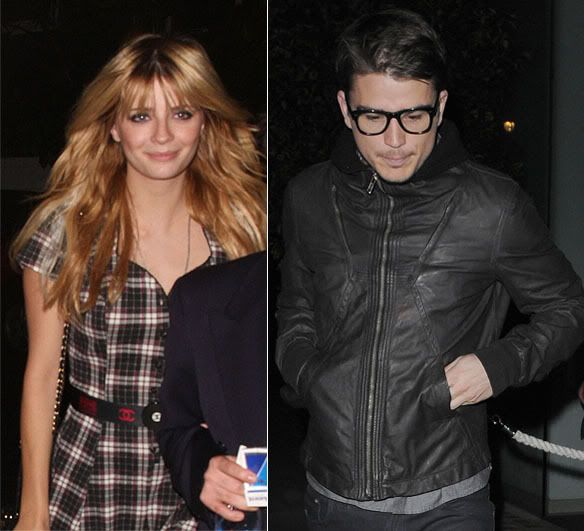 The Daily Mail is reporting that Mischa Barton was "desperate to impress" Josh Hartnett when she ran into him at a London club on Monday. The way they tell the story, Mischa practically threw herself at Josh and he only gradually came around to the idea. In their first description of what went down, they say Mischa went back with Josh to his hotel and then left after an hour, but later on in the story they admit that Mischa and Josh were with a group of people so it's likely they just all hung out together and this story is overblown. Mischa is newly single after breaking up with her boyfriend of seven months, Rooney singer Taylor Locke.
Mischa, who recently split from musician boyfriend Taylor Locke is clearly keen to put the past behind her.

Hollywood ex-pats Mischa Barton and Josh Hartnett hooked up at nightclub Bungalow 8 and later shared a ride to his London hotel

Not to suggest that anything happened between the extremely good-looking and single pair – and Mischa did trundle back to her own hotel an hour later.

The actress, 22, looked desperate to impress Josh at the Temperley afterparty at Bungalow 8 when she arrived at 11pm.

Hartnett, whose screen credits include Pearl Harbor, is in London to play Charlie Babbitt in the Apollo Theatre's production of Rain Man…

Josh, 30, was sitting with Kings Of Leon drummer Nathan Followill and seemed more interested in his conversation than the strutting beauty…

Later, in the toilets, Nathan was overheard warning Josh off Mischa. The source added: 'Nathan told him that he thought she talks too much.'

At any rate, Josh mustn't have listened to his pal's opinion, as Mischa got the breakthrough she'd been waiting for and started chatting with Josh.

Her charms seemed to work, as both left with a group of friends to head back to the nearby Soho Hotel at 1.30am. With his pick of the ladies, Josh certainly seems like a hard guy to please.
[From The Daily Mail]
If you read just the first part of the story it sounds like they got up to something, but then it turns into a party type scenario and nothing special. I wouldn't put it past Josh because he's been linked to a lot of women, but the Daily Mail should be careful – he's been feeling litigious lately and recently sued The Mirror over a fake story that he was taped having sex in the library of a hotel.
Josh Hartnett is shown leaving Bungalow 8 in London last night. Mischa Barton is shown outside the Chateau Marmont on 9/12/08. Credit: WENN