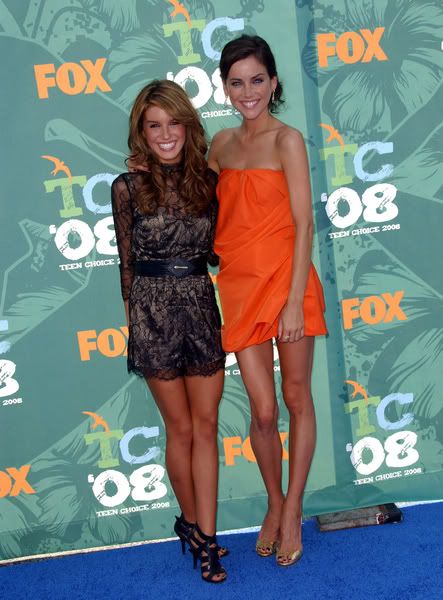 Our friends over at The Skinny have been dutifully reporting on the ever-shrinking figures of 90210 actresses Jessica Stroup and Shenae Grimes. Both have lost a dramatic amount of weight in the last several months, presumably due to joining the show. They were each very slim to begin with, but along the lines of what Hollywood would probably define as a "healthy slim." Now they're both nearly skeletal, and Us Weekly claims that 90210 producers and the other actors are planning an intervention of sorts.
Beverly Hills, 90210 stars Jessica Stroup and Shenae Grimes are so thin that show producers and costars are poised to take action, Us Weekly reports in its latest issue, on newsstands now.

"They want the girls to gain weight," a show source tells Us. "They are trying too hard to be skinny, and it's started to wear on them. It's just not healthy." Stroup, 21, is 5-foot-8 but weighs 100 to 105 pounds while Grimes, 18, is 5-foot-3 and stands at a mere 90 pounds, Beverly Hills-based weight-management expert Dr. Joyce Peters estimates to Us.

"I've never seen Jessica or Shenae eat," another show source tells Us. So shocking is the situation that their 90210 male costars are contemplating an intervention. "I heard some of the boys on the show are going to sit down with the girls and talk to them," an additional show source tells Us. "The girls were all skinny when they started, but they're definitely thinner now," the source adds.
[From Us Weekly]
Both of the actresses are bordering on scary skinny, and I would think now is the time to catch it. Actually a few months ago probably would have been better. The problem is that they both work in an industry that actively rewards and encourages disordered thinking about body weight. I'm so used to it just from seeing so many pictures of emaciated starlets everyday that I didn't even bat an eye when I first checked out pictures of Stroup and Grimes. You really have to consciously smack yourself and remember how a healthy body is supposed to look after a while. And it isn't like this.
Hopefully the show's producers will bring in some kind of expert and help Jessica and Shenae. And also make sure they don't have the kind of show that encourages this.
Here's Shenae Grimes (in black) and Jessica Jessica Stroup (in orange) at the Teen Choice Awards on August 3rd. Images thanks to PR Photos.