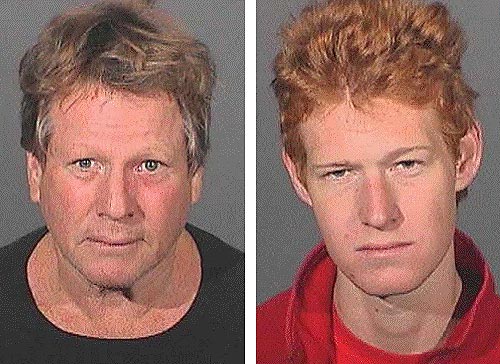 Before writing this story, I consulted with JayBird to see if she knew some background on Ryan O'Neal so I could save 5 minutes of Wiki research. It turns out we were both kind of hazy about O'Neal's family drama because it's complicated. To explain it simply, Ryan has four children by three different women and 3/4 of his children have been arrested for drug-related offenses in the past three years. The family also has a long history of fighting and domestic abuse.
2007 domestic assault incident
Ryan was arrested in February, 2007 for assault against his son Griffin, 43, after he fired a gun in the house. It involved an alleged incident in which he claims Griffin tried to attack him with a fireplace poker but ended up jabbing his girlfriend instead, prompting Ryan to fire the gun above Griffin to try and scare him off. The National Enquirer's version of the events which preceded the strange family dispute involve Griffin tying up his younger half brother, Redmond, 25, (Ryan's only son with Farrah Fawcett) to a dog run outside the house, enraging Ryan. It is thought that Griffin put Redmond on the leash to try and keep him away from his stash.
To make matters more complicated, Tatum O'Neal, 44, is also Ryan O'Neals progeny. She is the daughter of Ryan O'Neal's first wife, Joanna Cook Moore, and is Griffin's full sister. Tatum was famously arrested trying to buy crack and cocaine in July of this year.
Like his other troubled family members, Redmond has some experience on the wrong side of the law. He's on probation for DUI and possession charges after he was found with crystal meth and heroin last year. Cops were conducting a sweep today of the family home he shares with dad Ryan, 67, in Malibu. They found drugs that looked like meth in both the father and son's bedrooms.
Actor Ryan O'Neal and his son, Redmond, were arrested Wednesday at the actor's Malibu, Calif., home for alleged drug possession, a sheriff's spokesman confirms.

"This morning, deputies were doing a routine sweep to make sure Redmond was adhering to his probation," sheriff's spokesman Steve Whitmore said. "Upon searching the premises, the younger O'Neal was found in possession of narcotics. Later, a vial of drugs were found in the elder O'Neal's bedroom. We believe the drugs found were methamphetamines."

Both Ryan, 67, and Redmond, 23, are being held at a local sheriff's station in lieu of $10,000 bail each.

Redmond O'Neal's mother is Farrah Fawcett and his half-sister is Tatum O'Neal, who was arrested July 1 in New York City for trying to buy drugs.

Reps for Ryan O'Neal and Farrah Fawcett weren't immediately available for comment.

Redmond has a history of drug abuse, having entered rehab in 2004 for heroin abuse. This past June, he pleaded guilty to drug possession and one misdemeanor DUI charge.
[From People]
What is the issue with all these older celebrity addicts getting busted lately? It seems like so many people have drug problems for decades. No wonder Ryan O'Neal has such a bad temper and is fighting with his kids if he's doing meth with them.