Celebrities often have a host of problems we regular people never think about. Like what if you Master Cleanse too many times and lose too much weight? Or what if your crazy needle habit leads you to have all sorts of silvery, scaly looking fish skin? What do you do to get back to a look that's more reasonable?
Well you call Lego is what you'd do. For the mere cost of a design team, the Dutch company will spruce you right up and bring you back to a significantly sexier shape. Sure you could go the Milton Bradely route, but they're just going to whore you up. Lego will keep it classy – and square.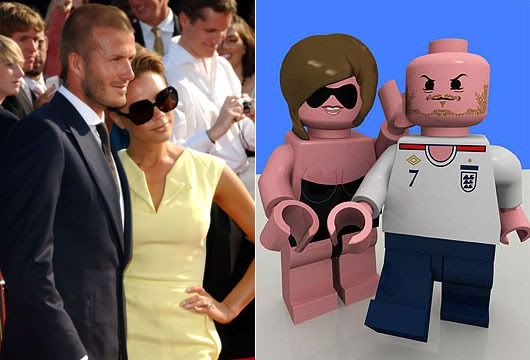 DAVID and Victoria Beckham have had some serious plastic surgery — and been transformed into Lego figures.

Posh and Becks are among the stars immortalised in toy bricks to celebrate the 30th birthday of Lego people.

Madonna, Amy Winehouse, The X Factor judges — Simon Cowell, Dannii Minogue, Cheryl Cole and Louis Walsh — have all had the treatment.

Lego's masterminds also created Brad Pitt, Angelina Jolie, Alan TItchmarsh and Sir Cliff Richard.

They join the four billion cops, builders, nurses and Darth Vaders already made since 1978 — but won't be going into mass production
[From the Sun]
I think this is a seriously fantastic idea. Don't like Posh's latest bug glasses? Take them off and wait for your little sister to swallow them accidentally. Just like I never did to mine with a Barbie shoe… or a leg from a Cooties game. If you happen to be a frustrated writer that wants to do terrible, mean things to Madonna, you've got your little one right there. Poke away.
While I think the Madge Lego is sorta blocky (no pun intended) and grandmother-like, I think the Amy Winehouse Lego is a significant improvement. I could go either way on Becks – it's hard to improve on perfection.
I am a little confused by Posh's saggy boobs. It could just be due to the fact (I assume this is a fact) that it's challenging to replicate the look of dart-boob implants on a flat surface. Yet somehow they come off as rather matronly to me. Probably won't be that hard to keep Lego Becks away from her. Plus he looks sorta angry. Maybe that's why.