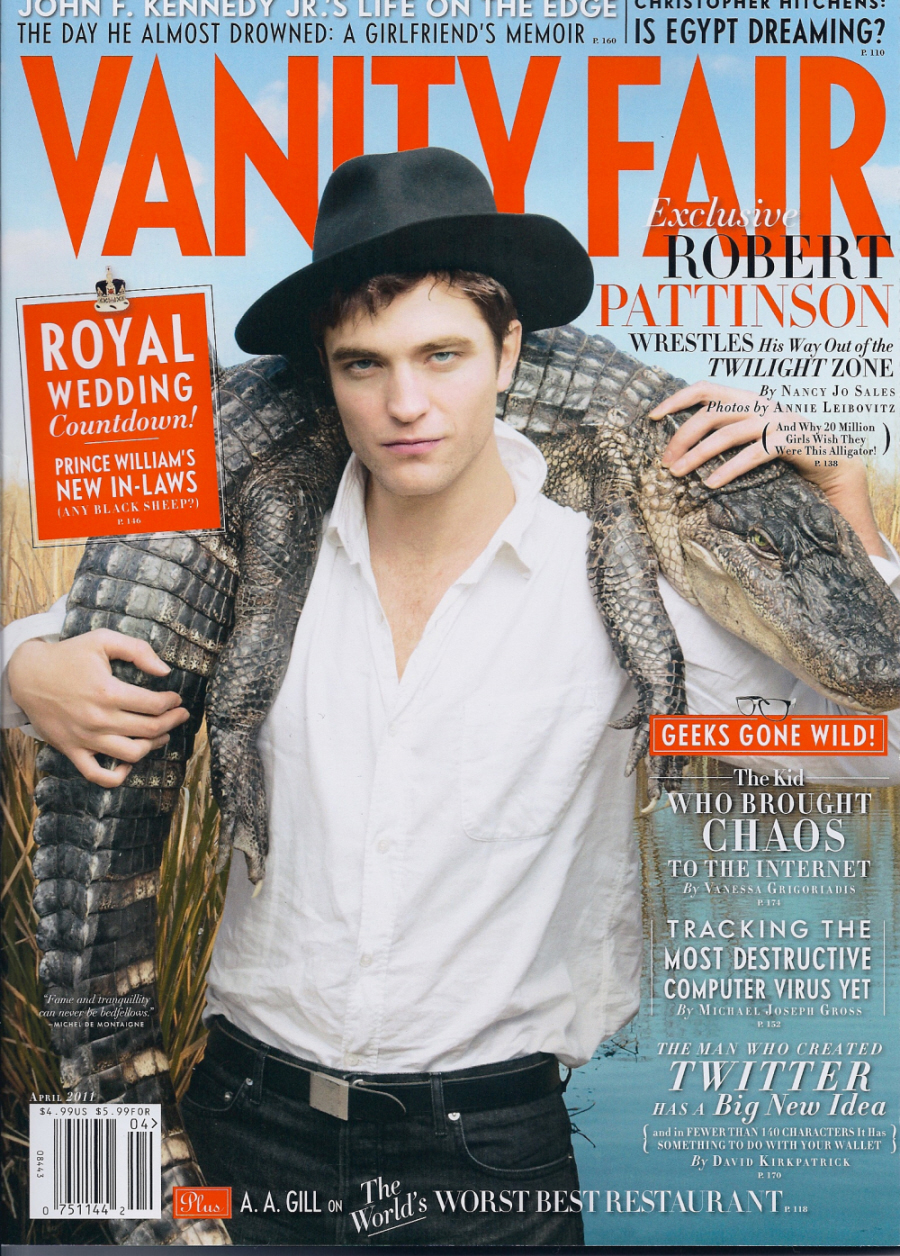 Robert Pattinson is the cover boy for the April issue of Vanity Fair, all to promote his role in Water for Elephants. The cover line is "Robert Pattinson wrestles his way out of the Twilight zone." Eh. I've been reading the scans of the full VF piece (here, at one of Sparkles' fansites). Sparkles is a funny guy – in interviews, he tends to come across as intelligent and sweet, self-deprecating and interesting. But there's some bitching and moaning too – here are some highlights that I transcribed:
Sparkles on the craziness of the past years: "I don't know what's wrong with me… my brain doesn't work anymore. I haven't any memory. I can't write. All I can do is sign my name. I tried to write the other day – it looked like I was writing in Braille."

On not being a good interview subject: "I'm just so boring… I'm just so dried up… I've just kind of stopped doing everything. I never change the channel in my trailer. I just watch reruns of House of Payne and Two and a Half Men. I love Cops – I think it's my favorite TV show. God… I sound like such a loser."

Sparkles on Kristen Stewart: "Kristen is very focused on being an actress," Pattinson says of Kristen Stewart. "I mean, that's what she is… she's an actress, whereas I just don't really know."

When the reporter asks Sparkles is his on-screen love mirrors his relationship in real life, Pattinson "literally starts squirming." He says: "Yes. Um. No, not really. It's pretty hard to… It's just very traumatic."

Reporter: "I mean, are you very intense about each other?"

Sparkles: "Oh, I don't know. She's cool. Even befor I knew her, I thought she was a really good actress. Like, I saw Into the Wild, and I thought she was really good in that. I still think there are very few girls in her class that are as good as she is. It's funny that she's the one doing this huge thing."

On the possibility of doing Shakespeare: "If I did that now, I'd get assassinated. Everyone would be like, What the f-ck?"

On people forgetting Twilight: "I've always said to my agents and stuff, like, it's going to be 10 years… and that's totally understandable. Normally people keep working until their big break. You just keep twying to make the best of your decisions. Like I try to think how I used to think before all the Twilight movies."

He fell in love with the elephant in Water for Elephants: "She was the best actor I ever worked with in my life. I cried when the elephant was wrapped. I never cried when anyone else was wrapped [completed shooting]."
[Transcribed from Vanity Fair scans]
At the end of the interview, Sparkles talks more about how his life has changed, and he says that "it's funny now, like, trying to socialize with people. There's this cautiousness about people which I just find really weird. Or I'll be walking down the street.. And peoples' be like, 'F-ck you!' And I get a lot of people wanting to beat me up. Men in bars and stuff. I just leave. But you're not really allowed to complain about any of this. You're just supposed to be grateful. And obviously, I get it. You're lucky and you should appreciate your luck." He goes for a moment more, and then says, "Every time you read about someone famous talking about being famous, you're like, 'Shut the f-ck up.'" Well… at least Sparkles is self-aware. I'll give him that much.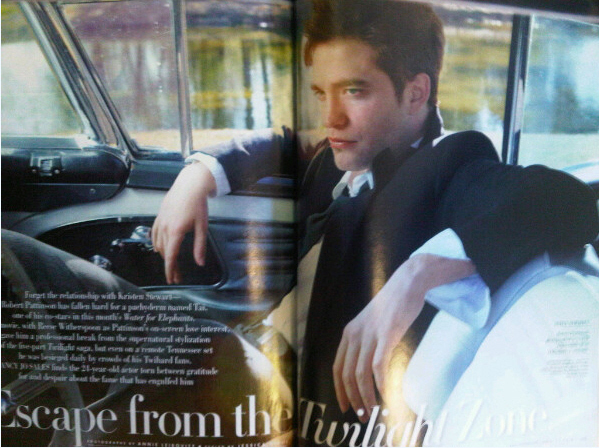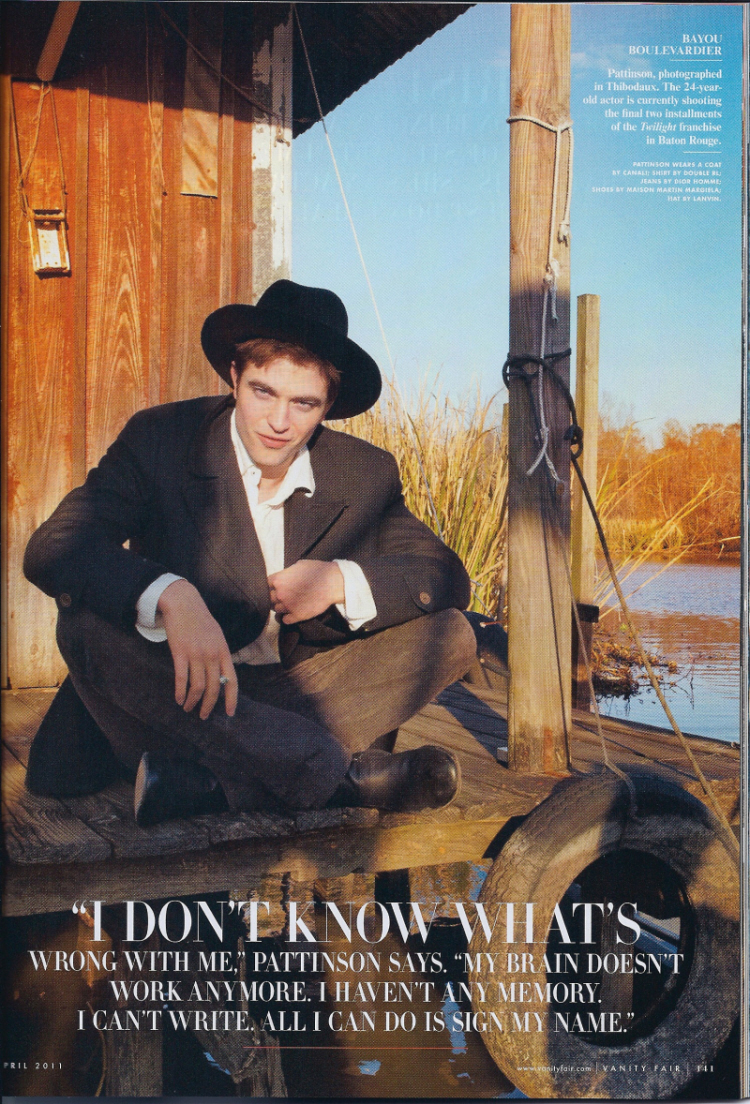 Scans from VF, courtesy of Pattinson's fansite.