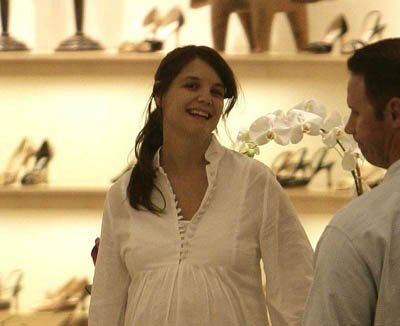 Tom Cruise has tried to strike a compromise between a hospital and home birth for his fiance, Katie Holmes, by building a $250,000 in-house hospital for her:
The delivery room is said to be fitted with a fetal monitor, ultrasound machine, intravenous pump, delivery kit and infant warmer system to monitor his baby.
Three medics from his Scientology cult – a midwife, nurse and obstetrics expert – have also been hired to be on hand when Katie gives birth.
According to a source, Cruise created the delivery room to provide Holmes with the right kind of environment for the Scientology 'silent birth'.
A tabloid quoted the source as saying: "Tom thinks his delivery room is the best way of providing a quiet environment. But if there are complications, she will be taken to hospital."
Tom told Diane Sawyer in an interview that aired on Friday that he runs "seminars" to teach his children and family members how best to adhere to the Scientology birthing rules.
As part of L. Ron Hubbard's arbitraty guidelines for childbirth and newborn care – which we mention every chance we get – the mother should be in a silent environment when she gives birth, the baby must be left alone for a full day after it's born, the mother shouldn't have contact with the baby for three days after birth, and the mother should refrain from talking to the baby for a week. Hubbard also discouraged women from breastfeeding and recommended a barley-based formula for babies.
Cruise told Sawyer that a silent birth is about creating a quiet environment for the mother, and that Katie can make as much noise as she wants. No one has questioned him about Scientology's recommendation that the baby be left alone for a day, however.
In building an in-home hospital, Cruise wants to make sure that he controls the environment and that no one in the public sphere will witness the cruel way they're planning to leave the baby alone.
Now that Tom Cruise has brought public awareness to the inhumane practices of Scientology, cult expert Rick Ross notes that it's one of the most unpopular religions in America. According to a CBS poll, only 8% of Americans view Scientology favorably.
Here is Katie shopping for even more shoes that will never fit her on 4/15 at Neiman Marcus. She's seen on the same day in a different outfit leaving Maxfields in LA. No purchase will be able to fill the hole in her heart from not being able to have contact with her baby for three days.