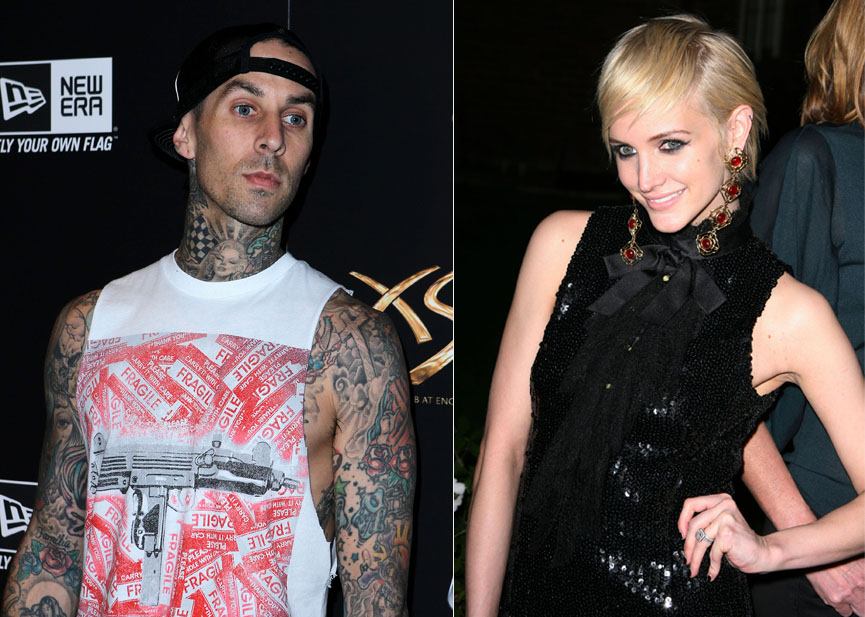 This week's Star Magazine has a quick blurb about Ashlee Simpson and Travis Barker hooking up now that Ashlee is single, having abruptly dumped her husband of nearly three years, Pete Wentz. For Ashlee's sake I hope this isn't true, but she's no prize either:
After splitting from Pete Wentz, Ashlee Simpson, 26, is spending time with another tattooed rocker: Blink-182 drummer Travis Barker, 35, who is Pete's pal. Says an insider: "She's keeping it quiet because she's afraid Pete will be p*ssed."
[From Star Magazine, print edition, March 14, 2011]
I could have sworn Travis Barker was in his 40s, but that's just due to how rough he looks. Ashlee has horrible taste in men. Travis makes Pete Wentz seem like a decent choice for a husband.
Ashlee hasn't tweeted much since she filed for divorce. She only only posted once in the past four weeks and and it was an obvious promotional tweet. Whatever is going on with her, I hope that she didn't leave Pete for Travis Barker. Reports varied after Pete and Ashlee broke up, with some outlets claiming Ashlee wanted to be single and party and others saying that Pete was a pill addict who spent a lot of time away from home. Both of those accounts are probably true.
Last Fall, Ashlee confirmed that she's working on a new album and plans to put out a fashion line. She should ask her sister Jessica to help her with that. Jessica might not be the brightest bulb, but she knows how to stick her name on stuff and make money.
Ashlee Simpson is shown on 11/2/10. Travis Barker is shown on 2/15/11. Credit: WENN.com
Here's Travis Barker at work on a music video (with The Game, Rick Ross and Swizz Beatz) on 2/19/11. Ashlee is shown out with Bronx on 2/25/11. credit: Fame