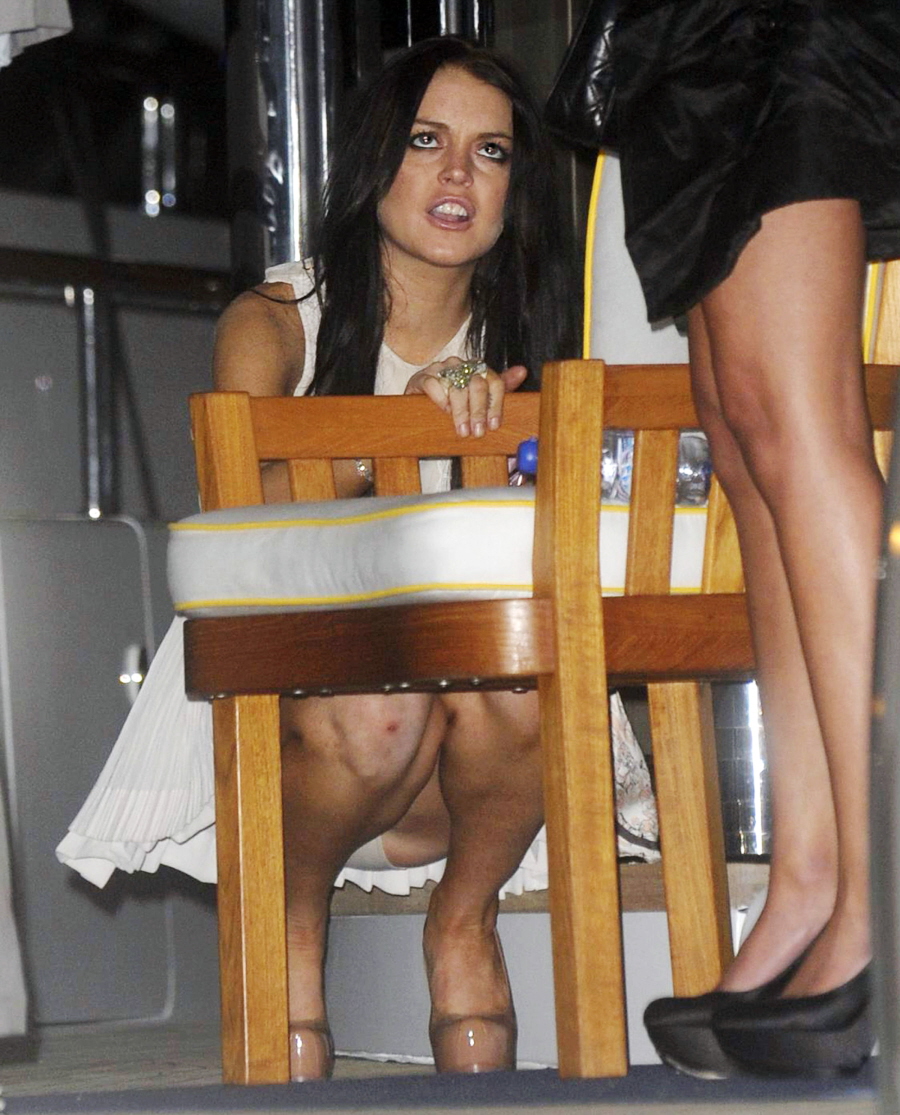 I love a good story about a crack hustle denied. And there's no bigger crack hustler operating today than Lindsay Lohan. There a story about Lindsay trying to get into Madonna and Demi Moore's Kabbalah-flavored Oscar party Sunday night, and the story is only beginning to leak out now, for some reason. I guess Lindsay's dumbass crack hustle doesn't even rate second-day coverage, hahaha. So here we are, five days after the fact, hearing this hilarious story about Lindsay trying to work her way into Madonna's party and being repeatedly denied. She even enlisted the help of Josh Brolin, to no avail!
Sources tells us the beleaguered beauty – who was recently charged with felony grand theft for allegedly stealing a $2,500 necklace from a jewelry store – was turned away from the diva duo's soiree at talent manager Guy Oseary's Beverly Hills home Sunday night, and not even handsome hottie Josh Brolin could get her inside.

Lohan showed up uninvited to the party around 11 p.m. with her brother Michael and her security detail. According to one insider, she was confident she would get in because Oseary is an executive at the talent management firm Untitled Entertainment, which represents her as well as Moore and Madonna. Alas, the connection proved useless. Lohan was told she could not join the party.

To make matters worse, we hear that as she was pleading her case, Brolin rolled up and was shot down in his gallant attempt to help. After the "True Grit" actor greeted her with a kiss on the cheek, LiLo asked Brolin if he could get her in the door. Brolin obliged, but another source familiar with the incident tells us the party's gatekeepers firmly held their ground. We're told Brolin reacted by saying, "Don't you know who this is?" The door people replied that yes, they did know who Lohan was – and she wasn't coming in.

Even Brolin's insistence that "She's with me" fell on deaf ears. Eventually he ambled inside without her, leaving the recently rehabbed actress to proclaim, "This is so humiliating."

Lohan eventually gave up on getting inside and headed to the post-Oscars party that James Franco was supposed to be hosting at Supperclub on Hollywood Blvd. The club adjoins the Writers Room, a bar in which Franco has said he's a partner.

As we reported Monday, Lohan had taken part in a Terry Richardson photo shoot with Franco over the weekend. Our first source says Lohan had told a number of people at Supperclub that the "127 Hours" star had personally invited her to come and hang with him. But it's uncertain whether Franco ever planned to attend his party. Right after he finished his Oscar host duties, he hopped on a plane back to the East Coast, in part because he had a paper on Byron due at Yale. Spokespersons for Lohan, Madonna, Moore and Brolin did not respond to our requests for comment by deadline.
[From The NYDN]
So she got denied. And then she tried to get Josh Brolin to help her, and he tried, but the power of the crack stench was just too much, and even the bodyguards and bouncers were pulling rank on the crackhead. That finishes it, you know? She's completely radioactive. But Lindsay's crack hustle knows no shame, so she dropped by another party, probably claiming that James Franco had "personally" invited her to hang, and alas, there was no one good to rub her crack lips on. Crackhead got punk'd by Franco's "performance art"! Which makes me like Franco a little bit more.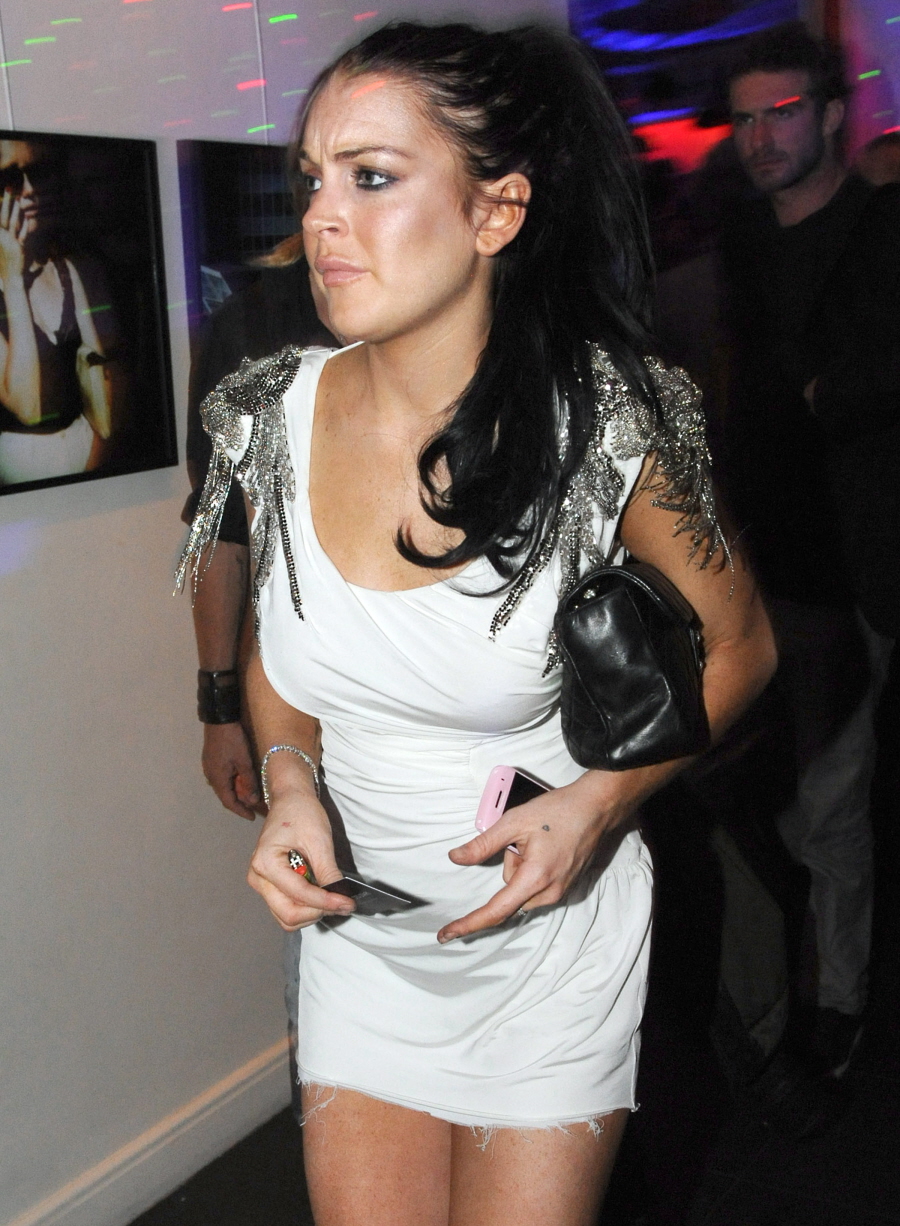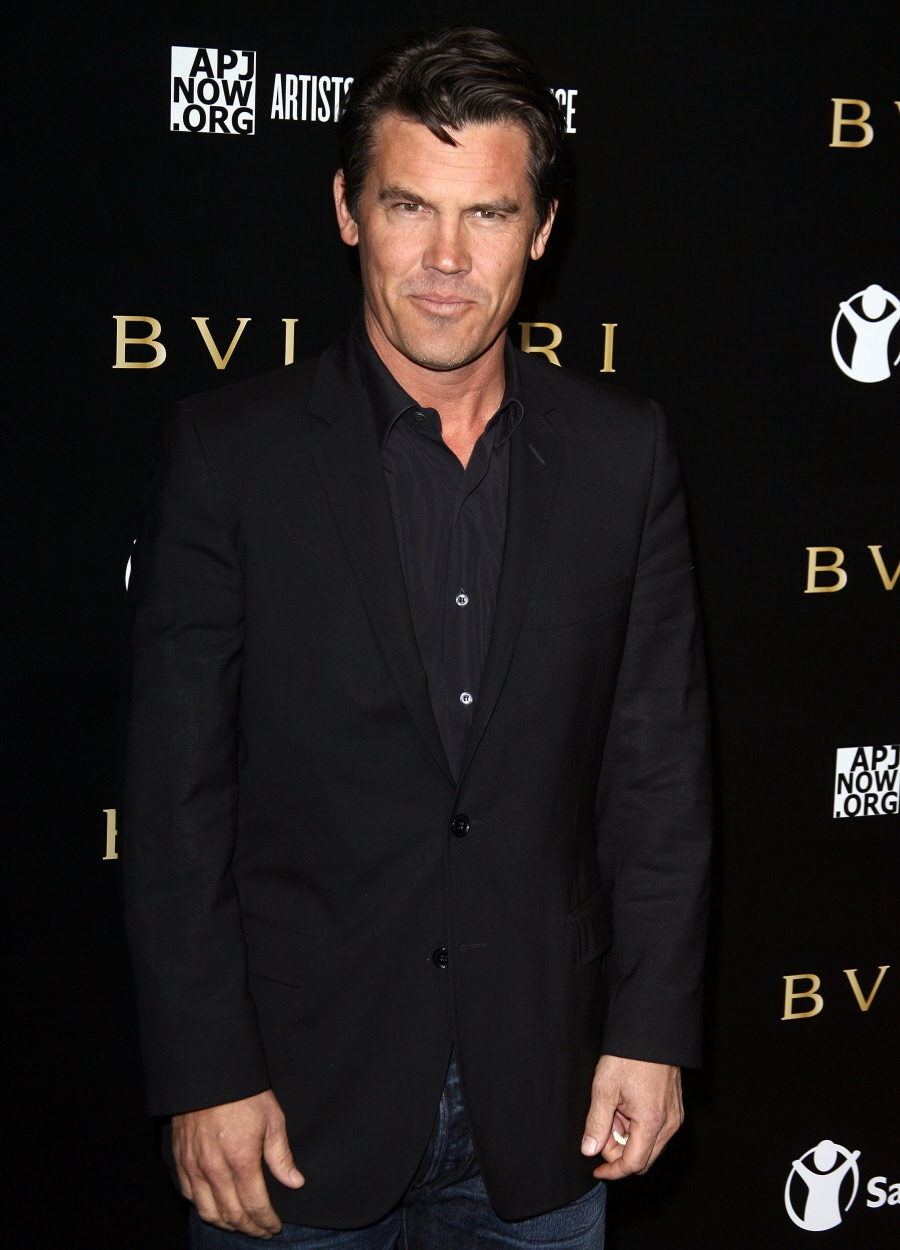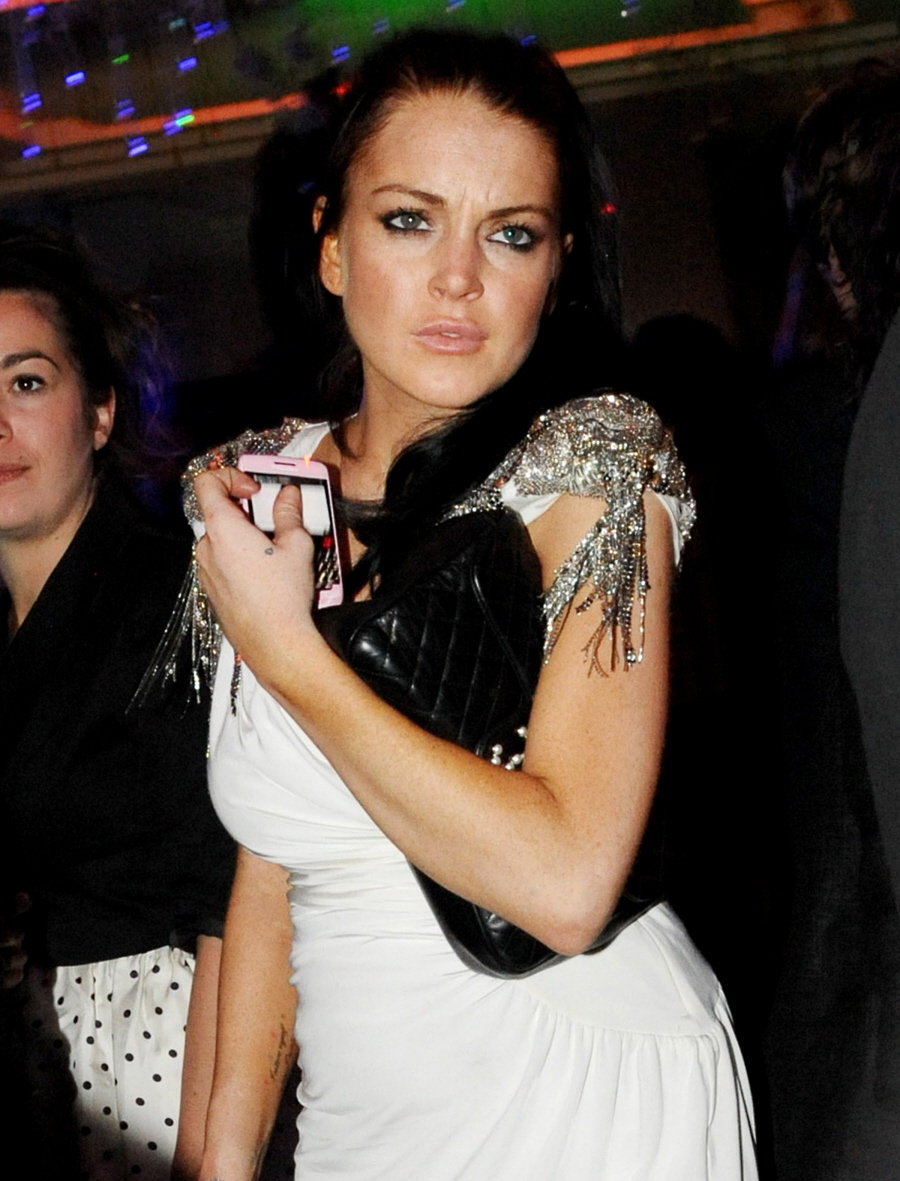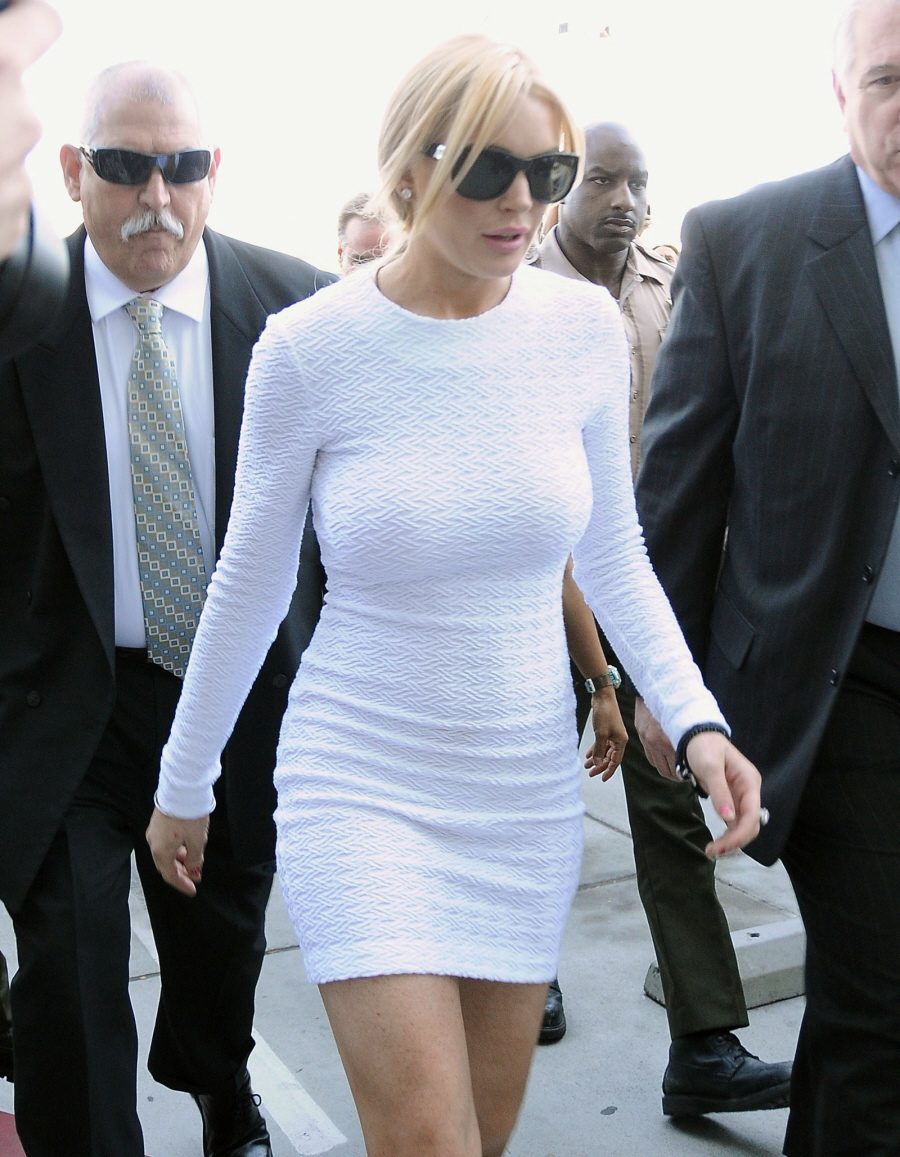 Photos courtesy of Fame.