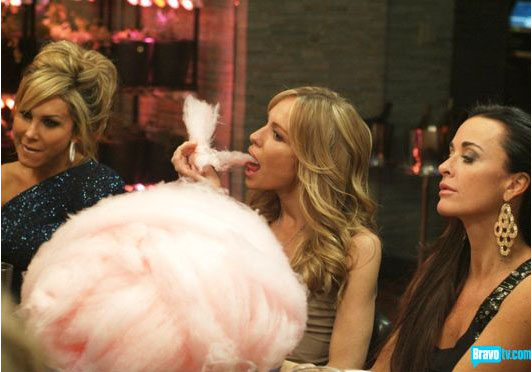 There's news that the entire cast of the Real Housewives of Beverly Hills, including classy alcoholic Kim Richards and recent divorcee Camille Grammer, have signed on for a second season of the show. I think this may speak to Kim's need for a source of recurring income more than any desire to continue to expose her anxiety issues and her dysfunctional relationship with her mean sister. Here's more, from Hollywood Life: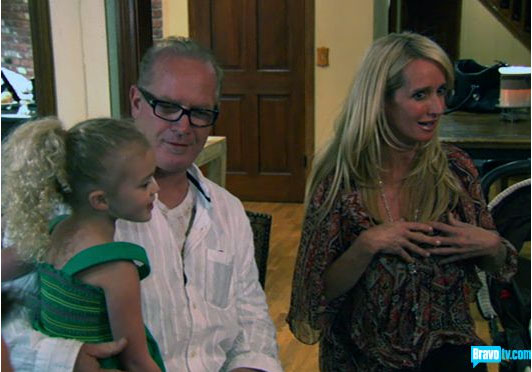 All of our favorite ladies from the Real Housewives of Beverly Hills are resigning their contracts with the show for a second season, HollywoodLife.com can exclusively confirm. Camille Grammer, Taylor Armstrong and Kim Richards were on the fence but they all said yes today.

"Taylor was hesitating because of the spotlight on her marriage which caused problems for her and her husband Russell, who is actually a genuinely good man," says a source close to Lisa Vanderpump, another star of the show. "They actually have a pretty happy marriage but it wasn't portrayed that way, but she wants another chance at showing how they really are in love with each other."

And as for Camille? "She had the hardest decision to make after dealing with Kelsey so blatantly rushing to marry his mistress (Kayte Walsh), and she has her children to worry about," reveals our insider. "But she is holding on strong for her children and we'll be able to see how she deals with the grief in the new season. I'm sure she will show how dignified she can be in the face of her traumatic experience."

"Kim and her sister Kyle obviously have a lot to work on, but they have both signed on as well," continues our source.

"They are all very excited and will try to be more savvy about how they portray themselves. In reality, they get along better off-camera and want to show they aren't just about shopping and cattiness."
[From Hollywood Life]
Taylor was not hesitating no matter what she wants us to believe. She needs the money to continue hustling like the true grifter she is.
I finally watched the RHOBH "lost footage" special over the weekend and there were a couple of interesting scenes in there. I was practically crying when Lisa's little teacup Pomeranian, Giggy, was having skin issues and the breeder told Lisa to put him down! (My mom lost her Shih Tzu very recently due to allergies to dust mites. He ultimately had to be put to sleep after he had a neurological reaction to the very toxic allergy medication the vet put him on.) Giggy turned out fine and remains one of the most pampered pets on television.
Also there was footage of Kyle viciously going after a drunk woman who was hanging on her husband at their white party. Kim spat at the older woman that she would put a "Manolo" in her eye. Leave it to Kyle to name drop a designer when she's making threats. She also didn't even scold her husband for not pushing the woman off. Maybe that psychic was right about him. I wouldn't be surprised.
Photos via Bravo TV