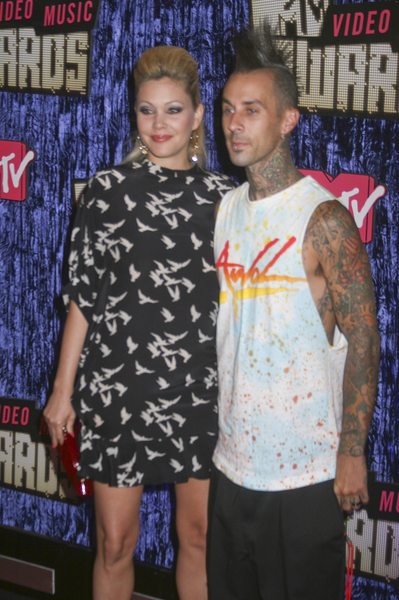 Less than a week and a half after escaping from a fatal small plane crash which killed two friends and two crewmembers, Travis Barker has been released from the burn unit of the Joseph M. Still Burn Center in Augusta, Georgia. He suffered second and third degree burns to the lower half of his body. On Friday it seemed like Barker would be lucky if he got out of the hospital in a couple of weeks, but clearly he's gotten better much quicker than originally expected.
Blink-182 drummer Travis Barker is out of the hospital on Monday after spending nine days in a burn center. Barker was in critical condition after surviving a plane crash in South Carolina on Sept 20.

The musician and DJ AM (nee Adam Goldstein) were the only two out of six passengers to survive the crash, though both suffered serious burns. Goldstein was released from the hospital on Friday.

"Travis is in good condition and was discharged this morning," Beth Frits, a spokesman for the Joseph M. Still Burn Center in Augusta, Georgia, told People magazine. "He has left Augusta."

There is still no word as to Barker's expected recovery time.
[From the Daily News]
I really wish Barker or DJ AM's spokespeople would release some sort of statement that talked about their prognosis. I'm sure their fans are all wondering just how bad (or good) things are. At first it didn't even seem clear that they'd pull through, and then it seemed like if nothing else they'd be scarred in some serious way. Now they've both been released from the hospital in surprisingly short times – which speaks to both of their overall good health as well. Hopefully things will continue looking up for them, and both Barker and AM will keep surprising everyone with great progress.
Here's Travis and ex-wife Shanna Moakler at the VMAs last September. Images thanks to PR Photos.