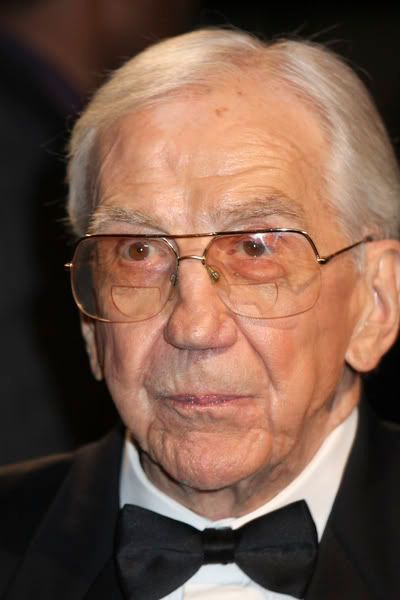 More bad news for financially strapped Ed McMahon: he's being sued for non-payment of a debt by the company of his late friend, Merv Griffin. McMahon took out a $100k loan from Merv back in 2005, but so far he has never made a payment on it. Now that Griffin has passed away, it's up to his company to collect the cash from McMahon- who is about to lose his home and is already being sued for $180,000 in credit card debt.
Court documents show a company founded by Merv Griffin is suing Ed McMahon for a $100,000 loan it claims has gone unpaid.

The Griffin Group Inc. claims it loaned the money to McMahon, Johnny Carson's sidekick on the "Tonight" show, in 2005. The company filed the suit on Thursday and states that none of the loan has been repaid.

McMahon's publicist didn't directly address the lawsuit, instead asking, "Anybody wanna buy a nice house in The Summit?"

The quote is an allusion to McMahon's hilltop home, which is facing foreclosure. The former pitchman also faces numerous other lawsuits filed on behalf of creditors.

Griffin, the longtime talk-show host who created "Jeopardy" and "Wheel of Fortune," died in 2007.
This is evidence that Ed and his wife have been having financial problems for quite a while. But I think that if Merv Griffin were still alive, he wouldn't be suing Ed McMahon over a hundred grand. Back in 1986, he sold his production company to Coca Cola for a cool $250 million, and while he never revealed what he was worth, it was estimated at the time of Merv's death that he was a billionaire. So this lawsuit against a guy who is about to be put out of his house seems a little extreme. Way to kick a guy when he's already down! What would Merv think?
Ed McMahon is shown at the Jerry Lewis MDA telethon on 8/31/08 and at the Entertainment Tonight Emmy party on 9/21/08. Credit: PRPhotos