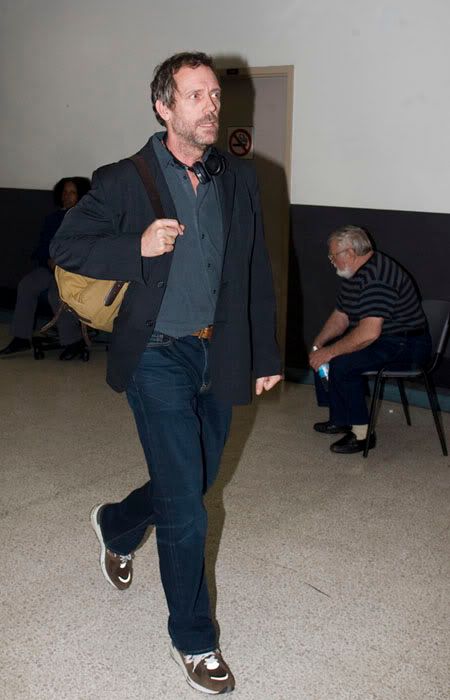 Hugh Laurie and his wife Jo had a scary experience recently. The couple just moved to Los Angeles full time at the end of the summer, and already their home has been burglarized – while they were sleeping. Luckily no one was hurt and the only thing that was stolen was Laurie's laptop. But the incident left them shaken nonetheless.
HUGH LAURIE'S LA home was burgled while the British actor and his wife JO slept upstairs. The thieves broke into the House star's £2.2 million pad in the Hollywood Hills and stole his laptop. The incident made the actor late for a TV interview the following morning.

He told the TV crew: "We were in bed when it happened… I came down this morning and said, 'Where's the laptop?' Then we realised."

Police believe the burglary could be the work of a gang who have targeted other houses in the area. Singer FAITH HILL and husband TIM MCGRAW, plus movie mogul SHERRY LANSING, have all recently been hit.

He is said to have been left shaken by the incident. A friend said: "Hugh keeps thinking about what would have happened if he had woken up to confront the burglars. There are some crazy people in Los Angeles who don't think twice about using violence. He was very lucky that he slept through it all."
[From the Sun]
That is super scary. Several celebs have been robbed lately. It makes sense that a particularly ambitious criminal would target nicer homes, since they are more likely to have higher value items. However they're also much more likely to have a lot of security surrounding the place. Everything considered, I find it really odd that this group of criminals has been so successful. Tim McGraw and Faith Hill were robbed in February, and there have been several similar reports since then. Hopefully they'll finally be caught soon.
Here's Hugh Laurie at the airport on March 9th.