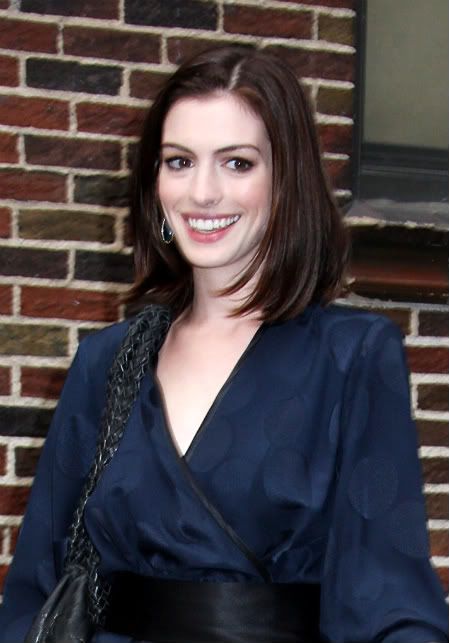 Anne Hathaway has steadfastly refused to talk about ex-boyfriend and current jailbird Raffaello Follieri; however she's slowly starting to open up about their relationship. A tiny bit. Hathaway isn't really giving away any new information, but she doesn't have handlers rushing in to shoo away any reporter that dares to ask. Last night David Letterman grilled her (well, Letterman style, so it wasn't exactly the toughest grilling) about their relationship, and though Anne seemed a bit uncomfortable she managed to make some jokes. And generally stuck to the theme of "I don't know, I'm not following his life anymore."
Asked if there were hints about his ways, the actress, who split with Follieri in June after four years of dating, quipped: "I don't want to go into the specifics but I will say that you do have to give me credit because as far as relationships crashing and burning goes, c'mon, I did pretty great. I mean, scorched that earth… I'm an all or nothing sort of girl," she added.

"Go big or go home," Letterman replied Staying on the subject, Letterman said the ordeal was "pretty unusual."

"That's definitely one of the words that, yeah," Hathaway said. "Do you want to know his shoe size too?

Letterman then asked if Follieri will be in jail for a while (he's expected to serve more than four years). "You know, I really don't know the specifics about that," the Rachel Getting Married star said. "I'm just kind of promoting my movie, living my life. I got to keep my dog! That's the most important thing. That's the thing that I focused on."

Letterman suggested that Hathaway also got a boost to her self-esteem. "Thanks, I had my self-esteem before but I'm very happy, I'm in a good place," she said. "Ok, you tell me when it's time to quit because I have a couple more questions," he said, continuing to press the actress. "How long did you know the guy?"

"We dated for four years," Hathaway said before breaking into laughter when asked if Follieri took anything from her purse.
[From Us Magazine]
Hathaway swears up and down that she and Follieri were broken up for a while before he was arrested, and that the phone call she made to him a few hours prior to him being taken into custody was just a final ending of things. I think she handled the whole thing with a good deal of grace, but it's something she's going to have to talk about eventually. There's obviously a lot that went on behind the scenes and it's natural for people to feel intrigued. She kind of deflected that first question about recognizing signs in Follieri's character before he was arrested, but she did a good job with the interview on the whole.
Here's Anne's interview – video thanks to YouTube. Images of Anne outside of "Late Night" yesterday. Images thanks to Fame.