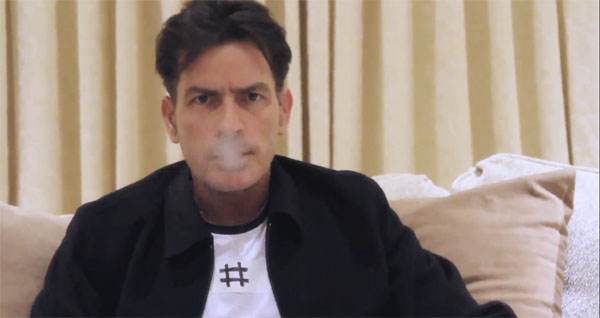 Charlie Sheen has two upcoming shows scheduled in his new "Violent Torpedo of Truth: Defeat is Not an Option" tour, for April 2 and 3 in Detroit and Chicago. (In an earlier story we reported that both gigs would be in Chicago and were scheduled for this past weekend. Apparently the dates have been changed or maybe the Ticketmaster site was incorrect at first.) It doesn't matter if the dates are different than they were first announced, less than twenty minutes after the tickets went on sale, they were sold out. This is to be expected when a guy gets as much press for being as off the rails as Charlie is. He's working his crazy meme and has a new website for the tour featuring a comic of Charlie as a superhero in a tiger costume, smoking a cigarette and shooting fire from his hands.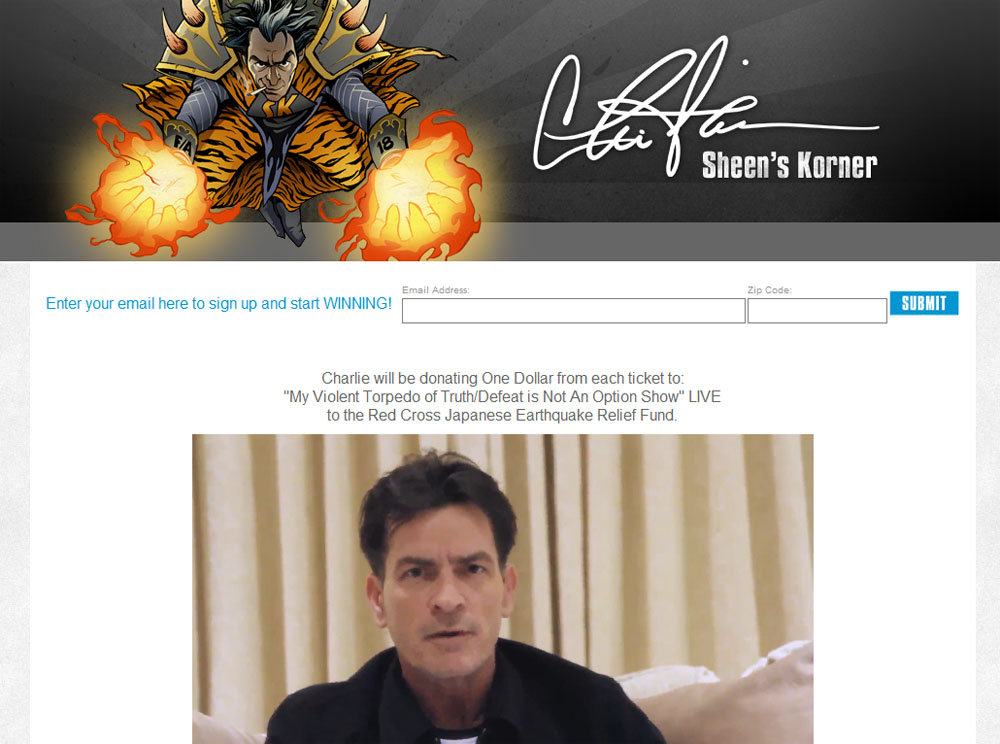 Charlie's website also includes the announcement that $1 from each ticket will go to support victims of the devastating earthquake and tsunami in Japan. He has a video up announcing the tour and it includes a genius new line that he hasn't used yet "You all suffer from Sheenus envy." He also looks better in the video and sounds more in control than he has in some time. I hope he's truly getting sober, and that the manic fog he's been under is starting to clear. With Charlie you never know, though.
Charlie's ex wives aren't taking their chances with letting the guy around their kids. Both Brooke Mueller and Denise Richards held birthday parties for Charlie's children on Saturday, to neither of which Charlie was invited. Brooke's twin boys with Charlie celebrated their second birthday from 12-2 in a lavish party at Kathy Hilton's house that was likely filmed for Brooke and the Hilton's new reality show. Denise's daughter Sam had her seventh birthday party at a gymnastics studio from 2-4, which was timed not to overlap with the twins' party. Charlie offered to have the party for Sam at his house, but of course Denise didn't take him up on his offer.
As for the future of Charlie's tour, E! reports that Madison Square Garden in New York City is eager to book him. I hope that's just typical delusional thinking on Charlie's part, but you never know. The guy was the highest paid star on television and now he's the star that has had the biggest freak out on television. He gave us a very good taste of the crazy and now we have to pay for more.
Here are the Autotune the News guys, the Gregory Brothers who did the "Bed Intruder" song, doing Charlie. It seems kind of superfluous, like all they needed to do was cut a bunch of his interviews together. I'd rather hear him without the music on top.