Troubled-celebrity predators, the Church of Scientology's Celebrity Centre, have made contact with the very troubled Amy Winehouse to try and bring her into the fold and rehab her through their Narconon program.  Winehouse recently said that she couldn't continue living like she was and that appears to have been the COS cue to swoop in.
Amy has told mates she received a "welcoming" phone call from the religious sect's "celebrity centre" in LA.

My spies tell me she's now seriously considering joining Hollywood stars including Tom Cruise, Katy Holmes, John Travolta and Juliette Lewis.

I'm told the church recommended their Narconon drugs programme, which they claim has helped hundreds of addicts kick their habits.

One of Amy's inner circle tells me: "She had a call from the celebrity branch of the Church Of Scientology. She thinks they got her number through one of the American music producers who worked on her Back to Black album.

"They told her they wanted to help her beat drugs and could tailor-make a programme so she wouldn't have to go to a residential centre. She liked that idea because her husband Blake is out of prison soon and wouldn't want to be away from him when he's finally freed."
[From Mirror.co.uk]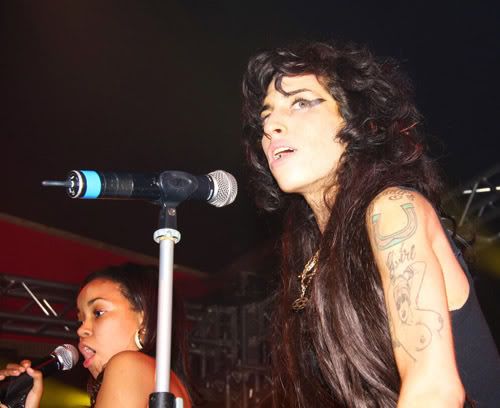 It wouldn't surprise me if Amy was receptive to the phone call.  As much as people around her might say they want her to get help, no one has actually done anything to get it for her.  She's clearly in a desperate state and after her collapse at her God-daughter's singing debut she admitted that "Life can't go on.  I can't do this anymore."
The Scientologists have done their homework.  Telling Amy she could get clean without having to leave the comfort of home, and her Blake, any more than the occasional visit to their rehab facility in Hastings, E Sussex plays right into her never-waning need to have her pipe and smoke it, too.  It doesn't take a psychology degree to see that Winehouse suffers from low self-esteem and problems with authority.  This is exactly the kind of person L. Ron designed his cult to prey on, rich and idle, with psychological issues who feel the need to be told that nothing is really their fault, it's all the thetans. 
Amy needs help, but I don't think it's a permanent "best friend" appointed by the COS, Tom Cruise's sister doing her PR, or Kirstie Alley going to dinner with her, although, that could certainly help in one way.  If we see Oprah coming to have a cozy, sit down interview with her in the country home she wants to buy with Blake, we'll know we lost her.
Amy Winehouse is shown at The 'End of Summer Ball' charity event in Berkeley Square, London on 9/25/08. This was the night she "ruined her goddaughter's debut singing performance." Credit: Gabor Scott /WENN