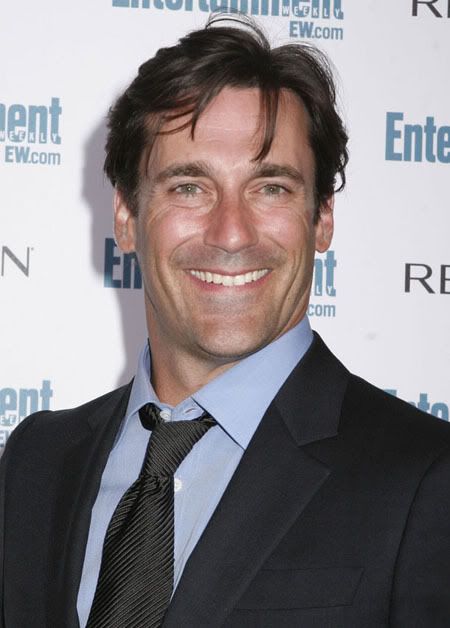 Mad Men is 1 smash hit and critical darling original series for AMC. Set in the 1960s, the show follows the cutthroat world of the Sterling Cooper ad agency in New York City.
Chiseled actor Jon Hamm plays Don Draper, the work-hard and play-hard ad exec at the center of the show.
Jon admits he used his real father, St. Louis trucking executive and Army vet Dan Hamm, as inspiration for playing Draper, even though Jon had a strained relationship with his late father.
"My dad was, in many ways, essentially Don Draper, a businessman in the '60s, very powerful, self-assured," Jon says of Dan Hamm…."And being a big fish in a much smaller pond, he would have had a Don Draper-type sway over things."
[From Star, print edition, October 13, 2008]
Jon's parents divorced when he was 2, and he was raised by his mother until her death from cancer at age 35. Ten-year-old Jon then went to live with his father, but things didn't go smoothly.
"I lived with him from then on, but we had several issues and problems to the point where I spent most of my time sponging food from my friends' families and sleeping in their basements," Jon admits.
[From Star, print edition, October 13, 2008]
In 1991, when Jon was in college, his father died from complications of diabetes at age 57.
Jon's unstable childhood has made him wary of having children of his own. His longtime girlfriend is actress/writer Jennifer Westfeldt.
"I don't necessarily want kids," Jon said recently. "I don't know if it's for me. I think when people come from a stable family, having children becomes a celebration — and I'm not sure it would be that way for me."
[From Star, print edition, October 13, 2008]
Before Man Men, Jon mostly worked small parts in movies and TV. He had recurring roles in The Unit and What About Brian and will appear in the upcoming Keanu Reeves remake of The Day the Earth Stood Still.
Mad Men has earned him an Emmy nomination and a Golden Globe win for best actor.
But National Enquirer reports that success is going to Jon's head. A source on the set says Jon wants special privileges because he's the centerpiece of the hit show.
"Jon's become impossible to deal with," a set insider told the Enquirer. "He wants special treatment now because he's the big star.

"Jon used to be a regular guy, joking and cutting up with the rest of the cast. Now he's gotten very aloof.

"He has become a pompous blowhard and says things like, 'I am Don Draper, I am this show!'

"He's become full of himself and talks incessantly about big movie deals that he's got in the works."
[From National Enquirer, print edition, October 6, 2008]
Enquirer uses Jon's recent jokes at the expense of Regis Philbin as an example of Jon's new pomposity.
Regis is a big fan of Jon's and asked Jon to make a surprise visit to his wife Joy when Jon visited Live with Regis and Kelly.
On September 12, Jon told Jimmy Kimmel that Regis was a "crazy showbiz guy" for having him pose with a Dean Martin cutout.
I don't know that calling Regis Philbin a "crazy showbiz guy" is exactly a diss. In fact, it's probably an understatement.
If Enquirer is right and Jon really is letting success turn him into a jerk, it's unfortunate. But it took a long time for the 37-year-old to achieve such fame — maybe he's trying to live it up for the short time it lasts.
Jon Hamm and Jennifer Westfeldt are shown at the Primetime Emmy Awards on 9/21/08. He is also shown in the press room with Mad Men co-star John Slattery and at EW's pre-Emmy party on 9/20 and another pre-Emmy party on 9/19, again with Westfeldt. Credit: WENN