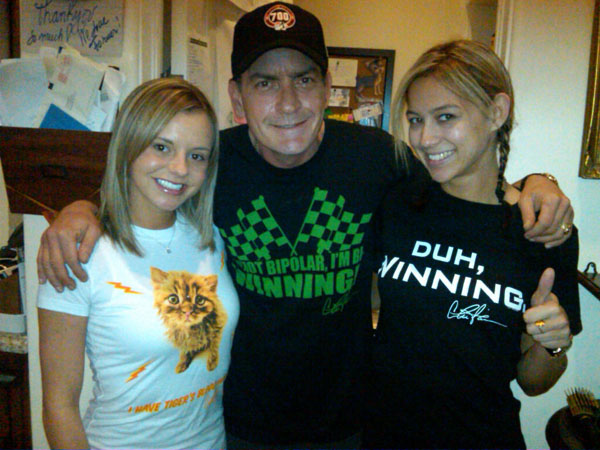 US Weekly is reporting that Charlie Sheen was invited to his twins' second birthday party last weekend at Kathy Hilton's estate. Earlier reports had his ex wives Brooke Mueller and Denise Richards deliberately keeping him away from birthday parties for the twins and for his seven year-old daughter, Sam. According to a source, Brooke really wanted Charlie to come to the twins' party though, since she was filming her reality show with the Hiltons and also planned to sell the photos of Charlie showing up. He decided not to give her the satisfaction or cash money. This news is in an inset in a story in US about how Denise Richards is keeping her daughters far away from Charlie. They don't quote Denise directly, but it's implied that she's their source.
Sheen was notably absent from another of his kids' birthday parties on March 13. His other ex wife, Brooke Mueller, threw a fete for their 2 year-old twins, Bob and Max, at family friend Kathy Hilton's pad in LA's Bel Air. But in a twist for the woman who has a restraining order against the actor and was granted temporary physical and legal custody of the boys March 1, she begged him to come. "She said said she'd leave while he was there," said a Sheen insider. Her motivation? Reportedly cash. The source reveals that Mueller, 33, sold photos of the party to a magazine and was set to receive more money if Sheen made an appearance, but it "seemed like a trap" to him because of the restraining order.
[From US Weekly, print edition, March 28, 2011]
In Touch reports this week from a source close to Brooke that he was a "no show" at the party, but that she didn't want him there anyway. It sounded straight from bitter Brooke. Here's what they report:
Title: Charlie's a no-show at kids' birthday. Charlie Sheen recently told In Touch that his kids "f'ing love me." But the erratic star was nowhere to be seen at the second birthday party for Bob and Max, his twins with ex Brooke Mueller. Even though the warring couple have reportedly come to some kind of truce over the recent restraining order she had against him, a friend of Brooke's says she didn't want Charlie, 45, at the party, held at Paris Hilton's parents' house in LA. "There was a petting zoo and clowns, and the boys had a great time," says an insider. "The only member of the Sheen family who was there was Charlie's brother, Ramon Estevez. That was kind of sad."
[From In Touch, print edition, March 28, 2011]
It sounds like Brooke wanted Charlie there and he didn't show so she's trying to save face. Of course they wanted him there, they're filming a reality show and Brooke wanted to sell the pictures on top of that. Charlie makes for good ratings.
Meanwhile Charlie isn't crying into his crack pipe over the loss of his job at Two and a Half Men. TMZ is reporting that he'll bank around $7 million for his "Violent Torpedo of Truth" tour and that he's signed a deal that nets him 85% of the profits plus money for merchandising and parties. The shows will consist of Charlie sitting in a chair ranting for about an hour and fifteen minutes.
Photo of Charlie and his "goddesses" from his Twitter. Photo of Brooke Mueller is from 3/5/11. Does she look sober at all? Credit: Fame