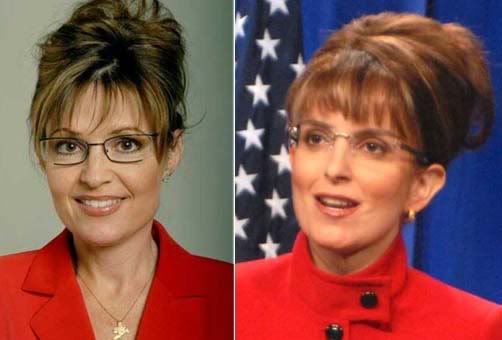 The McCain/Palin campaign is discussing the best way to rebut the ever increasing popularity of Tina Fey's spot on performance of Sarah Palin on Saturday Night Live.  Advisors to the ticket are split on the prospect of Palin actually going on the show, but the VP candidate, herself, wants to follow in the steps of all the latest political contenders and make a late night appearance.
As the comedian's impressions of the GOP vice presidential candidate draw laughs from Republicans and Democrats alike, a top honcho from the John McCain campaign tells me there's a debate going on about how to respond.

Some key McCain staffers are content with Palin joking about the "SNL" routines on the campaign trail — as when she scribbled "I'm not Tina Fey" on a supporter's cell phone and said she'd dressed as Fey on Halloween. But others — including the governor herself — think a return punch on the NBC airwaves is what's needed.
[From the Chicago Sun Times]
Palin is talking about spoofing Fey's American Express commercials, which won't be easy as they're pretty much Tina Fey spoofing Tina Fey, anyway.  It'll be interesting to see what Sarah can do in this genre.  Hillary Clinton more than pulled it off with Amy Poehler, and McCain did a pretty funny skit last season about releasing an album.  Barack Obama was scheduled to appear on the season opener this year but cancelled due to Ike, so his only appearance was a short Halloween party sketch last year that was really short, and not all that funny.
Sarah Palin takes herself pretty seriously, so it's not a surprise that she's talking about hitting back.  I'm just not sure she'll be able to send someone up and come off likable and good natured with it.  She's good at mocking people, but it's not usually in true good humor.  There's no doubt she'll do it with a smile on her face, and a wink of her eye, though.
This coming Saturday's SNL will be a repeat, but they have a political primetime special airing this Thursday.  That would be the optimum opportunity for Palin to do her best Fey, but there are only a couple live show left before the election.