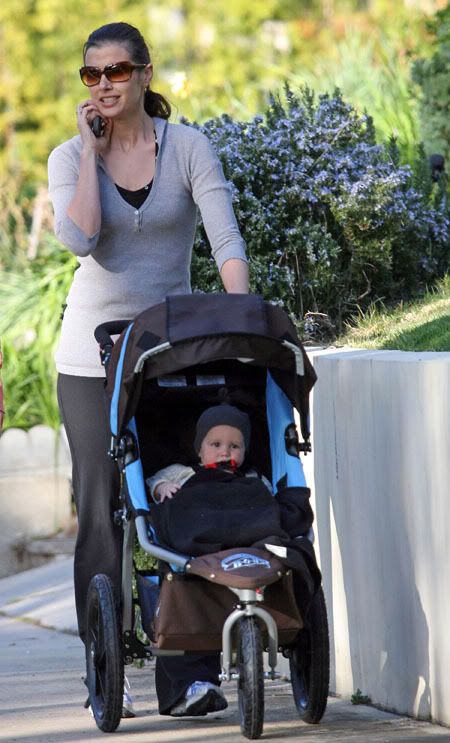 New England Patriots quarterback Tom Brady, arguably the most famous player in NFL football, is out for the entire year after tearing the ACL in his left knee in the first game of the season. Bad luck, right? Did anyone check if his ex, actress Bridget Moynahan, has a Brady voodoo doll with a pin through the knee?
According to In Touch, Bridget may try not to publicly badmouth Brady, but that's not the case with the sport he plays.
To recap: Brady and Bridget dated for 3 years, but broke up late in 2006. Shortly after, Bridget confirmed she was pregnant with Tom's baby and Tom went public with his relationship with Giselle Bundchen, arguably the most famous supermodel in the world. Bridget gave birth to a baby boy named John Edward Thomas Moynahan on August 22, 2007.
At the time, there was talk that Bridget was bitter because she gave her son her surname with no reference to "Brady," but Tom's full name is Thomas Edward Brady Jr., so apparently she just switched his first and middle name around.
Recent pictures showed Tom, Gisele and John playing in the park, and Tom has reportedly bought property in Brentwood, California, to be closer to where Bridget is raising their son, so it appears that all the adults in John's life are at least trying to be civil for the baby's sake.
However, don't expect Bridget and John to spend Sundays watching Daddy play football. Bridg et Moynahan hates football, and she's not shy about saying so.
Out of respect for the child they share, Bridget Moynahan keeps quiet about her feelings for her ex, New England Patriots quarterback Tom Brady, but she can't hide her disdain for his sport. Bridget, 37, was shopping at Tales & Toys in Venice, Calif., on September 14 with a friend and her 13-month-old son, John. "One of the sales clerks jokingly asked, 'So, you ladies aren't watching Sunday football?'" an insider recounts to In Touch. "Bridget looked disgusted and replied, 'We hate football.'"
[From In Touch, print edition, October 6, 2008]
Unless the clerk didn't recognize Bridget, it's sort of a bitchy question to ask her, which may explain Bridget's response.
Once Bridget starts dating and working again, she may be less passive-aggressive. Or she may enroll John in ballet class rather than pee-wee football. Not that there's anything wrong with that.
Bridget is scheduled to make a guest appearance on Eli Stone this season.
Bridget Moynahan is shown out walking Thomas on 2/3/08. Credit: SKIPPY/bauergriffinonline.com. She is also shown looking fabulous at the Cartier Charity Love Bracelet Launch on 6/18/08. Credit: Adriana M. Barraza / WENN