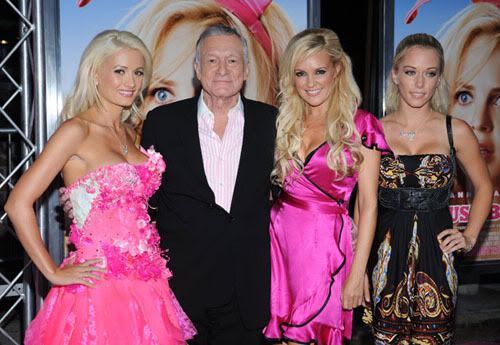 Girls Next Door's Holly Madison was chatting with one of TMZ's videographers about the annual Halloween party at the Playboy Mansion. She said she was going to dress as Elvis and the guy running the camera dropped the hint that he wanted to get an invite to the party. Holly let it slip that she can't change the guest list because she's not with Hef at this point. She said "I have no pull anymore. Hef and I aren't together, I can't invite people."
There will be another season of Girls Next Door, according to Holly. She said "The three of us, we're still filming stuff together."
This ends weeks of speculation that there was trouble brewing between Holly and aging Playboy head Hefner. She was Hef's favorite of his three girlfriends and was long considered the most loyal. There were stories that she was having a fling with magician Criss Angel after the two were spotted getting cozy in Las Vegas, but not much seemed to have come of that. Either way, we've heard it straight from her now that she's not with Hef.
There have been all sorts of stories about what's going on with 82 year-old Hef and his triangle of much younger blonds. WWTDD reported that Hef was ending his relationships with secondary "girlfriends" Bridget Marquardt, 35, and Kendra Wilkinson, 23. Wilkinson is said to be engaged to Philadelphia Eagles football player Hank Baskett, and Marquardt supposedly has not had sex in three years although she is actively dating someone else.
Hef's relationship with Holly, 28, was thought to be the only "real" one for him. There were rumors last week that they were having trouble due to Holly's inability to get pregnant. Holly has spoken to the press about wanting to have a baby with Hef and to get married. The aging patriarch of Playboy recently admitted that the relationships with his arm candy women were "in transition." It looks now like he was talking about Holly, and not just Bridget and Kendra. I wonder if Holly meant to let it slip that she's no longer with Hef, because it seems like she's got to keep some things quiet for the sake of the show.
The sixth season of The Girls Next Door is in the works, and there are rumors of spin-off shows for some of the women.
Header is of Hefner and the women at the premiere of The House Bunny on 8/20/08. Here are some photos of Kendra and Holly out at Foxtail in West Hollywood with Hugh nearby. Kendra is attempting to kiss a woman she referred to as "my friend from Costa Rica." Credit: Bauergriffinonline.com