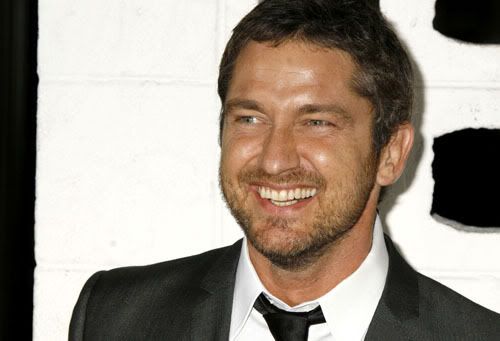 While filming RockandRolla, Guy Ritchie's newest crime-comedy film, Gerard Butler, who stars in the film with Thandie Newton, came down with a major case of the flu. Ever the consumate professional, Butler fought the flu and went to work anyway, not impressing Newton. Ritchie's wife, on the other hand, was happy to play doctor to Gerard's patient.
"I was so sick that she (Newton) said, 'I know we have a love scene today, but you're not putting that tongue in my mouth,'" he tells Parade.com. In the end, it was an unlikely aid who helped him recover his health. Mrs. Guy Ritchie, a.k.a. Madonna, was happy to play nurse to the sick patient!

"Madonna came to the set and she had all these little vitamin pills," Butler recalls. "I forget the name of them, but all of these different things that help you get well quick. Then she pulled out a hypodermic and said, 'I'm going to give you a B-12 shot in your butt.' I mean, Guy was standing right there watching and I was laughing like a little kid. She said, 'Ok, you've got to take this seriously.' I'm like, 'I'm trying to, but you're Madonna and you're giving me a B-12 shot in my butt.'"
[From OK! Magazine]
Madonna, you sneaky little minx! It probably took her about three seconds to come up with a way to get her hands on Gerard Butler's backside. To make it even better to Madge her husband was standing in the room while she did it. In my mind's eye, Ritchie is in the corner, a red rubber ball strapped into his mouth as he's cuffed to a chair, Madonna in black latex, cracking her whip as she says "You've got to take this seriously," and Butler nervously laughing as he's forced into the compromising position. I have a vivid imagination.
Butler is doing the rounds promoting RockandRolla. He appeared on the Tonight Show with Jay Leno last night and was his usual charming Scottish self, however, he drew an laugh/groan from the crowd when he said that women who have not had children look younger and better than women who have. He explained his comment with a story, regarding the bluntness of Scottish people, about his aunt, who had no children, going back to her hometown after travelling the world and meeting with an old classmate. The classmate, meaning that Butler's aunt had travelled the world and seen so much, said "Can you believe we went to school together?" To which, Gerard's aunt replied, "Oh, I know, but you've had three kids!"
This time my imagination sees Madonna talking to Auntie Butler, saying "Can you believe I'm old enough to have gone to school with you ?"
To which, Gerard's aunt replies, "Aww, I know, but you've had two kids!"
Gerard Butler is shown at the LA premiere of RocknRolla on 10/6/08. Credit: WENN