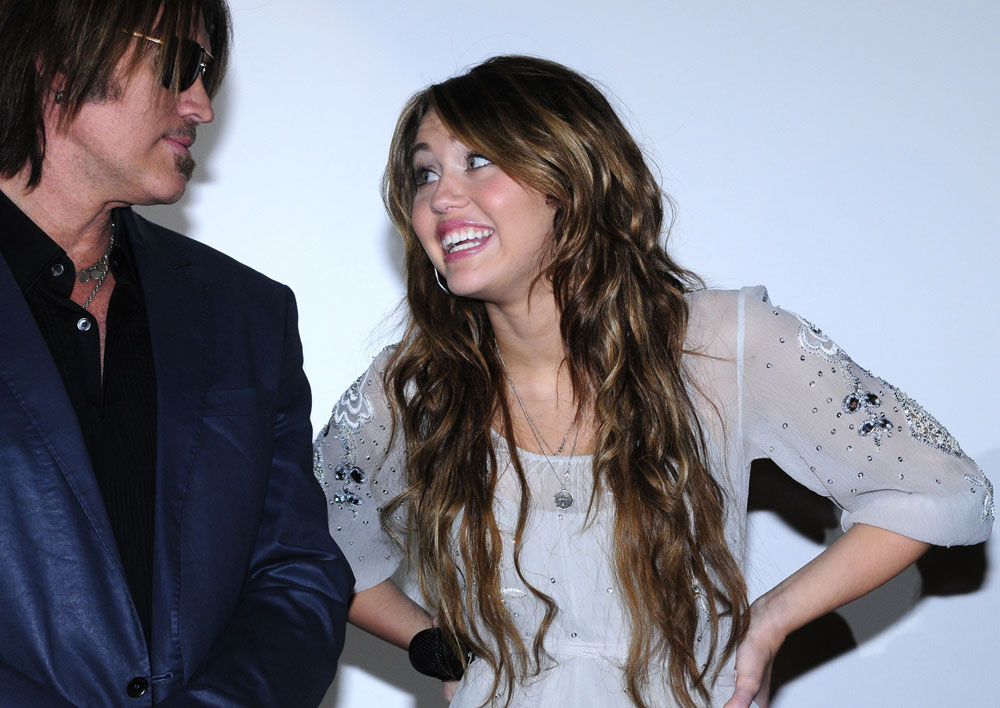 We've heard that Miley Cyrus' parents have called off their divorce, with Miley's dad Billy Ray "The Mullet" Cyrus saying on The View that he wants "to put my family back together." Miley's mom Tish has also put up a statement on her Facebook page about how happy she is to be reunited with The Mullet, writing "Our family weathered a huge storm and I feel we are stronger than we have ever been!" All of this comes after an interview The Mullet gave to GQ last month in which he very candidly talked about the fact that Miley's fast track in the business was difficult for him and said point blank that Hanna Montana "destroyed my family." He also talked about money issues to GQ, and said he was pulling in $15k a week playing his daughter's dad on Hannah Montana vs. "the millions that they make," adding that "everybody else was going to the bank."
Well the Mullet has since reigned it in. He canceled some interviews after he said all that to GQ and now he's going on the apology tour. He was on Good Morning America today, where he tried to backtrack and make nice. He also said that it was wrong of him to try and be Miley's friend first and that he could have been a better dad. I thought that was pretty thoughtful of him, but this interview probably came after some serious pressure from Disney and his wife.
On how he was out of sorts when he gave that interview
I did that interview with GQ two weeks before Christmas…in the midst of a divorce, separated from my family. It was a mess. Surrounded in darkness. GQ, the writer, photographer showed up. And I kind of learned this, that doing an interview when you're mad, is a whole lot like going to the grocery store when you're hungry. It's not a real good idea."

Kissing Disney's ass
I love my family more than anything in the world. My family extends out into the Disney family. I love the company. I love what they stand for.

On whether he's backtracking
As far as convincing anybody of anything, I don't have to do that. I just want to put my family back together.

On if Miley was upset with him after reading the article
I think we were all upset with me. It wasn't good. What I meant to say and what I hope I said was, fame, the pressures of fame … fame can be a dangerous animal. And it's a delicate thing. It's funny. You know, when you get in this industry and … you strike so hard for that moment. But, fame is dangerous.

On if there are people in Miley's life that don't have her best interests at heart
Most of all Miley has a great heart. She's very intelligent and she will make good choices

On when he was a friend instead of a dad
I look back on it and I know that I did kind of approach being a dad as a friend. I know that I could have done some things different… My kids need a dad and I can promise them that I'll come back in and do the very best that I can do. I may be persecuted for saying it, but I still want to be Miley's friend. I want to be the person that she comes to talk to. I just want her to trust and know that I love her more than life itself and I'll be by her side for the good and bad. I'll do my best to be a dad.
[From GMA, quotes online and from video above]
That's really nice. You could tell that he took his time to get his head on straight before coming back and apologizing, and that he was well versed in what he wanted to say. He never mentioned his wife Tish at all and wanting to have a loving relationship with her, it was all about his "family" and his daughter, Miley. I get that Miley is the famous one and that all the focus is on her, but it seems like Billy Ray and Tish are getting back together for the sake of their kids, and not necessarily out of a deep commitment and love to each other. If Tish cheated with Brent Michaels as rumored I guess I don't blame Billy Ray for not talking about her much.
Here are Billy Ray and Tish in June. They're shown with their kids Trace, Brandi and Noah in March. Header image from March, 2009. Credit: WENN.com