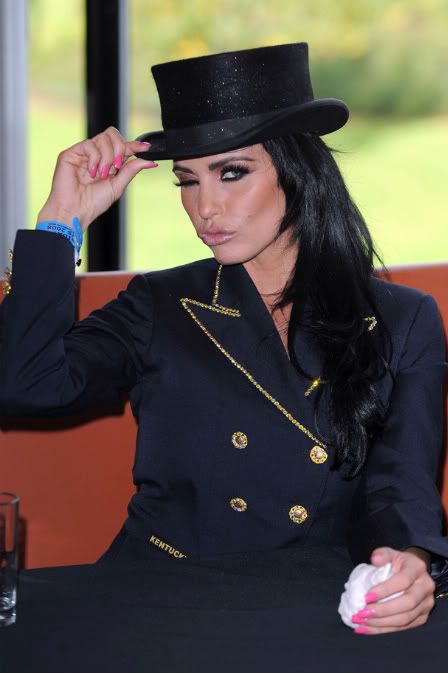 Nothing's cuter than a girl on a horse, right? Well, unless that girl is actually in her thirties and dressed up like some Playboy bunny harlot. Which frankly is a gracious description given glamour model Katie Price's eye makeup. The woman looks like an absolute skank. Though I'm not exactly Katie's biggest fan, she wrote an article defending why she should have been allowed to attend the very posh Cartier Polo International match, and it was very good. Her logic was generally sound, and it was clear she loves horses and riding and knows what she's doing more than the majority of the guests.
Since then Katie's made it her mission to bring horse riding to the common people. And while I applaud the effort, I think Katie missed the reasoning behind her initial snub when the match's organizers said she was "not the sort of person" they wanted there. She looks like a hooker. And not even a classy hooker you take out to dinner first. The kind that's best relegated to the backseat of your car. Points for trying, but I don't think she really pulled it off.
But it was to the strains of her husband Peter Andre's cheesy 1996 hit record 'Mysterious Girl' that Jordan chose to make an entrance at the Horse of the Year Show today. Despite the incongruous accompaniment, the former topless model was cheered and applauded by the crowd as she demonstrated her equestrian skills during her showcase slot at the tweedy event. Wearing a traditional black outfit with a touch of diamanté round the lapels, the 30-year-old and her mount, 'Jordan's Glamour Girl', continued their routine to 'Call on Me' by Eric Prydz and 'Sex Me Up' by Colour Me Bad.

Jordan, who now prefers to be known as Katie Price, has been keen to shrug off her tacky image and was said to be 'incredibly upset' when she was banned from attending the exclusive Cartier International Polo contest in Windsor for 'being too chavvy' earlier this year.

She said: 'There are people out there who have knocked me, even yesterday. I still don't understand it. They're asking why is someone like me doing dressage but when have you ever read so much about dressage? What's wrong with somebody like me doing it? I think I'm bringing glamour to it and I've only been doing it three months. I really enjoyed doing it. And everyone here has been very welcoming, there's no snobbery. People in the horsebox area say 'good luck', they can appreciate the fact that I've been riding since I was seven. I'm really pleased with what I've done here.'

The astute businesswoman, who is worth £50million, also used the show to launched her KP Equestrian clothing line.
[From the Daily Mail]
Katie is shooting for the 2012 Olympics, and told everyone not to underestimate her. I really appreciate her effort, and it's great to see someone famous have a hobby she's passionate about. Most celebs are all about being famous and that's it. However if she wants to be taken seriously Katie has to compromise to an extent. She can't just say, "You all are too uptight and need to change everything." She can still be herself without doing a routine to Colour Me Bad. Obviously it's her choice, but if she wants to be successful I'd be open to melding tradition with her own style.
Here's Katie at the 2008 Horse of the Year Show held at the LG Arena in Birmingham, England on Tuesday. Images thanks to Bauer-Griffin and WENN.