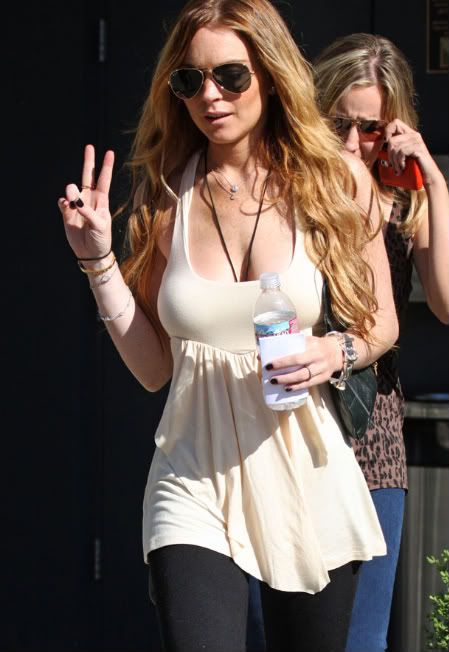 Lindsay Lohan has long been rumored to have money problems. She's also long been rumored to be having relationship problems. And she's long been rumored to be gay. Turns out a lot of rumors are true. Lindsay's having trouble in her relationship with Samantha Ronson because of her massive overspending. SamRo is reasonably conservative and thrifty with her money. Though a lot of people argue whether she deserves her high reputation in terms of DJ talent, she is also well regarded for her hard work ethic and pulls in about $300,000 a month.
That seems paltry compared to what Lindsay earns in her films… but Samantha keeps most of her money, and Lindsay doesn't. And it's causing a lot of stress in their relationship.
After snagging a pair of $1,240 Yves Saint Laurent platform boots from Barneys New York in Beverly Hills, Lindsay Lohan arrived at girlfriend Samantha Ronson's Hollywood home and threw away the bag and receipt. Why?

"Lindsay doesn't want Samantha to see evidence of her frivolous spending," a pal of the couple tells OK!. "Samantha is pretty conservative with her money, so the fact that Lindsay never seems to look at prices stresses her out. Worse, Lindsay has resorted to hiding her spending from Samantha – not a good thing."

On the other hand, DJ Samantha earns at least $300,000 a month from her skills on the turntables. "She is super responsible and takes her work very seriously," says her pal. "She is never late for a gig and is fastidious about her bookkeeping."

For her part, Lindsay's rep tells OK!, "Lindsay works and makes her own money — she is allowed to shop." But Samantha's friend tells a different story.

"Samantha loves Lindsay very much, but in recent months, Samantha has been very stressed about the responsibility she feels she has for Lindsay," the pal explains to OK!. "Lindsay really needs to be honest with Samantha if she wants their relationship to stay on track."
[From OK!]
TMZ pointed out that Lindsay seemed oddly embarrassed to be caught shopping at Fred Segal. Especially considering all the stuff that she does that she should be embarrassed by. Hiding spending from your significant other is guaranteed to lead to trouble. Even if you do keep separate accounts, it's a bad sign. Lindsay obviously has the right to do whatever she wants with her money – but if she's hiding it from Samantha, it makes it seem like she's doing something wrong, at least by the rules of their relationship.
Stuff like that will always come back to bite you in the ass. It's not that surprising that Lindsay's way of dealing with it is to just hide the evidence. After all she's 22 – at that age you don't totally understand the ramifications of your actions and how to behave in an adult relationship. That's one of those things most people mess up a few times. It would definitely behoove Lindsay to get her spending under control, or at least be upfront about it.
Here's Lindsay shopping at Fred Segal on Wednesday with her assistant and bodyguard. Images thanks to Bauer-Griffin.