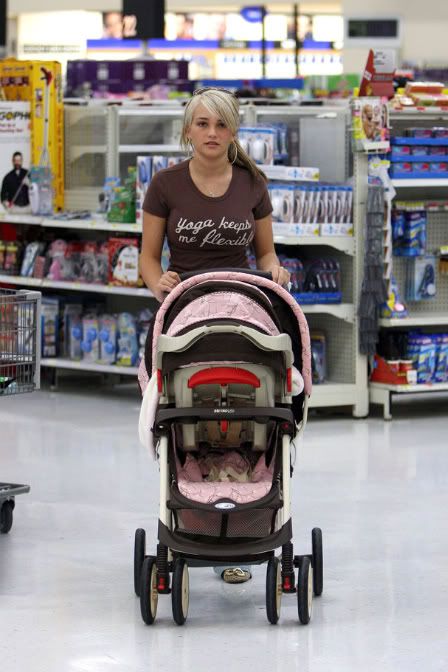 Jamie Lynn Spears is in all sorts of hot water again, though whether or not she deserves to be is highly debatable. According to the National Enquirer in a follow-up to their story last week, Spears definitely is pregnant again, despite the family's denials. The magazine says they got the information from a Spears family member who isn't backing down from his/her claims. However they also haven't named the person, so it's still hard to say. It's certainly not impossible, but it seems to early to rush to judgment yet.
Despite anonymous public denials, a Spears family member has come forward and confirmed that 17-year-old Jamie Lynn IS pregnant again! What's more, The NATIONAL ENQUIRER has learned that Casey Aldridge, the baby's father, erupted in anger when he found out. Jamie Lynn had been keeping the pregnancy secret and Casey learned about it through media reports after The ENQUIRER broke the story earlier this week.

Now, a close family member has revealed exclusively that the Spears family is in an uproar and Jamie Lynn is being pressured to abort the baby. The anonymous public denials of Jamie Lynn's pregnancy, says the family member, are simply buying the Spears family time until they decide what to do.

"Jamie Lynn's mom is furious about the pregnancy," the family member told an ENQUIRER source. "And she's livid the news leaked out, especially during her book tour. Lynne doesn't want to talk about it publicly until they sort this out. Jamie Lynn is being pressured by people very close to her to abort. But no decision has been made yet. Casey is furious. Jamie Lynn hadn't told him about the pregnancy. He learned about it in the media and then confronted her and she told him it was true. Lynne and Jamie Lynn have been arguing nonstop by phone."
[From the National Enquirer via Perez Hilton]
The National Enquirer is clearly sticking to their story. A lot of people haven't noticed the gradual change, but they are actually pretty accurate in terms of celebrity news. It's not like Star where it's safest to assume 98% of the story is fabricated. Like I said it's definitely too soon to even make an educated guess, but it's pretty obvious that the Spears' family rebuttals aren't holding a lot of weight.
Here Jamie Lynn at her local Walmart before going to a friend's house yesterday. Images thanks to Bauer-Griffin.