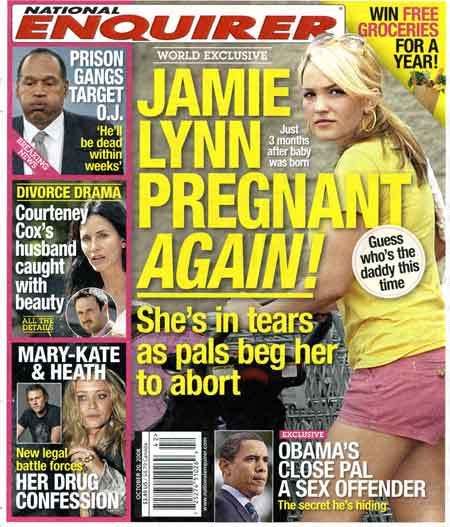 Just like her sister Britney, who had her second baby about a year after her first, The National Enquirer reports that Jamie Lynn Spears, 17, is knocked up again. Her daughter Maddie is only three and a half months old and Jamie Lynn is said to be 8 weeks along. MSat just reported that both Jamie Lynn and Casey went to OK! Magazine to deny that they're having trouble after multiple reports that he cheated on her throughout their relationship. Maybe they have some pretty compelling motivation to set the record straight if they're expecting another baby:
In a blockbuster world exclusive, The ENQUIRER has learned that the 17-year-old Zoey 101 starlet is now expecting for the second time – a mere three months after giving birth on June 19 to baby Maddie Briann.

Jamie's desperate to keep the shock ing news secret and some people close to her are urging Jamie Lynn to consider ending the pregnancy, sources say.

"Jamie Lynn is about eight weeks pregnant, and she and her mom Lynne are hysterical," revealed a close source. "Neither of them knows what to do, but for now they're trying to keep the news from getting out."

Too late.

The unplanned pregnancy came as a shock to Jamie Lynn, who'd been breast-feeding her infant daughter Maddie Briann, insiders say.

"Jamie Lynn believed she couldn't get pregnant while she was breast-feeding," said the close source. "She'd expected to have her period by early September." A home pregnancy test came back positive and Jamie Lynn cried her eyes out, said the source.

Her mother Lynne was livid when she found out, divulged an insider.

Meanwhile, insiders say that those close to Jamie Lynn are urging her to abort!

"They've reminded Jamie Lynn how much trouble she had adjusting to motherhood with Maddie, and pointed out that having a second baby now would only be a recipe for disaster," said the close source.

For the full shocking story and to discover WHO the new baby's father is – pick up the latest National Enquirer.
[From The National Enquirer via ONTD]
The National Enquirer has a solid record of getting scoops and I bet they have some pretty good sources to back up this story. They broke the John Edwards cheating story months before the rest of the press picked it up. This news is too much of a jaw-dropper to run without fact checking and they probably have it on good authority.
Many women who breastfeed end up pregnant again if they don't take precautions, and it looks like Jamie Lynn could be headed down that route too. Some praised her for keeping baby Maddie and taking responsibility for her actions, but two in a row just seems careless at her age. If she indeed is pregnant again and has another one, she certainly has the resources to care for the baby. Does she have the wherewithal to cope with two young children though? It proved too much for her older sister to handle.
Update: Jamie Lynn told OK! she wasn't pregnant, and TMZ quotes a source who also claims she's not pregnant.