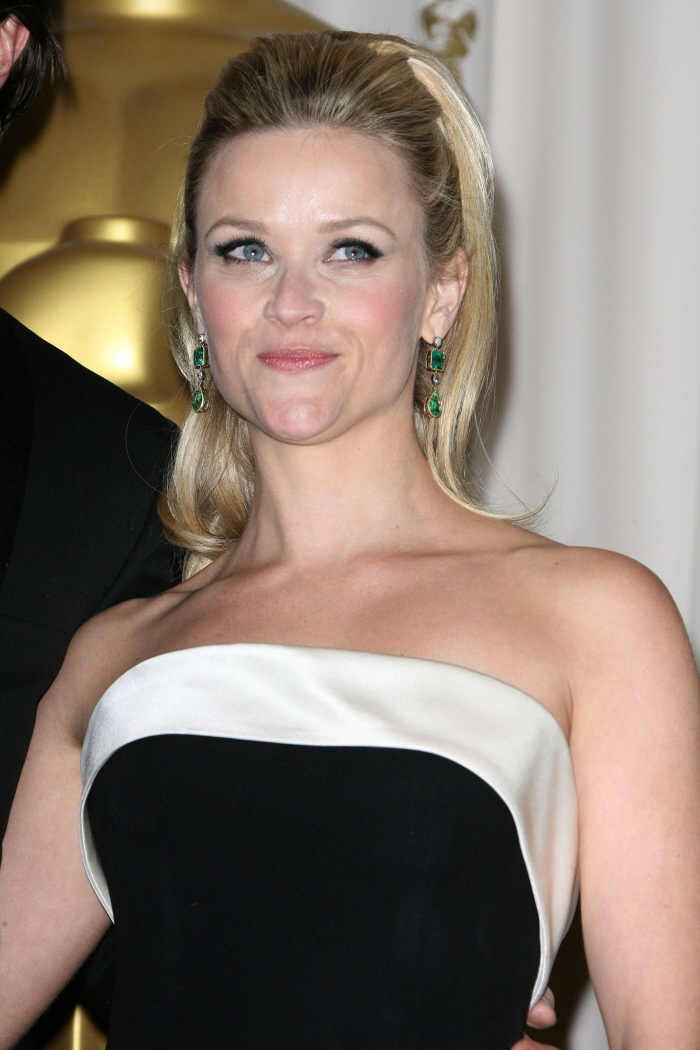 I've talked about this before, but I really need to stress it for this post – I am not a wedding person. I don't have the bride gene. When I see a show about picking out the perfect wedding gown, I change the channel to a rerun of Law & Order: SVU. Fluffy white gowns, seating arrangements, wedding waltzs, floral arrangements, all of that stuff that brides seem to obsess over – I just don't care. This is probably one of the many reasons why I'm not married (that, and I'm not a baby person either). If and when I ever get married, it will not be some big thing. I'll either elope, or go down to a court house while wearing a suit, or maybe something really, really simple with, like, barely anyone there and just a lot of food.
So imagine my surprise when I was reading even more details of Reese Witherspoon's weekend wedding (go here for yesterday's post about her nuptials), I found myself thinking, "Damn, that sounds really nice." Reese invited lots of A-listers to her wedding (RDJ!), but she kept everything really down-home and Southern and the whole thing sounds really cool:
When Reese Witherspoon wed Jim Toth at her Ojai, Calif. ranch on Saturday evening, the couple was 90 miles north of Los Angeles — but the vibe of the night was a universe away from Hollywood glitz! UsMagazine.com has brand-new details on the Oscar winner's big-time nuptials.

In a courtyard in front of the Ojai house, the Monique Lhuillier-clad actress, 35, and CAA agent Toth, 40, exchanged vows and William Goldberg wedding bands beneath a canopy.
About 120 family members and friends– including Sean Penn, Scarlett Johansson, Renee Zellweger, Tobey Maguire and wife Jennifer Meyer, Robert Downey Jr., Matthew McConaughey and love Camila Alves, Alyssa Milano, Colin Hanks, Isla Fisher and hubby Sacha Baron Cohen– were on hand for the bash.

Reverend Jimmy Bartz, of the Santa Monica church regularly attended by the couple, officiated the 20-minute service, and Witherspoon's children (with ex-husband Ryan Phillippe) Ava, 11, and Deacon, 7, participated in the ceremony.

Matron of honor duties went to Witherspoon's best friend Heather Rosenfield, whose little boys served as ring bearers; the star's nieces were flower girls.

In a fitting turn for the Southern-born actress, a bluegrass band played "Tennessee Waltz" as the processional music for Toth and the kids, segueing to "Here Comes the Bride" for Witherspoon's walk, and playing "Will the Circle Be Unbroken" during the ceremony.

Immediately following the "I do" exchange, guests retreated to a one-hour cocktail party behind the house.

The special night's theme? Rustic, farm-style, of course! (At her bucolic Ojai spread, Witherspoon gardens and keeps horses, donkeys, pigs, goats and chickens.) The outdoor decor included lanterns and chandeliers hanging from trees, mismatched antique chairs and distressed benches set throughout the property, a wood plank dance floor, antique leather sofas, jute rugs, wago wheels and Turkish textile pillows.

Different arrangements of white, blush and lavender flowers were set up on each table in mason jars, fish catcher lanterns and antique pots. And large moss-covered pots with lavender were set up all over the estate.

When it was time for dinner, guests sat down at long tables in a fabric-lined tent behind the house. On the menu, catered by L.A. eatery Lucques: endive salad with olives and fava beans; wild striped bass with potatoes, chanterelles and garlic; mustard grilled chicken with haricort vert and herb roasted lamb with braised artichokes. For dessert? A grand wedding cake designed by Erica O'Brien, a separate table of sweet treats — and a s'mores lounge!

After the meal, guests boogied on the dance floor to DJ-spun tunes. When it was time to call it a night, revelers departed clutching gift bags with pecan currant scones from a local baker.

Says a pal of the couple, who began dating in January 2010: "They feel like they've hit the jackpot in this relationship!"
[From Us Weekly]
Okay, if and when Gerard Butler/Michael Fassbender/Ralph Fiennes wants to marry me and he really wants a big, Hollywood wedding, we're doing it like this. I like Reese's plan, and I would happily copy it. Now Gerard just needs to buy me a big ring. And Michael needs to rest up for the honeymoon.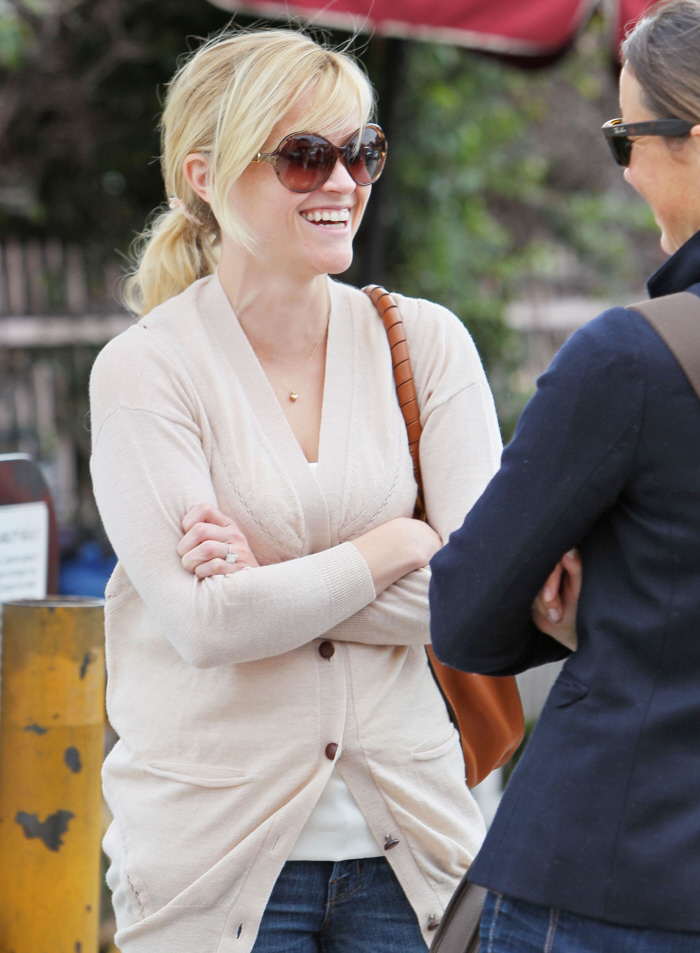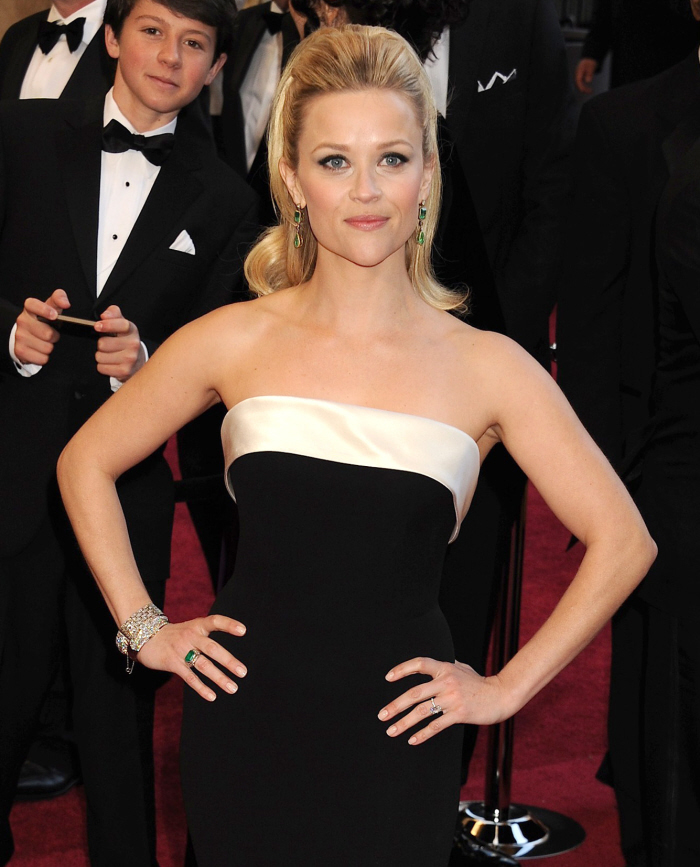 Photos courtesy of WENN.