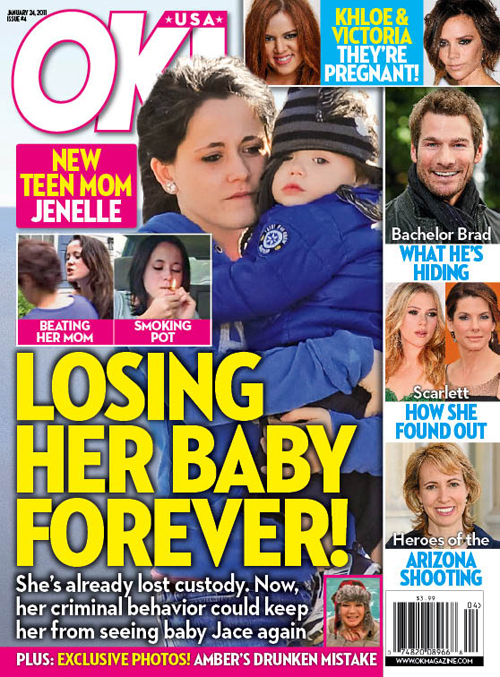 I haven't watched Teen Mom this season, but from what I've heard this Jenelle Evans chick is the bad seed in the bunch. She's has custody of her infant son taken away from her and awarded to her mom, and was arrested for marijuana possession and breaking and entering last year. (She's due back in court on that charge on April 29.) She also got in a brutal fight with another woman, over her boyfriend or something. This was caught on tape, but it looks like an onlooker taped it on their cell phone without bothering to intervene at all, and ended up selling it to a photo agency. At least in this case it wasn't an MTV camera person witnessing abuse and not stepping in to stop it.
TMZ has the tape of that fight, and it made me sick to my stomach to watch it. Janelle really lays into the girl and punches her repeatedly in the face, using her fingers to spread open the girl's mouth when she's not wailing into her. It's awful to watch. Thankfully this lowlife Jenelle was arrested for that attack, though. She was charged with two misdemeanor counts of assault after the victim pressed charges this weekend. Jenelle posted bond of $500 and was released shortly afterwards.
Jenelle Evans was taken into custody late Sunday in connection with two misdemeanor charges of simple assault and simple affray (i.e., a physical altercation) and RadarOnline.com has her just-released mug shot for you.

The arrest stemmed from a video of Evans, 19, fighting a love rival named Britany Truett over a boy named Kieffer Delp, who was also arrested Sunday on an unrelated outstanding drug charge. In the clip, Evans is seen punching Truett (who'd pressed charges over the weekend) repeatedly in the face.

The North Carolina native — who's forfeited legal custody of her son Jace to her mother Barbara in this season's edition of the MTV reality hit — was apprehended by Oak Island Police and booked into Brunswick County Jail, where she was released at 11:25 p.m. ET on bond of $500.

Evans is the second Teen Mom in as many seasons to be arrested based on incidents caught before the show's cameras, as Indiana native Amber Portwood is currently facing a pair of felony charges in connection with her televised attack on baby daddy Gary Shirley.

Evans will face the charges in court April 26; in the meantime, you can see more of Jenelle when Teen Mom 2 airs on MTV Tuesday at 10/9c.
[From Radar Online]
What kind of kids is MTV paying $280,000 a year to be on TV? We had Amber last year and now here's another two bit abusive criminal getting semi-rich and famous thanks to having a child underage that she's not fit to care for. I hope that MTV makes an executive decision and doesn't give these kids any more air time after they commit crimes, but you know that's not going to happen. They get way more press for the show when the stars fight and get arrested.