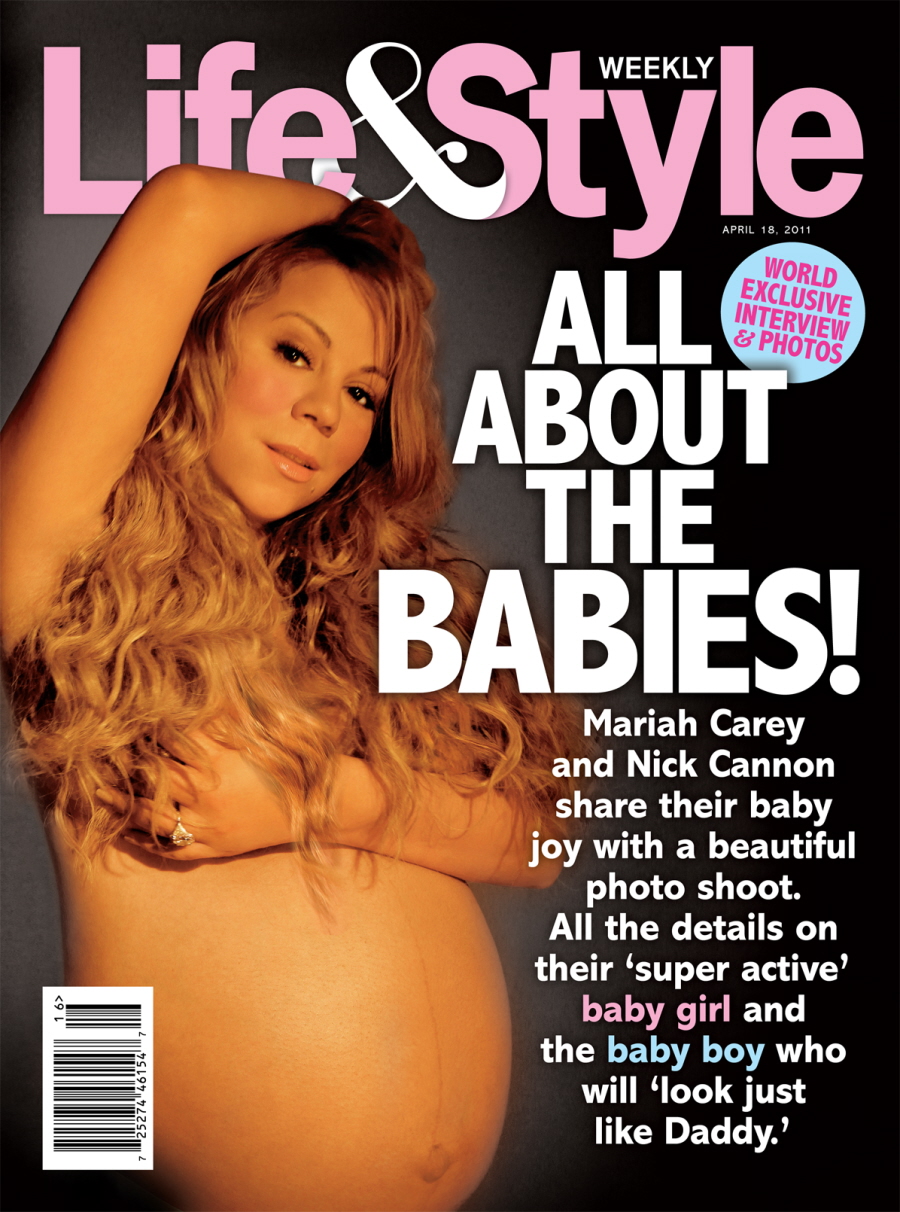 Mariah Carey has given yet another exclusive to Life & Style Magazine, this time letting them do a "pregnant photo shoot" plus cover interview. A few months ago, she also confirmed to L&S the sex of the babies – one boy and one girl. Now, these are not the first photos of Mariah's massive bump that we've seen – she also tweeted a photo of her bump with a butterfly painted on it. Obviously, because "Butterfly" is going to end up in at least one of these baby names, right? Raspberry Butterfly Cannon Blueberry Butterfly Cannon. Anyhoodle, in this interview, Mariah makes it clear that while she has issues with everybody all up in her womb, she also feels like she owes it to her fans to enjoy every second of her pregnancy. I love her.
Mariah Carey has posed for her fair share of portraits, but none has been as personal or emotional as these exclusive belly-baring snaps. Mere days away from welcoming her first and second child, Mariah proudly showed off her pregnant body to Life & Style.

"I was feeling very vulnerable about taking pictures at all right now, but then I didn't want to miss this opportunity to document this once-in-a-lifetime experience," Mariah exclusively tells Life & Style. "My ultimate goal was to share this incredibly personal moment with my true fans."

And the twins — a boy and a girl — were clearly ready for their closeups.

"The babies were kicking almost the entire time; it was unbelievable," Mariah tells Life & Style. "Especially the girl — clearly she's a diva in training! We didn't start shooting until 1:30 a.m. because I was in the hospital from the night before until the day of the shoot with contractions five minutes apart!"

Indeed, although Mariah's not due for a few weeks, the twins could be making their grand entrance sooner rather than later. Contractions sent mom to the hospital on March 27. But for now, Mariah and soon-to-be-dad Nick Cannon are simply reveling in their twin bliss! And Nick says he is more attracted to his wife than ever.

"I thought I couldn't love Mariah more," he tells Life & Style. "But I have a whole new appreciation and admiration for her."

Mariah adds, "Now I have so much respect for mothers everywhere, especially those who've had difficult pregnancies or given birth to multiples. We need to have Mother's Day once a week!"
[From Life & Style]
How did she know the girl was kicking? The boy could be destined for show business too, Mariah! Especially when they name him Royal Butterfly Cannon.
Is anyone else genuinely pleased with Nick's devotion to Mariah? I am. I didn't think this junk would last, but they seem to "get" each other and have a surprisingly solid marriage. I hope Mariah and Nick and the babies stay healthy these last few weeks, and I hope everything goes well for Mariah in the delivery room. I'm starting to feel itchy from anticipation!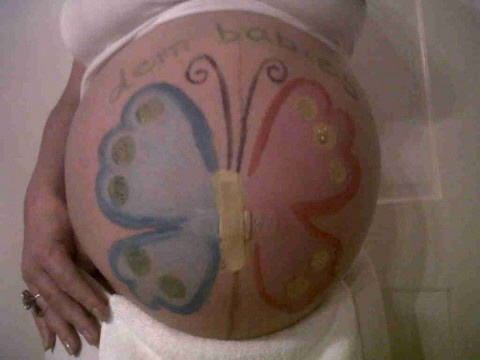 Photos courtesy of Life & Style, Mariah's Twitter.