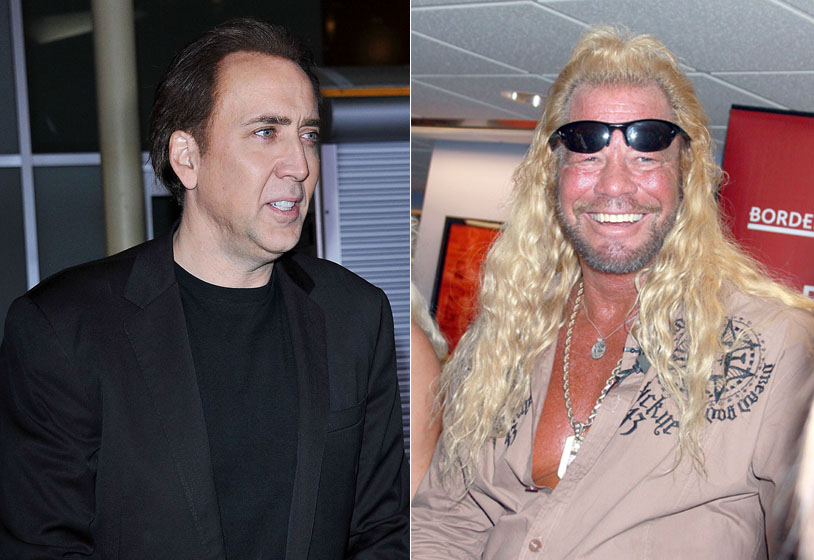 As we heard over the weekend, Nicolas Cage was arrested for generally being a drunken dumbass early Saturday morning in New Orleans. He was so drunk he didn't know where he lived, and instead of listening to his wife tell him that he'd picked the wrong rental house, he argued with her and dared some cops who were called to the scene to arrest him. They charged him with domestic violence (for allegedly grabbing his wife by the arm) and disturbing the peace and took him into custody. Cage wasn't in with the general population and was just kind of hanging out there at the station. He was eventually bailed out by Dog The Bounty Hunter, who issued a statement showing his pride at having such a famous client without revealing much about Cage's state of mind or how blotto he was. Cage was surely sobered up at that point anyway, Dog's wife Beth tweeted that their latest client had been in "jail" for 8 hours, as if that's not typical in New Orleans. It's probably not typical for their clients to get to hang out behind the counter with the police officers, either.
Nicolas Cage received the help of an unlikely ally after his arrest in New Orleans this weekend – Dog the Bounty Hunter.

Reality star Duane 'Dog' Chapman posted the actor's $11,000 bond after he was charged with domestic abuse and disturbing the peace Saturday in the French Quarter.

"I am a truly dedicated fan of Mr. Cage and will not be granting any interviews about my client as I wish to respect his privacy," Chapman, 58, tells E! News in a statement.

"I performed my duties as a bail bondsman and not in connection with our show. This is what I do for a living. There are two sides of my job: I release my clients after they have been arrested; and pick them up if they don't show up in court. I do not believe the latter will be the case for Mr. Cage."
[From People]
At some point before taking a cab to a house he mistakenly believed he was staying at, Cage, his wife and some buddies went into a tattoo parlor. TMZ reported that Cage was "throwing his clothes around" there and "demanding" to get a tattoo. They've since posted the surveillance video without audio and you can see Cage's wife pleading with him (probably to go home). He keeps arguing with her and at some point they seem to make up because she goes upstairs with him, presumably while he gets a tattoo.
You can see Cage's "mug shot" on TMZ and Radar. It looks like a cell phone pic and they didn't even make him stand up against a white walll. Cage is scheduled to appear in court on May 31 for these charges. He's in New Orleans making his latest POS movie, The Medallion. Dude still has to pay for all those castles, exotic pets, dinosaur bones and luxury cars he blew all his money on.
Update: People has more on the night in question, and it paints a pretty vivid picture of just how much of a belligerent drunken out of control ass Cage was:
The couple were fighting over which house they were renting in the French Quarter, and Peter Bennett, a local street performer who lives near the property, tells PEOPLE he came home to two cop cars on each end of his block.

"Apparently he had mistaken the house of my neighbors for the other house up the block that he is actually renting," he says. "His wife was trying to persuade him from disturbing the elderly couple who do in fact live in that house."

Cage is actually renting the house three doors down, according to Bennett. When cops arrived, the barman says the actor started to get into the back passenger-side door of the police car.

"But the cop got out, walked around, and Cage ran a block south toward the river, where he tried to get into a cab," he says. "There was a woman outside with a baby in her arms shouting, 'Please don't hurt us.' "
[From People]
You know you're out of control when your wife is telling you you've got the wrong house and women with babies in their arms are pleading for their lives.
Dog and his wife are shown on 3/19/10 and 11/29/09. Nicolas Cage is shown on 2/22/11 and on 7/12/10. Credit: WENN