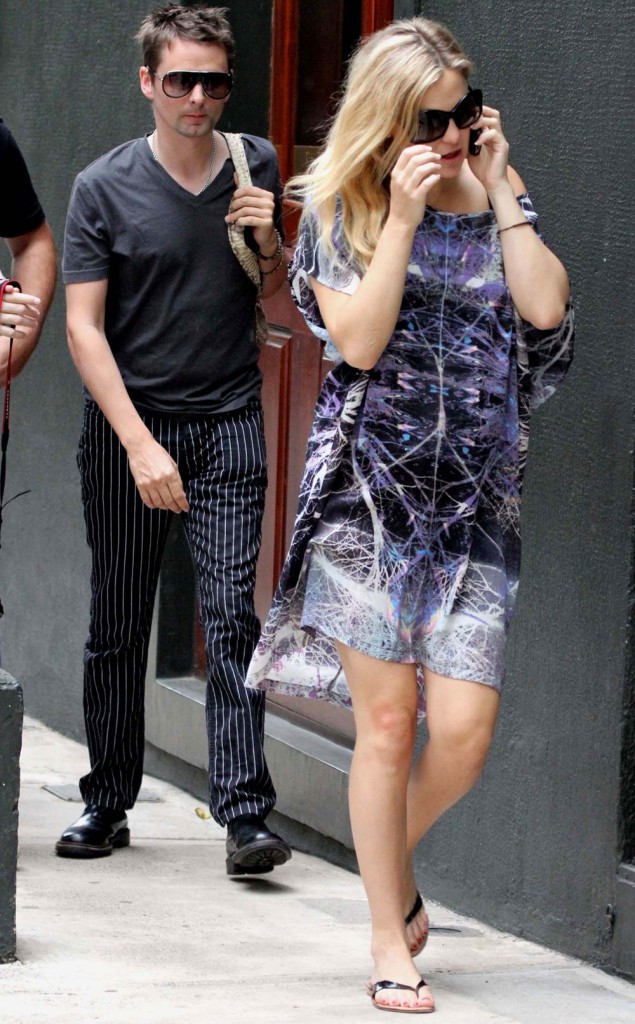 The National Enquirer had this good piece of gossip about how Kate Hudson's current boyfriend, rock star Matt Bellamy, is feuding with her ex husband, rock star Chris Robinson. You would think that those two might get along, since Chris has long since moved on and has a new wife and baby, and both he and Matt seem like relatively mellow guys. Plus guys don't openly express hostility to each other much in my experience, and if they don't like each other they just keep their distance. That might not be the case with Chris and Matt, though, because according to the Enquirer Chris told Matt to step off and stop acting like a dad to his seven year-old son with Kate, Ryder. Meanwhile Matt is upset that Kate is so close with Chris and his wife and "feels threatened by that."
"The situation is very awkward because Kate is friendly with Chris, his wife Allison and their baby. Matt feels threatened by that.

"He and Chris are musical rivals with opposite personalities. Chris is an introverted hippie and Matt is a hard-rocking outgoing guy. Every time they talk, they wind up arguing…

"I think Chris is put off by how Matt has taken such a fatherly role with Ryder," the source said. "He even told Matt, 'Back off, man. Ryder already has a dad."

Their frosty relationship appeared evident at Ryder's Little League game in Malibu on March 19.

"Kate was hanging out with Chris and his wife, chatting and cheering Ryder on. But Matt kept his distance and wouldn't talk to Chris," the source revealed.

The blonde beauty, who gained 70 pounds while carrying Ryder, is reportedly suffering through a difficult pregnancy.

"Kate must feel like a bloated whale. The last thing she'll want to deal with is playing referee between her ex-husband and her boyfriend," said the source.
[From The National Enquirer, print edition, May 2, 2011]
I don't believe this. I'll buy that Matt and Chris avoid each other, but I doubt that Chris told Matt to step off his son. He could of, though. He just strikes me as the type of guy who would try to get along with another guy. Kaiser and I were e-mailing about this, and in our experience it's rare for guys to bitch another guy out to his face. (Behind their backs, sure.) Usually they either avoid each other or try to get along. I also think that a lot of guys forget that they're mad at each other when they hang out. It's like unspoken guy code or something. The Enquirer probably had a paparazzi source tell them that Matt and Chris didn't talk at that baseball game, but the rest of this sounds like conjecture.
Also, how rude is it to say that Kate "must feel like a bloated whale." She's pregnant, give her a break!
Photos of Kate and Matt from 4/10/11. Photos of Chris Robinson are from 2/11/11. Credit: WENN