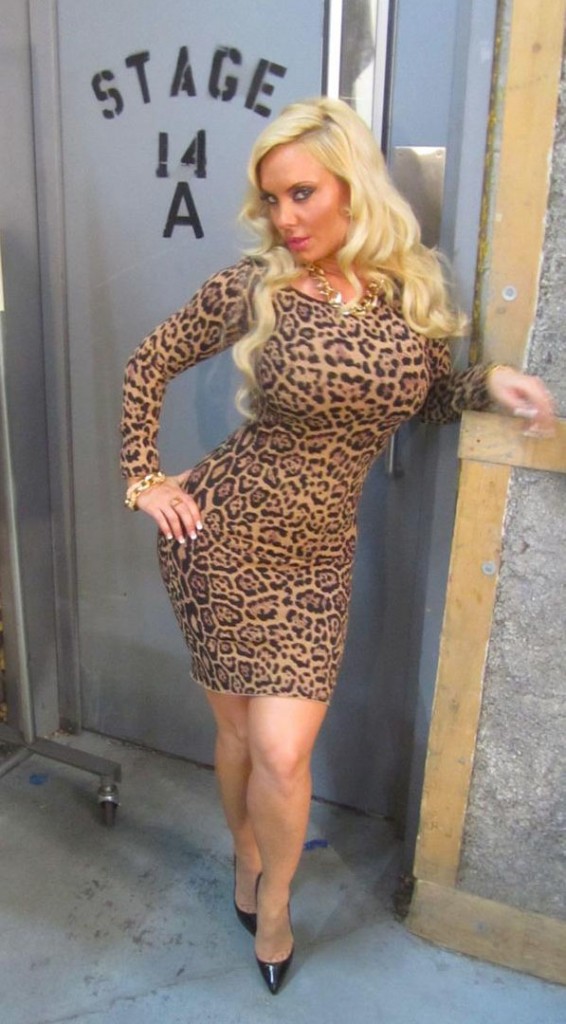 You may know Ice T's girlfriend, Coco, from the many photos of her huge ass and boobs that she's posted on Twitter. I'm not exaggerating at all, she has "titty Tuesday" and "thong Thursday" where we get to see her assets that silicone built. She admits to breast implants, but claims her butt is real. Early photos of her prove otherwise.
TMZ has the news that Coco is getting a reality show, from the same network that regularly rewards D-list sex tape stars with reality shows, E!
Coco has no problem revealing several intimate details (and body parts) on her Twitter feed — now TMZ has learned she'll be doing that every week … on her new reality show.

According to our sources, Coco will be starring in a new show for E! — the same network that airs "Keeping Up with the Kardashians." Hmmm, we're sensing a theme here …

We're told the show has begun shooting in NYC — it will focus on her crazy life and will feature her hubby, rapper/actor Ice-T.
[From TMZ]
Of course she did. Because all you have to do to be famous is get extreme plastic surgery, have no sense of shame, and post photos of yourself on Twitter. It doesn't hurt that she's married to Ice T.
E! needs programming and people must be watching these shows. I sat through a whole episode of Kourtney & Kim Take New York recently. Prior to that I'd never seen an entire episode of any show involving the Kardashians. It was actually mildly interesting. Kourteney, Kim and Scott were incredibly annoying, but the show had a story arc and everything thanks to how obviously scripted it was. I blame Ryan Seacrest for foisting so many reality stars on the public using this same formula. I hope Kim Kardashian and Kendra Wilkinson realize that this is their competition – trashy plastic surgery victims who look like cartoons and are unapologetic about it, (but still lie about what they've had done, natch) not women who sign off on releasing their own sex tapes and then try and act like they're mortified by them.