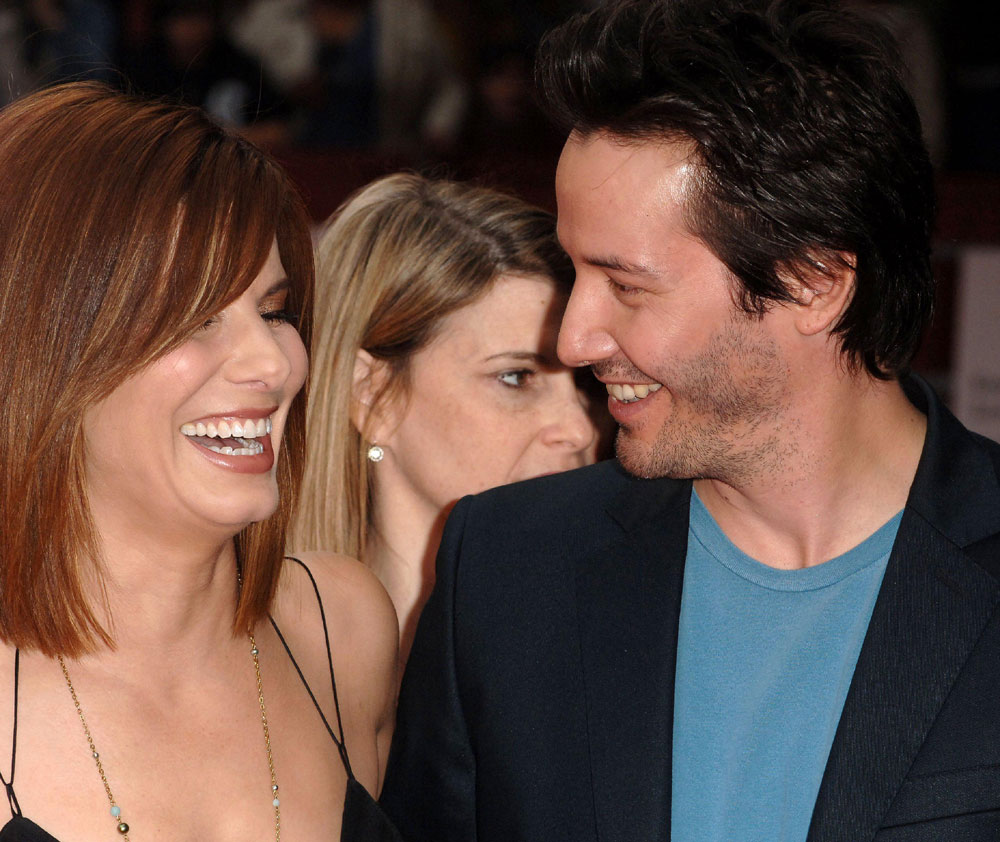 In the latest "news about Sandra Bullock's love life I wish were true," the National Enquirer is reporting that her old Speed co-star and good friend Keanu Reeves has been "comforting" her. They don't even imply that there's a romance happening between Sandra and Keanu, and unlike the times she was spotted out with Ryan Reynolds a few months ago it doesn't look like she's in a friends with benefits relationship with Keanu. That's a damn shame. We also heard this rumor a year ago, when it was reported that Sandra was "leaning on" her old buddy Keanu in the wake of her then-husband's cheating scandal.
Sandra had been frantic over the news that her ex husband Jesse James wrote a tell-all book, "American Outlaw," and only Keanu was able to ease her fears.

"Keanu was her rock," a close pal of Sandra told The Enquirer.

As we reported, Sandra was consumed with fears that all her secrets would come spilling out under the guise of Jesse's "memoir."

"Keanu spoke to her for hours, night after night, listening to her worries, as she poured out her heard over her frustration and pain," said the pal.

"And in the end Keanu gave Sandra the courage to move on and hold her head high. He basically told her Jesse's cooked-up stories were just that. He soothingly reminded her that she really had nothing to fear because she was respected by everyone close to her including him. He assured Sandra he'd always be there for her…

"After Jesse's cheating scandal erupted, Keanu became Sandra's shoulder to cry on," said the pal…

They've always professed a great mutual respect and affection for each other…

"The first person she turned to was Keanu, and he proved he was a true-blue friend by being there for her."
[From The National Enquirer, print edition, May 9, 2011]
That's a really sweet story and I hope it's true. You know that Keanu's gentle voice and kind words would help in a crisis, and it's all so romantic sounding. (sigh)
I had the chance to read In Touch's cover story Sandra Betrayed Again! and it's just a rehash of a recent "poor me" blog entry that James penned that kind of bitterly negates his marriage to Sandra. (He's since deleted it.) We were anticipating this from his memoir anyway, which is out tomorrow, May 3. I'm debating whether or not I should buy it as I want to report on some of the ridiculous things he says but I don't want to support him in any way.
In Touch also has a column from James' nastiest mistress (that we know of), Michelle "Bombshell" McGee. She comments on Jesse's memoir and how he's still trying to wound Sandra for dumping him after he slept with every skank in his path who ever worked a pole. According to Michelle Jesse told her he was frustrated having to share the bed with Sandra's dogs, and claimed he hadn't slept with Sandra in months. Isn't that what cheating dudes always say? "My wife doesn't understand me," "We're separated," "We don't sleep together." We know that Jesse is a lying bastard who will use any excuse and I'm sure this memoir won't be any different. At least Sandra has her millions, her sweet son, and some hot male companions to console herself with. If only she were more than just friends with lovely Keanu.
These photos are of Sandra and Keanu in 2006 promoting The Lake House. I never saw that movie. Credit: WENN.com