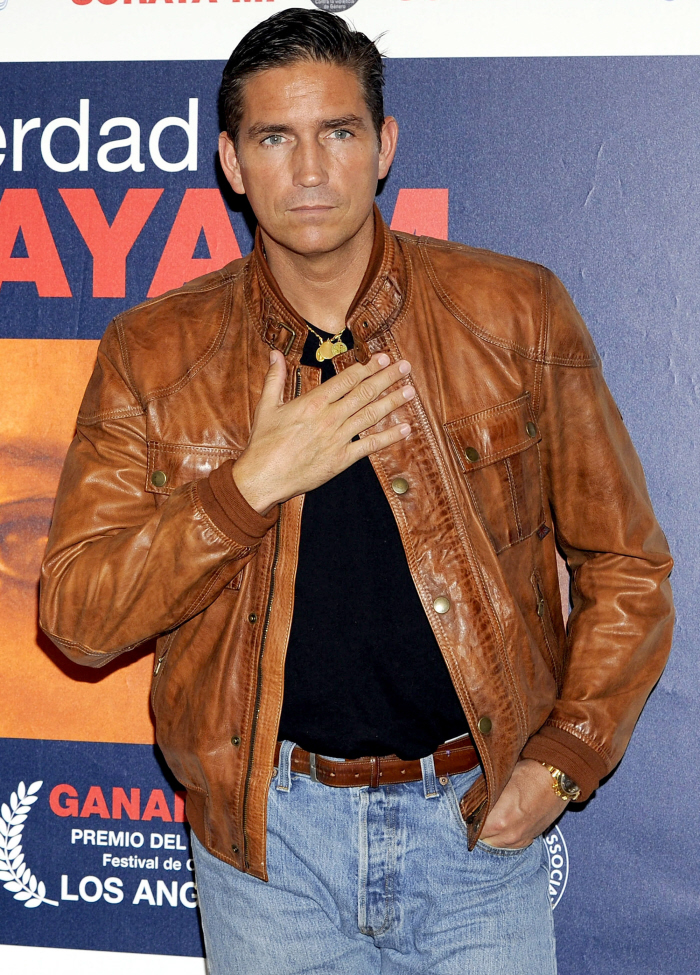 Several weeks ago, we finally gave in to one person's fervent requests for Jim Caviezel to appear on Hot Guy Friday. I found some recent photos of him, in which I discovered that the once attractive young man had turned into a very dour and hard-looking older man. I said what I thought about him – that he reminded me of a certain kind of (Republican) politician, that my Douche Meter detected notes of sketchiness in Jim. Some of you yelled at me, but whatever. Jim bugged me for a while. It's not because he played Jesus in Passion of the Christ – I'm not going to hate on the dude for taking a role in a movie. I think what bothered me, at the time, was the way Jim promoted his work in the film by acting like he was in fact The Second Coming.
But that was then, and this is now. Nowadays Jesus gets shoved under the bus as Jim pursues a new career path. Okay, Jim isn't really shoving Jesus under the bus, but he does seem to blame his super-amazing portrayal of Jesus for his career slump, and yes, he compares his career slump to crucifixion. True story.
Actor Jim Caviezel has claimed his Hollywood career was wrecked by playing Jesus. He said he was 'rejected in my own industry' after taking on the lead role in Mel Gibson's controversial movie 'The Passion of the Christ'. Since playing the son of God in the 2004 film he said offers had dried up and he is shunned by many within the industry.

Although a box office hit taking more than $400million worldwide it was condemned as being anti-Semitic. Gibson, the film's director, was later accused of making anti-Jewish remarks after being arrested for drink driving. Caviezel said he was warned against taking the part by Gibson who warned him he would never work in Hollywood again.

'He said, "You'll never work in this town again." I told him, "We all have to embrace our crosses".' Caviezel told an audience of churchgoers in Orlando, Florida.

Since Passion of the Christ, the 42-year-old has only appeared in a handful of films. Prior to playing Jesus he was considered one of Hollywood rising stars and appeared in The Count of Monte Cristo' and Angel Eyes with Jennifer Lopez. One of his biggest hits was in 2000 with time-travel thriller Frequency opposite Dennis Quaid. Caviezel, a devout Roman Catholic, said he knew playing Jesus would be risky.

'Jesus is as controversial now as he has ever been,' Caviezel said. 'Not much has changed in 2,000 years.'

He said he wasn't worried about the stalling of his career. During his 20 minute talk, Caviezel spoke of the troubles that have dogged Gibson.

'Mel Gibson, he's a horrible sinner, isn't he?' Caviezel said. 'Mel Gibson doesn't need your judgment, he needs your prayers.'

Caviezel said that his faith is his guide, both personally and professionally.

He said it was no coincidence that 'in my 33rd year, I was called to play Jesus,' and joked about his initials also being the same as Jesus Christ.

The actor spoke about the film and its negative effect on his career while at a megachurch in Orlando to promote a new audio book of the Bible.

Caviezel plays Jesus and other Hollywood stars, including Richard Dreyfuss, appear on the CD. Pointing to a DVD of his famous film, Caviezel said 'This is The Passion of the Christ.' Pointing to the CD boxed set of the new audio book of the Bible, Words of Promise, he said: 'This is The Passion on Steroids.'
[From The Daily Mail]
If Jesus was an actor, I think he would be more like Tom Hanks, right? Just a thought.
Anyway, I was looking through Jim's IMDB page, and I tend to think his career "slump" is kind of overblown. Let's face it – he's not some world-class actor, and when you think about how little most actors work, Jim has a decent career these days, mostly on television. Jesus enjoys basic cable, apparently.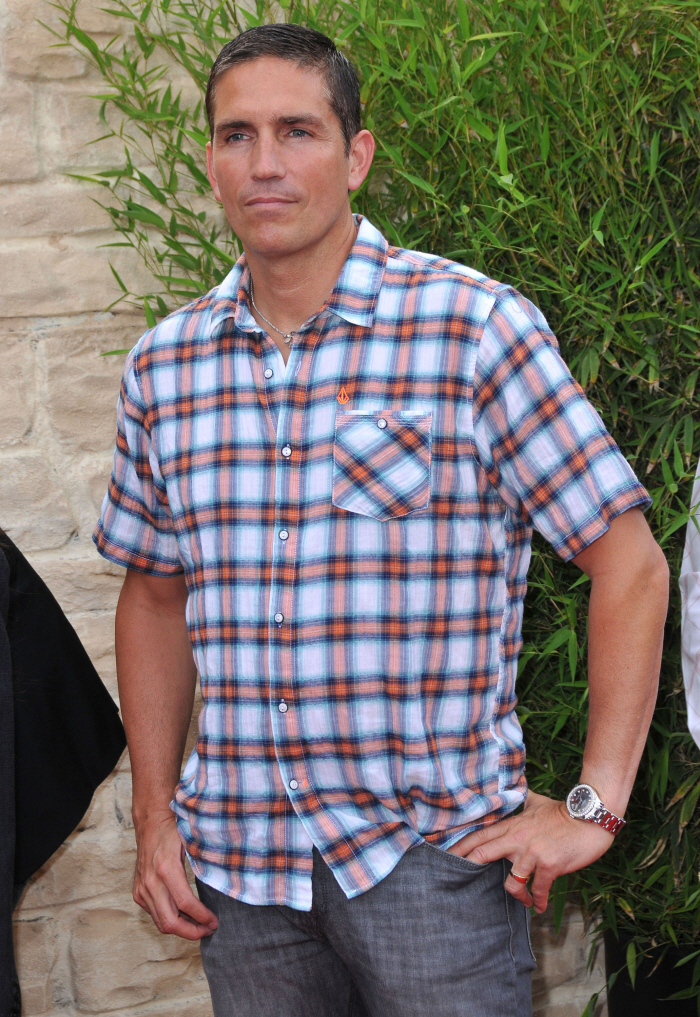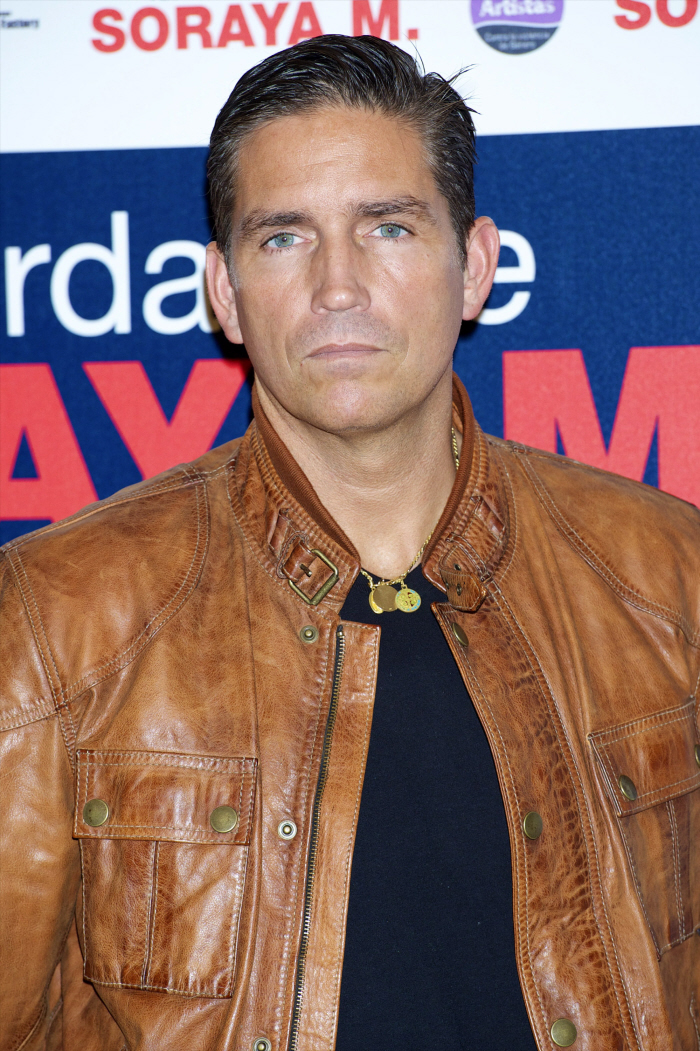 Photos courtesy of WENN.