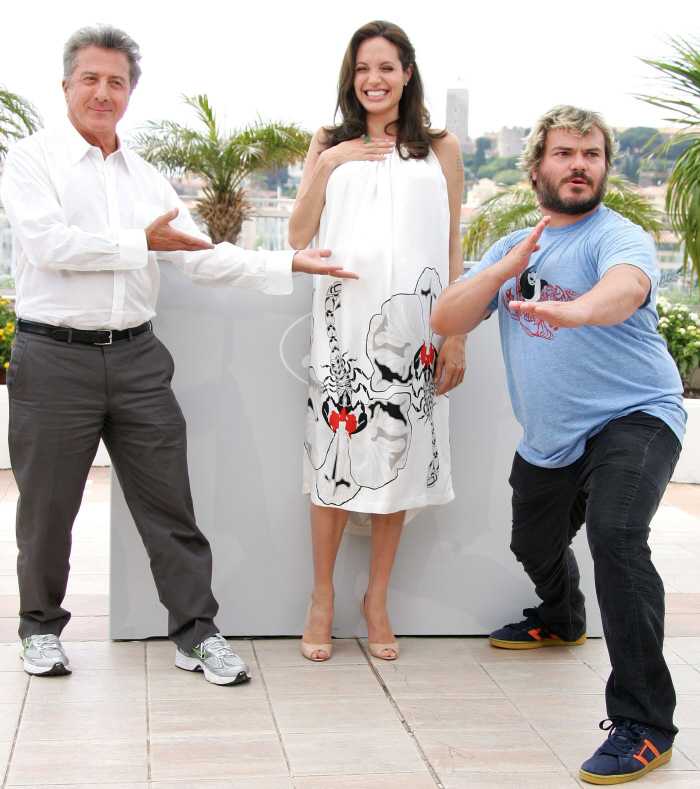 USA Today has a great interview with Angelina Jolie and Jack Black, who are promoting their work in Kung Fu Panda 2. Since I don't have kids, I can't speak with any real knowledge about how much or how little kids liked the first Kung Fu Panda movie, but I've seen parts of it on television, and it looked pretty cute. Jack Black's voice work is stellar, and it's hilarious to me that Dustin Hoffman was playing "The Master" or whatever. Anyway, Angelina and Jack have an easy chemistry together, and it's a great read. You can read the whole thing here, at USA Today, and here are some highlights:
Jolie talks about her kids coming to the recording studio when she did her voice work: "They know when Mommy's funny and when Mommy's not funny… They'll sit in a room and say, 'That's just not funny'… [it kept me] competitive, even if they think Jack Black is always cooler than Mom."

Jack Black's kids don't know he's Po the Panda: "The kids just think Kung Fu Panda is an actual bear… But we act out our own scenes, go on our own adventures. The story gets a little disjointed; we usually forget our mission by the time we get in the living room. But we don't care. I'm learning my kids are funnier than I am."

Jolie hates her voice: "You know, when you hear your own voice, you can find it quite boring and uninteresting… Suddenly, you get very shy that your voice is not enough, because I'm not musical and I don't know my voice."

Jolie on meeting Black 7 years ago for Shark Tale: "I was crazy about him… I had seen him in everything he'd done, but what I really knew him for was music. I don't have musical talent, so I always thought it was really cool that he could be an actor to a lot of us but equally a rock star."

Black on meeting Jolie: "When I first met Angie, I was clearly taken aback by her beauty. She has a powerful presence."

Jolie on showing the kids an early print of KFP 2, which deals with adoption and Po finding his birth father: "I wondered how they'd respond to the themes of the film… [Brad and I were] sensitive to see if there was going to be a big discussion that night about adoption and orphanages." There wasn't. "But that's because we talk about those issues at my house all the time, very openly. We've had those discussions so often, they're such happy, wonderful discussions."
[From USA Today]
Angelina also tells USA Today that Empress Zahara "loves tigers" so Z is the one most into Jolie's voice work as Tigress. I think the other kids like Po more – obviously, because Po is much cooler and funnier. There's also a lot of stuff about how the first KFP was a HUGE international hit, and how they're trying to do something different with the story this time. I'm sure it will work out – these animated films usually do, especially when there's a built-in audience of kids who watch the first DVD obsessively.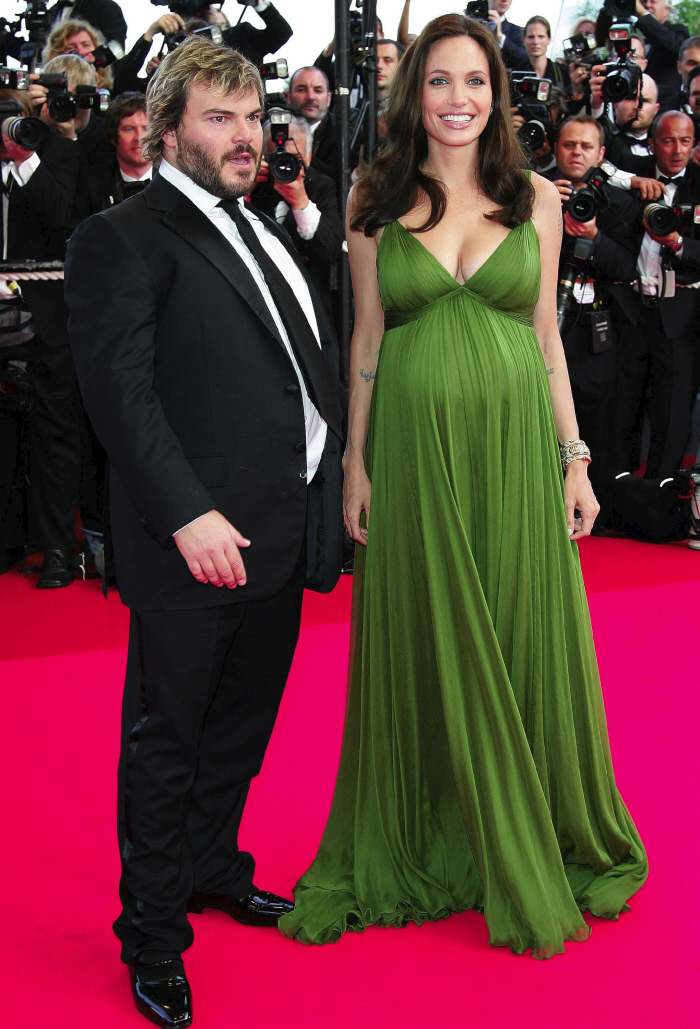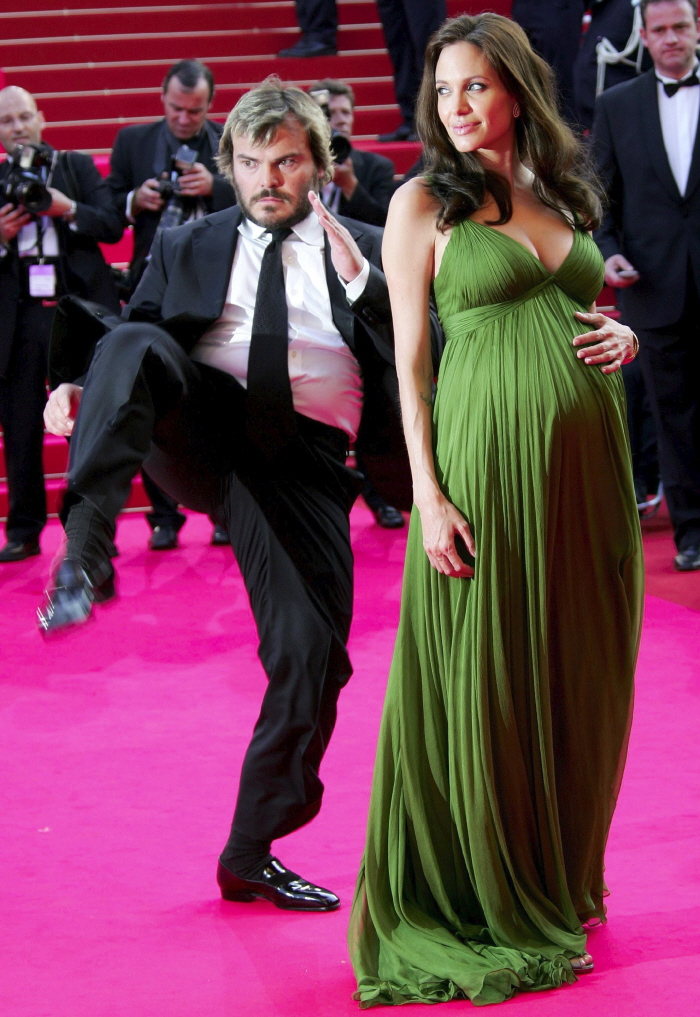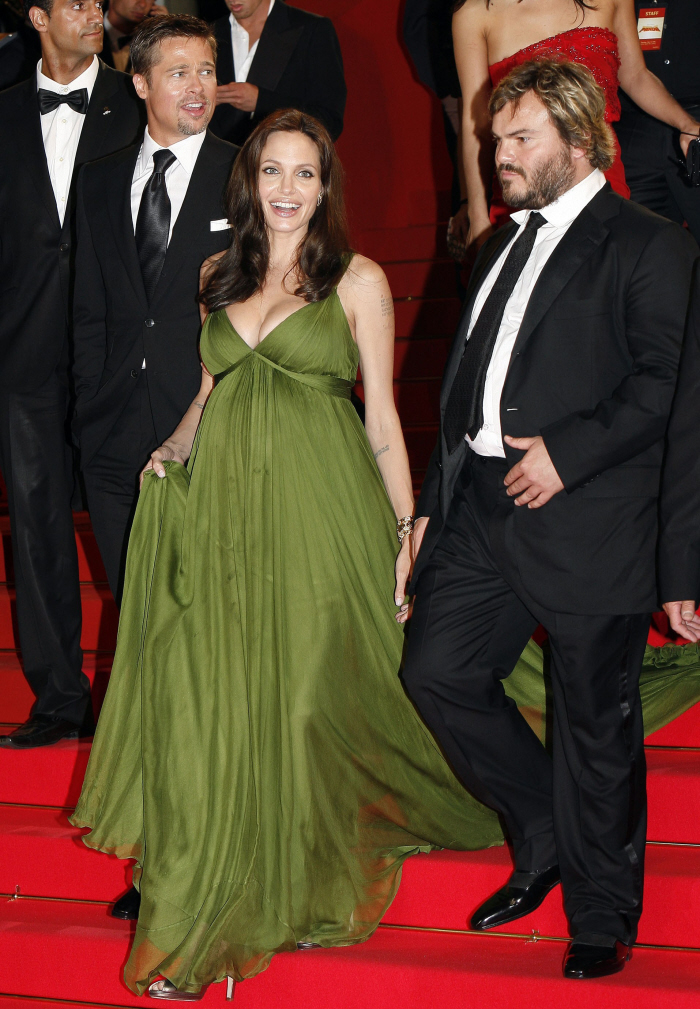 Photos from the Cannes Film Festival in 2008, courtesy of WENN.