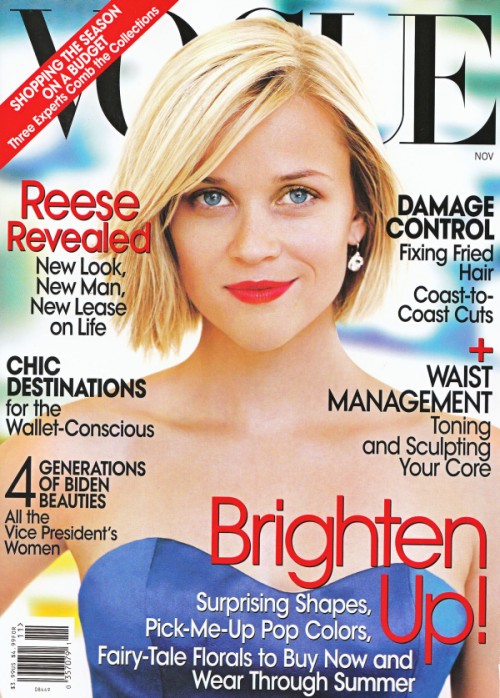 It's always funny how we're so amazed at the way celebs looks so gorgeous in magazines. Even on an average day walking around the grocery store most celebrities manage to look a hell of a lot better than the rest of us. Yet somehow it's always a little astonishing to see just how amazing they can look when a team of professionals has at them for a few hours. Sort of like going from a 10 to a 12.
Even though she's gorgeous on an average day, Reese Witherspoon still manages to look extra amazing on the upcoming issue of Vogue. Reese talked about her relationship with longtime boyfriend Jake Gyllenhaal – who she's kept pretty quiet about – for the first time as well.
"He's very supportive," the 32-year-old says in the November issue of Vogue. "Suffice it to say, I'm very happy in life, and I'm very lucky to have a lot of really supportive people around me who care very much for me, and, you know, that's all you can hope for in life," Witherspoon adds. "I am very blessed in that way."

(Gyllenhaal, who moved into Witherspoon's $5 million L.A. home in August, has been "trying out what it means to coexist as a family," a source recently told Usmagazine.com. They began dating last year.)

The mom also says she loves to travel with her kids, Ava, 9, and Deacon, 4. (They have accompanied her to trips to Europe to visit Gyllenhaal, who's currently filming Prince of Persia.)

"I'm very lucky I get to bring my children to great places, and they get to see the world with me, and we get to grow and learn and experience things together," Witherspoon tells Vogue.
[From Us Weekly]
Reese has long admitted that she's very type A, but she still seems to do a good job of focusing on the things she should be grateful for. She strikes me as someone who works hard at her career, but the relationships in her life always come first. Us also had a quote from Vince Vaughn about what a great mother Reese is, and a few other ass-kissy quotes from Reese about Vince. Considering they supposedly fought like cats and dogs while filming "Four Christmases," I found that pretty hard to believe from either of them.
Here's some of the shots from Reese's spread in Vogue.