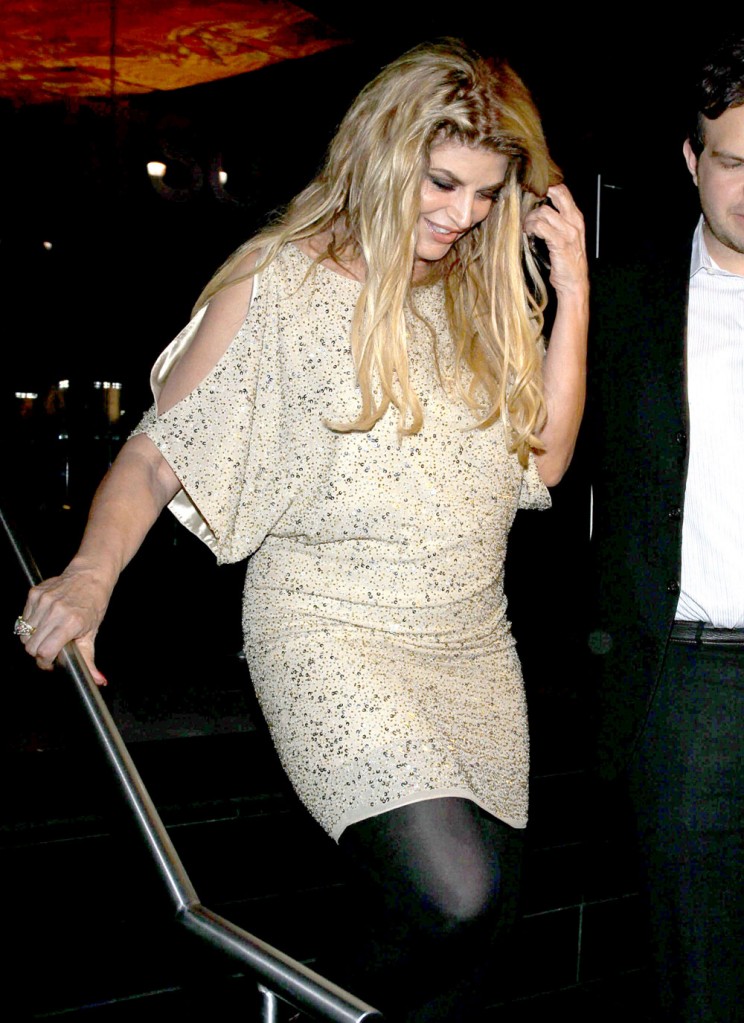 Kirstie on 5/9/11. Credit: Fame
Kirstie Alley recently spoke with EW about a fall she had during a rehearsal session on DWTS. I haven't been watching the show since the first two weeks, but maybe I'll tune in again now that they're down to the last four contestants. (Spoiler alert, here's a link to a story on who was just voted off.) Kirstie blamed her misstep on low blood sugar due to a 1,400 calorie a day diet, . 1,400 calories a day is fine if you exercise for an hour or less a day, but it doesn't seem to be cutting it for the intense dance training sessions that Kirstie does. She also now claims that she fits into size 6 dresses and tried to up the ante by saying she also fits into a size 4! She admitted the dresses are "stretchy," but there's no way she's even an 8 as she tried to claim last month. Still, she lost weight and she can really move it. She's earned her place on the final four. Here's what she said:
In case you missed it, [Kirstie's fall off a stage] was featured during Monday's Dancing with the Stars rehearsal footage of the couple's sultry Argentine tango. She was supposed to jump off a few steps, but instead almost face planted onto the hardwood floors –causing yet another mega cringe-worthy moment for season 12.

Said Alley after the show, "When I fell off the stage, I [saw] three stairs below me and I started going into slow motion and in my mind, I go, 'okay there are three stairs, you have on heels, jump bitch' because you're either going to break something or you're going to take control of this and that's why I jumped."

The actress blamed the fall on lack of sleep and an inadequate amount of eats. "That day was a weird day because I hadn't slept for two days and I guess my blood sugar had dropped," she explained. "That rehearsal day was long, like seven hours or something. I didn't realize I had forgotten to eat. I didn't realize it was 5:30. I had breakfast, but time went like that because we had two dances to learn."

The actress admitted to consuming only 1,400 calories, but has decided to take Chmerkovskiy's advice by upping it to 2,000. "He's probably right. Usually what I do to lose weight, I eat 1,400 calories, but I guess if I'm working out five or seven hours then you have to change it around a little bit," said Alley, who wouldn't reveal how many pounds she has lost since being on DWTS. She did say she is down to size 4 and 6 dresses but joked "they're sort of stretchy."

While the actress' third misfortune might have made viewers cringe, Alley said she "barely watched it" while waiting backstage. "It's was sort of akin to Maks and I being Olympic skaters, just as we were warming up we were wiping out all the time. So I didn't take it too seriously."
[From EW.com]
Some commenters on EW are saying that Kirstie said she dropped 4-6 dress sizes, but if you read that quote carefully that doesn't seem to be the case. She's claiming to be a size 4-6. She's only fooling herself if she thinks she's a 4-6. (She won't be the first or the last of course.) Either she's stretching the truth to breaking point or someone is changing the labels in her clothes. She looks great and she has really impressed the public with her humor and skill on the dance floor this season. Still, the old grouchy cultmember Kirstie is there, daring us not to believe her hype.
Photos of Kirstie in a black dress are from 5/7/11. Credit: WENN