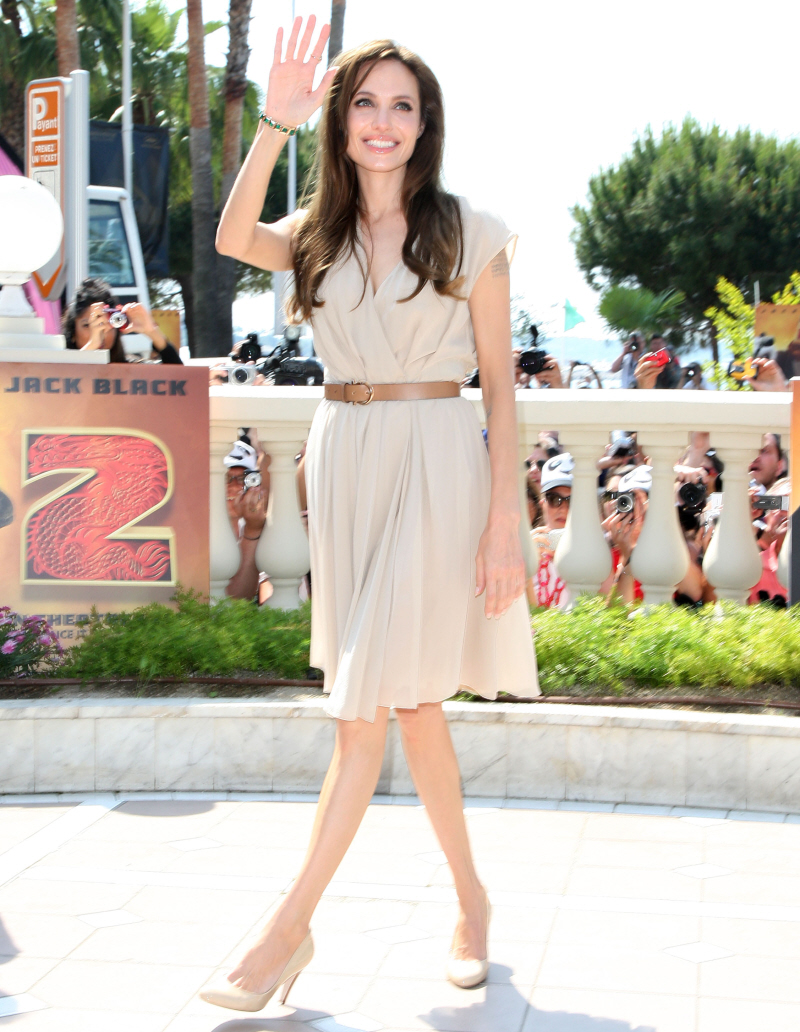 I published this Angelina Jolie story later in the day yesterday, because I knew I was going to be consumed by NEW JOLIE PHOTOS today. The photo call for Kung Fu Panda 2 has already gone down, and I think Jolie and Brad Pitt are due at the big evening premiere tonight…? Maybe. I'm seeing that the Tree of Life premiere isn't happening until Monday, and I thought that was happening tonight. Ten bucks says that whenever Jolie appears on an evening red carpet, she'll be wearing either A) A glittery sack or B) black. No, I shouldn't be so harsh. For Cannes, Angelina sometimes tries something new. Fingers crossed that Angelina wears something awesome.
As for La Jolie at the KFP 2 photo call – she looked nice. Her skin looked great (her skin has been looking amazing for months now). Her hair was okay (not great but not bad). And she wore a glorious beige sack and cinched it with a belt. PRAISE IT. Here are some quotes from Angelina at the KFP press conference:
On violence in KFP2 and showing her kids violent films: "You have to know your children. There are children that have a better understanding and are ready earlier than others. But for a film like this, I don't see this as a film that's too violent. I think this is actually quite the opposite because the strength, even in the final battle, the inner peace and sending back that negative energy is what wins. My boys are in martial arts classes. Boys are boys and they have a certain kind of energy, naturally. It's been wonderful to get them focused on martial arts to teach them about the discipline and the respect and the control of their own bodies. I think to ignore that that's a part of humanity, especially little boys, is wrong. So it's to help guide them — what's a positive thing, what's a good guy, To try not to [use violence] certainly, but if you have to, to defend yourself."

On bringing the kids to Cannes: "Yes, we're all in France. Our whole family is in France and we're very happy. They're running around the hotel right now, playing games and making a giant mess, I'm sure. They're having a great time. They love it here. Cannes can be overwhelming and it can be that you meet a lot of friendly faces and have a good laugh and you also get a chance to see some great films. It's very nice."

On picking KFP2 to appeal more to her kids: "We're all big kids at heart…but in many ways I did it for them and I was excited for them to see it. The trick of a sequel is you have to make it better than the first one, which is hard to do especially when the first one is so successful, and I think we pulled it off."

On finding inner peace: "Especially for people that have children. You wake up and if they're healthy, you know that that's the most important thing, so you have first of all that peace. They also come with a lot of chaos, but we're all searching for it. It's part of the human journey. We all have moments of inner peace and we lose it and we look for it again. But really it's in knowing the people you love are safe and healthy. That's the best."

On her real life alter ego to all her tough characters: "Certainly my alter ego is who I am 100%, which is a mommy who is changing diapers and coloring all night long. I'm sure I'm very very soft. I've always been drawn to strong characters and I admire strong women, emotionally and physically, just people I feel are fighting for something. . .have a sense of justice and injustice. I've been very lucky that I came to my career at a time that women are being allowed these roles and have such great opportunities for these types of characters."
[From Pop Sugar]
Sounds good. I'm sure some people will react poorly to her comments about exposing her kids to violence, but I think she sounds like a mom who has actually thought about all of those issues long and hard, and come up with the solutions that work for her. Plus, I think the Jolie-Pitt kids are exposed to real-life scenarios where they see the real effects of violent societies – she and Brad let the kids meet wounded veterans, refugees, etc.
Back to the photo call – Jack Black was predictably hyperactive, and he and Angelina are totally cute together. Dustin Hoffman was there too! My favorite photos are the ones of Angelina making a face as she embraces the panda.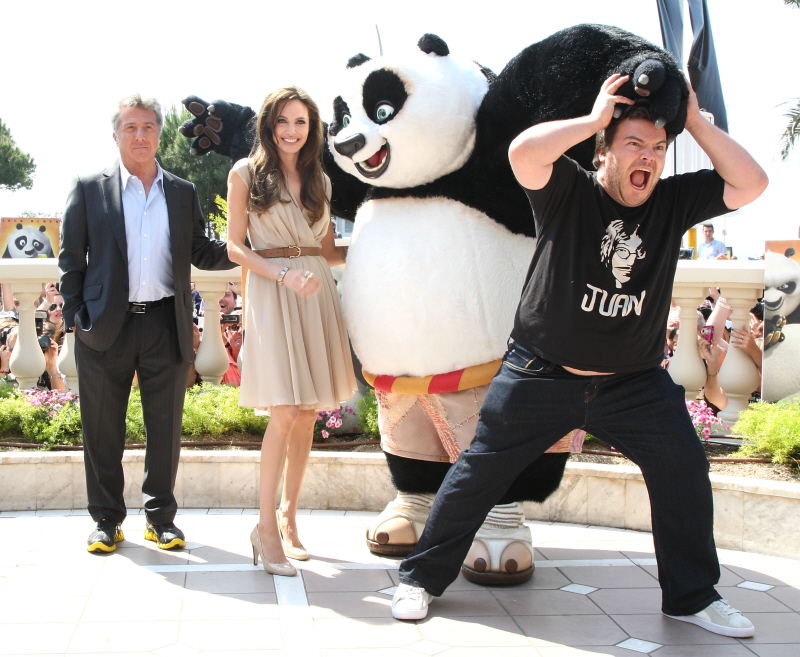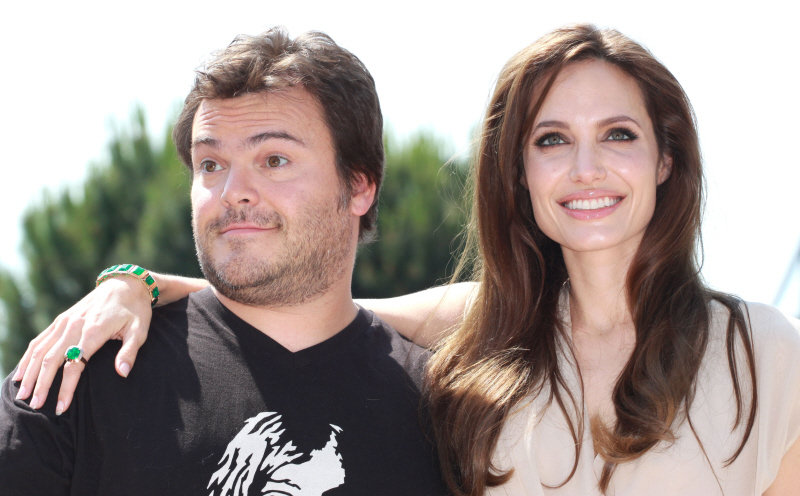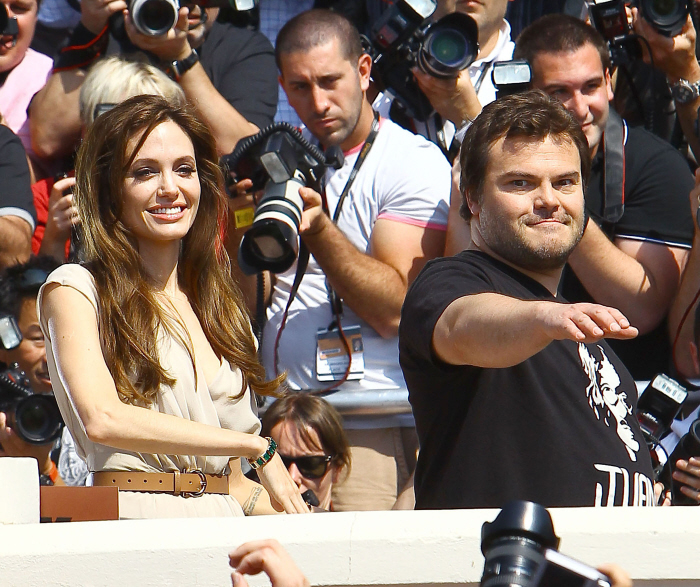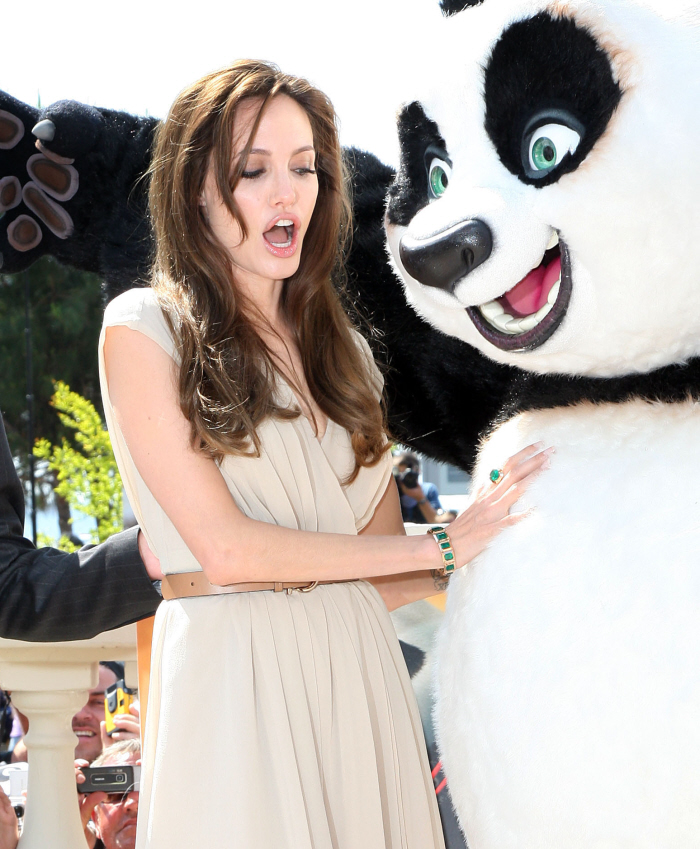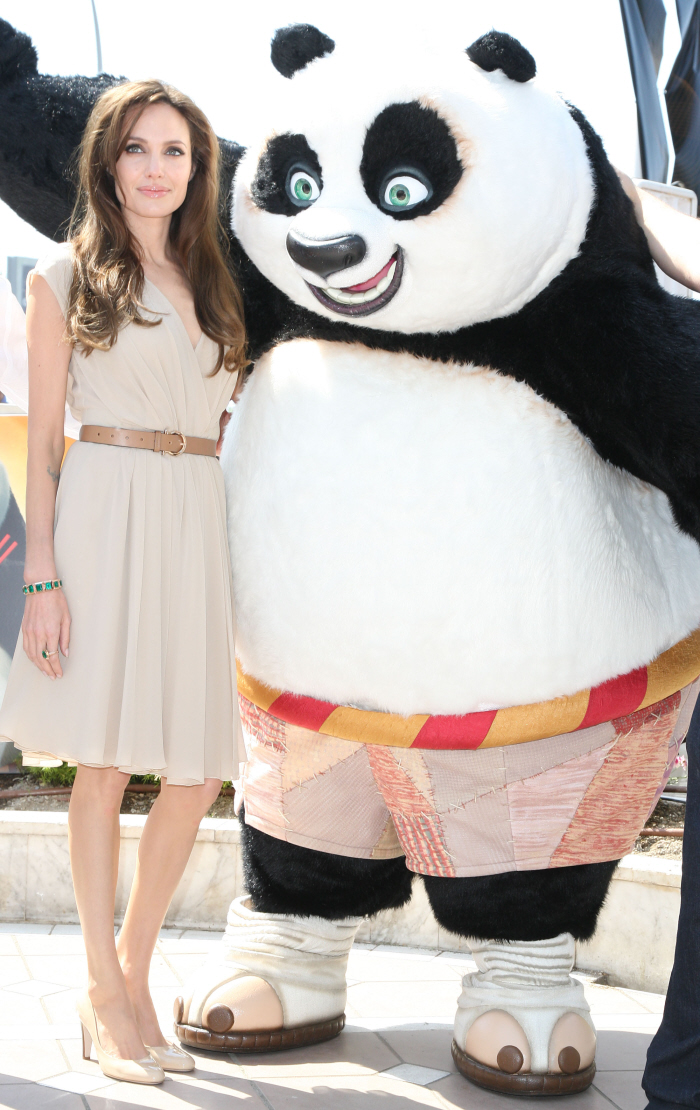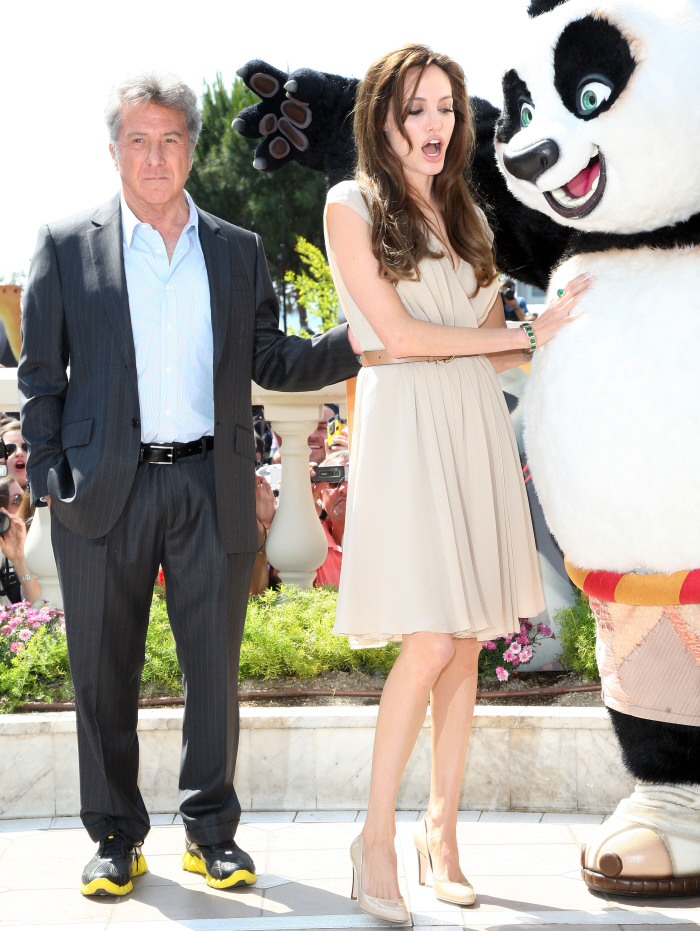 Photos courtesy of WENN.