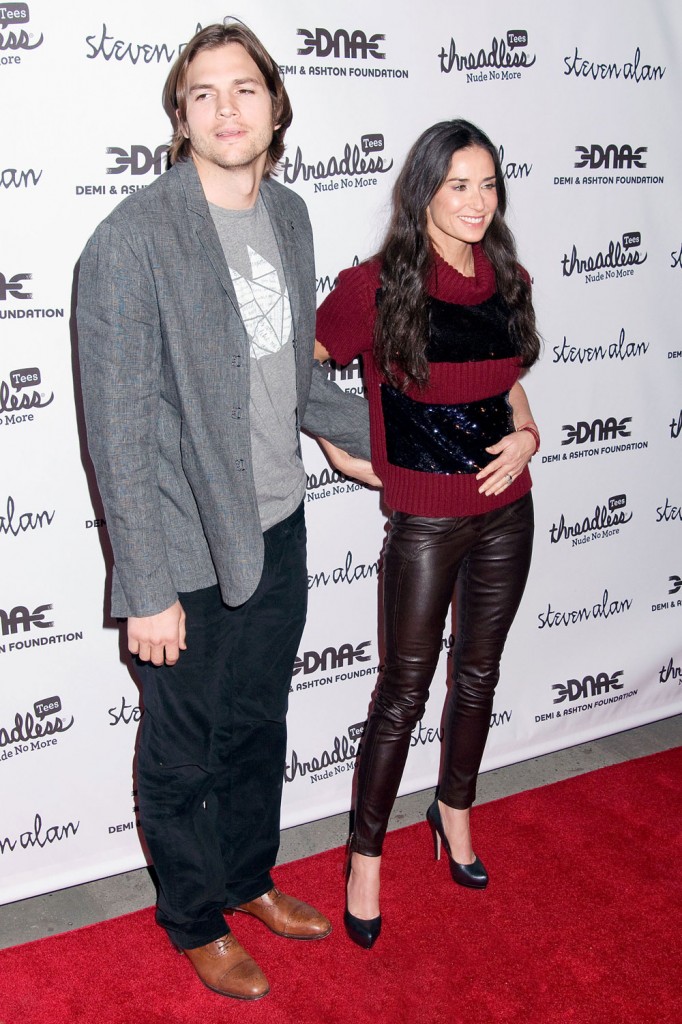 In news that shows just how out of touch and clueless the producers of Two and A Half Men must be, they've hired Kelso to replace the lead formerly played by gold-toothed megalomaniac, Charlie Sheen. Ashton Kutcher will star on the show now that Charlie Sheen is unable to do anything other than smoke crack and talk about how great he is. He'll also get a "huge payday." I think this means that 1. the show just jumped the shark with fireworks going off in the background and 2. Kutcher is the new Ted McGinley. We just heard that Hugh Grant was in final talks to join the show when he pulled out unexpectedly due to the work commitment. So Kutcher is their second choice, and I bet it's one they'll regret soon enough.
Ashton Kutcher appears to have won the Two and a Half Men sweepstakes.

'Two and a Half Men' Seeking Sheen Replacement as CBS, Warner Bros. Agree to Split Cost

Two sources close to the deal-making tell The Hollywood Reporter that the actor is putting the final touches on a deal to replace Charlie Sheen as the star of TV's No. 1 comedy. CBS, studio Warner Bros. and Kutcher's reps at CAA declined to comment on the situation but a deal is said to be all but signed. The exact dollar figure he will be paid is not known but a source says Kutcher is getting a "huge payday" to join the hit sitcom.

The deal came together quickly in the wake of Hugh Grant passing on the opportunity to join the show. Now sources say Men creator Chuck Lorre has crafted a storyline to introduce Kutcher in a way that satisfies the network and studio. "It's really funny," says one source. "People are going to love it."

Broadcasting & Cable reported Thursday that Kutcher's name was surfacing as a possible Sheen replacement. The actor, who starred in the winter hit No Strings Attached, would be taking first regular series gig since catapulting to stardom on Fox's That 70's Show. He also executive produced the hit MTV hidden-camera series Punk'd, among others.

Kutcher brings a youthful fan base to the CBS show, as well as a big online profile with 6.7 million Twitter followers, which could help CBS promote the show.

"Chuck's really happy," another source says.
[From The Hollywood Reporter]
I've watched a few episodes of this show in light of Sheen's spectacular meltdown, and Kutcher is in no way similar to Charlie's character. He's usually typecast as a doofus, not a smooth talking womanizer. (Although he may be one in real life.) This steaming pile of show with stupid jokes and very contrived plot lines is inexplicably popular around the world. I'll reluctantly admit that Kutcher could step in with his floppy hair and awkward cluelessness and steal the show. I never understand why people watch it anyway. It's like the TV equivalent of a cold cheeseburger. It only hits the spot when you're incredibly hungover and there's nothing else in the fridge.
UPDATE BY KAISER: TMZ reports that Ashton has signed on for $600,000 an episode. In what world is he worth that much?
Demi and Ashton are shown at the launch of their sketchy DNA foundation on 4/14/11. Credit: WENN.com