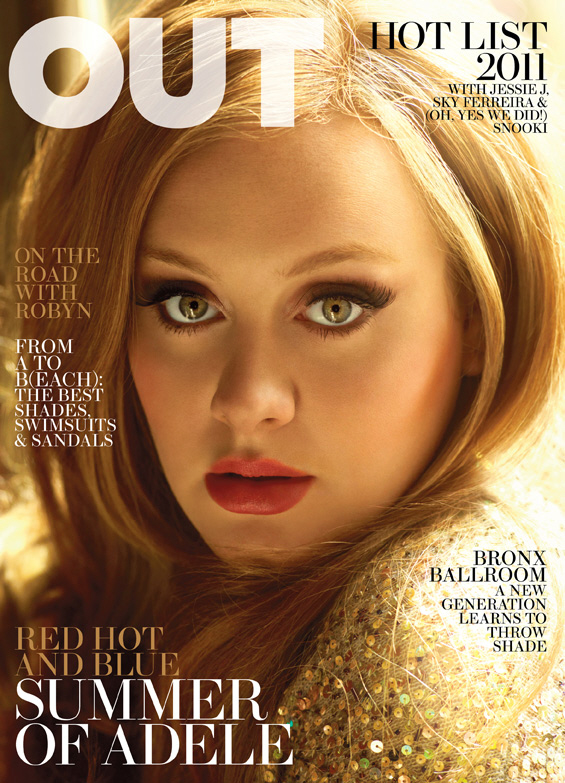 Adele is the June cover girl for Out Magazine. In previous posts, I've let my feelings about and for Adele run rampant – I think she's magnificent. I love her voice. I love her attitude. I love that she exists. I love that there's a significant portion of the population who "get" Adele. Like her Rolling Stone interview, Adele talks freely, and she shows that while she's not the most intellectual of girls, she's very street-smart, world-weary, and yet funny, kind and… the world that comes to mind is "real". She's not some processed pop star. She's not some focus-group creation. She's just a talented young woman who can write and sing some damn good music. The Out Mag piece is really, really long (and worth it, if you like Adele) – you can read it here. Here are some highlights:
On being called a "singer": "I always say I'm a singing lady, rather than a singer," says Adele. "Singer is a big word for me. My interpretation of a singer is Etta James and Carole King and Aretha Franklin."

She's still smoking: It is a sunny day in Amsterdam, and Adele is in her pajamas, her long hair splayed out around her head, a cigarette dangling from one hand (she smokes 20 a day).

On her new-found super-stardom: "We're playing Shepherd's Bush in London, and I didn't even think I'd sell that out," she says of the 2,000-capacity venue. "It went in about 10 seconds. It's still hard to take it all in. Every now and then I wonder when it's going to slow down." She says she's lost a few friends "who just don't get it and treat me weird," but that she has managed to maintain her identity and keep sight of the things that count. "I've met people I admire, and people I don't admire who are completely affected by their success, and I f-cking hate them," she says. "There's so many people who believe their own hype and treat people like sh-t, and if I was ever like that I would absolutely stop doing what I'm doing for a while and go and find myself again. I find it grotesque when people change because of it, but maybe it's because they're not as good at keeping in contact with the people who love them for a reason."

Her Grammys: She walked away from the 2009 Grammys clutching two awards — for Best New Artist and for her single "Chasing Pavements." Her shoes were off and her belt was undone when the announcement was made. "I had just come back from the toilet, so my Spanx weren't even all the way up," she recalls. "Then I won Best New Artist, and it was like time slowed down, and I was hovering over myself, pissing myself laughing. It was amazing."

Adele the songwriter: For someone who hasn't read a book in more than 10 years — "and that was a Jacqueline Wilson [children's] book"—Adele has an uncommon gift for writing. She thinks it may have something to do with the way she learned to express her feelings as a child. "I don't know if it's because I'm an only child, but I was never, ever good at saying how I felt about things," she says. "From the age of about 5, if I was told off for not sharing, or I didn't tidy my room, or I spoke back to my mom, I'd always write a note as my apology." Those notes, hundreds of them over the years, became a mechanism for examining her feelings, and a forerunner of the two albums that would spin those feelings into gold. What else are the songs that fill her first, 19, and second, 21, but letters of regret and disappointment?

Her mother introduced to her music: Adele Adkins, to use her full name, was 3 years old when she saw her first concert, accompanying her mom, Penny, to see the Cure. One of their numbers, "Lovesong" — a hit for the band in 1989, the year Adele was born — would end up as a cover on 21, a tribute to the mother whose musical enthusiasms have done so much to instruct and inspire her daughter. Growing up in the London borough of Tottenham, one of the most impoverished communities in England, was not easy, and mother and daughter struggled alongside everyone else. Music was a way to escape the grind. "Even when I was 10 and 11, I knew my mom had brilliant taste in music — I just wasn't ready to embrace it," says Adele. "Now they're my favorite artists." She has thought about recording a cover of "Troy," by Sinéad O'Connor, the first song that ever made her cry, and another favorite of her mom's, but doubts her ability to deliver it. "As an artist she is everything I would like to be—it's all about the song," says Adele. "She moves me when I hear her."

On Beyonce: Adele thinks she might still be singing Beyoncé trills ("not that there's anything wrong with that — she's my f-cking idol — but still you need to branch out") if not for her early musical education.

The ex that inspired it all: "I don't think I'll ever forgive myself for not making my relationship with my ex on 21 work, because he's the love of my life," she says, before adding that she would have been willing to give up everything for him. Everything? "Well, I would still be singing in the shower, of course, but yeah — my career, my friendships, my hobbies. I would have given up trying to be the best." Instead of giving up her career she has cemented it. "He made me really weak, but at the same time really f-cking fearless, so I managed to channel that. I don't know if I'll ever beat this album in terms of how people connect to it."

Recording 21 in Malibu: "I was hoping to make some local friends, maybe find a nice organic café, things like that," she says. "Everyone lives behind a gate, and they're so f-cking rich they never have to leave, so I didn't meet anyone.")

Fan mail: "I get a lot of mail from people who tell me that I make them really happy to be themselves, and really comfortable with who they are, which I love," she says. "I would hate it if someone was, like, 'I wish I was you' because I'm as insecure about myself as the next person." In what way? "Just that I'm not good enough — in my music, in my relationships, and that I'm never going to be brave enough to tell someone how I feel."

Adele is the anti-Gaga: Against the flash and splash of Gaga, Katy Perry, et al, the stripped-back, soulful style of Adele risked being lost. In fact, the volume of everything else has made her spare, acoustic sets all the more striking. "My music's not stylized—it's not sold by image, or by my sexuality, or aloofness, or anything like that," she says. "I think it would be really bizarre if I started doing gimmicks and stunts—it wouldn't suit my music." Nevertheless, she finds performing nerve-wracking and won't do big festivals like Glastonbury. "I've got lots of friends who are artists and they love it. They're, like, 'I was born to perform,' and I'm like, 'F-ck off—no one's born to perform.' " She points to the canal bank opposite: "That's like standing over there naked."
[From Out Magazine]
Adele also talks a lot about how no one really expected "Someone Like You" to become a single, much less a hit song, much less one of Adele's new standards. She performed the song at the BRIT Awards several months ago in a sparse performance with only a piano accompaniment, and it quickly became one of the most iconic moments of her career (video of the performance is below). Adele says that while she was performing, she pictured her ex (who she wrote the song for) sitting at home, watching her and thinking "Wow, right under my thumb, she is." She says about her ex: "He was my soul mate. We had everything — on every level we were totally right. We'd finish each other's sentences, and he could just pick up how I was feeling by the look in my eye, down to a T, and we loved the same things, and hated the same things, and we were brave when the other was brave and weak when the other one was weak — almost like twins, you know—and I think that's rare when you find the full circle in one person, and I think that's what I'll always be looking for in other men." Adele's new mantra: "You will hurt until you stop hurting… I'm trying to make that my new motto — it will hurt until it stops hurting." I feel like crying. You know what? Screw it, I am crying. You have to read those quotes as you listen to this: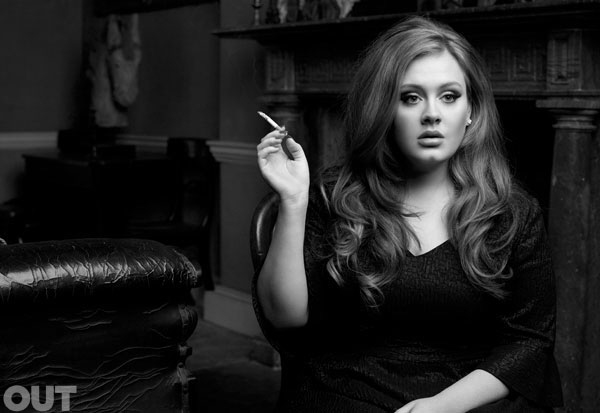 Out photos courtesy of Out.