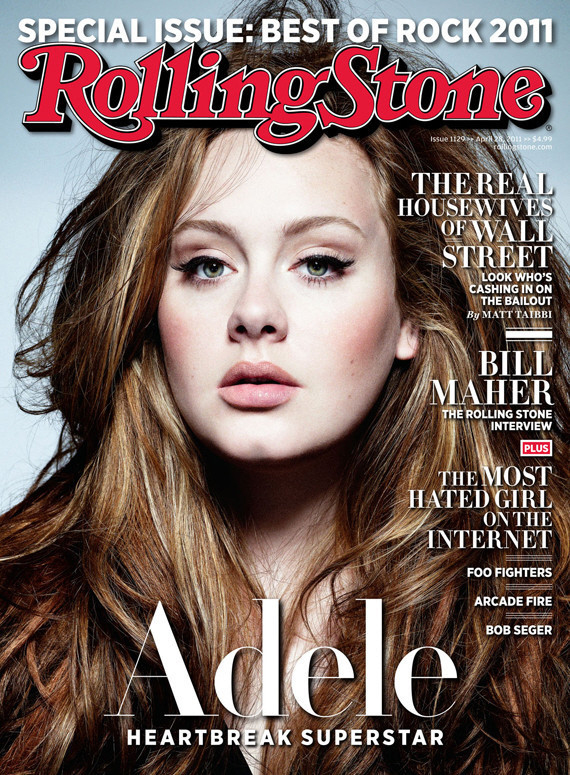 Does having Adele on the cover of Rolling Stone make up for their Snooki cover? No, no it does not. But still, I'm happy that Adele is getting mainstream acceptance and love because she is MAGNIFICENT. And Jesus, look at that cover shot. She's so beautiful! It's all working for me, the ginger, the big mouth, the soulful, sad eyes – I'm in love. Regarding the interview: Adele is one of the few celebrities where I really don't care about her personal life, mostly because I don't want to be distracted from her enormous talent. But I still gave the Rolling Stone excerpts a read-through, and to my delight, Adele is just as sweet, hilarious and amazing as I could ever want her to be. Here are some highlights from the piece:
Adele on her weight: "My life is full of drama and I won't have time to worry about something as petty as what I look like," she tells Rolling Stone contributing editor Touré. "I don't like going to the gym. I like eating fine foods and drinking nice wine. Even if I had a really good figure, I don't think I'd get my tits and ass out for no one."

But Adele has no beef with other female recording artists who choose to flaunt their bodies. "I love seeing Lady Gaga's boobs and bum," she says. "I love seeing Katy Perry's boobs and bum. Love it. But that's not what my music is about. I don't make music for eyes. I make music for ears."

Many of the songs on her hit album 21 were inspired by a break-up with her boyfriend. "He was artistic, but not romantic," she says. "We'd just bicker over a cup of tea or the fact that my lighter wasn't working." Nonetheless, Adele says, "He made me an adult and put me on the road that I'm traveling on."

Despite the fact that she's one of the most successful new recording artists of the past few years, Adele still has terrible stage fright. "I'm scared of audiences," she says. "One show in Amsterdam I was so nervous I escaped out the fire exit. I've thrown up a couple of times. Once in Brussels I projectile vomited on someone. I just gotta bear it. But I don't like touring. I have anxiety attacks a lot."

Adele says her dad was never in the picture. He recently talked to a British tabloid and said that he regretted his actions. "I never knew my dad," she says. "He has no f-ckin' right to talk about me."

In person, Adele is just as unguarded. Walking through the park, she tells of once going onstage with "a tampon on my thumb. It was awful!" She says it was to cover up a broken nail. ("You make it hollow and put it on your finger. I do it all the time.") She talks fast, uses different voices, and tells filthy jokes onstage ("What do you call a blonde standing on her head? A brunette with bad breath.")

She also has an alter ego she uses to pump herself up, called Sasha Carter – a composite of Beyoncé's Sasha Fierce and June Carter. "I was about to meet Beyoncé," she says, "and I had a full-blown anxiety attack. Then she popped in looking gorgeous, and said, 'You're amazing! When I listen to you I feel like I'm listening to God.' Can you believe she said that?" Later, "I went out on the balcony crying hysterically, and I said, 'What would Sasha Fierce do?' That's when Sasha Carter was born."
[From Rolling Stone]
"What Would Sasha Fierce Do?" is hilariously beautiful, right? You know she's only 21 years old, right? Isn't that amazing? Her album is called 21, and it's her followup to 19 (when she wrote when she was 19, obviously). Even though she's so young, the girl has an old soul, and she seems like a throwback to a different era of singer-songwriters, a different concept of what we expect from our musical celebrities. I love that Adele isn't about tricks and costumes and showing her ass – she's just funny and cool and she's got that incredible voice. Sigh… I can't say enough nice things about her. I love her.
Here's her amazing cover of The Cure's "Love Song":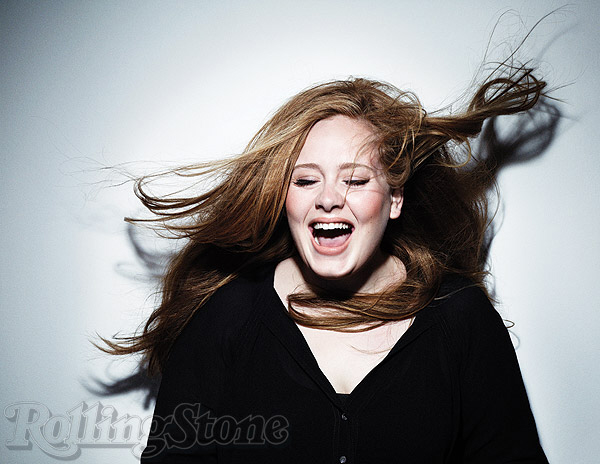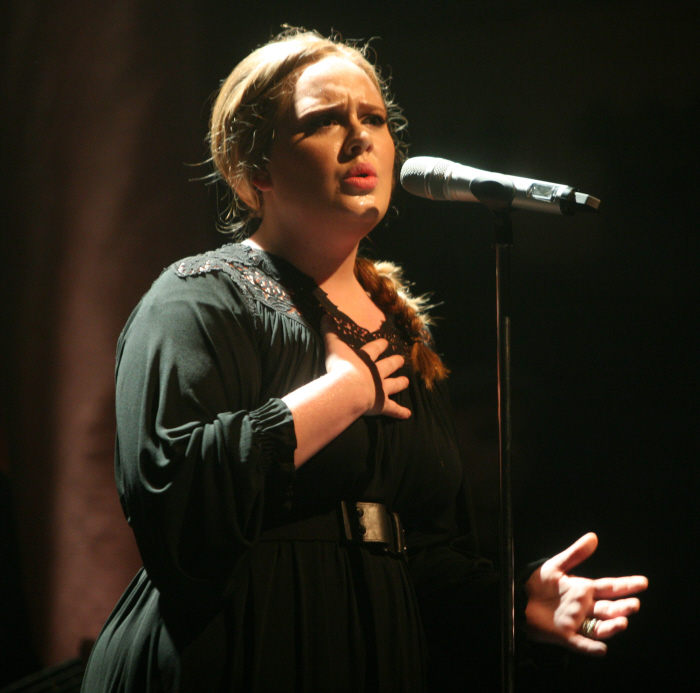 Photos courtesy of Rolling Stone, WENN.