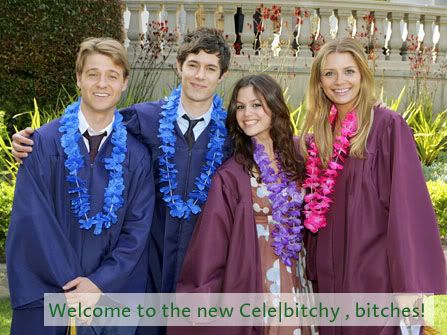 Cele|bitchy is now run by WordPress, and sports a lot of new features.
Please test stuff out and let me know if you find any bugs or if you find anything hard to use or confusing.
Cele|bitchy's New Features:
You can edit comments up to 30 minutes after they're made
You can add a little icon next to your name when you comment using the Gravatar service
You can subscribe to the comments in a individual post by checking a box when you make a comment
The last commented posts, latest posts, and most commented stories are now at the bottom of each page
You can send an e-mail of a post to a friend and it will include the header image and the story excerpt.
There are lots of other neat features, including easier to navigate categories, more archive options and a weighted tag category view
The Classic View is now the default homepage due to the way WordPress manages archives, but you can still switch over to Headline View by choosing the navigation link on the top bar. I may add a cookie to make your homepage selection permanent. I'm focusing on customizing the blog as that's not my forte and might take me a little while. (If you know how to do this easily, e-mail me at info -at- celebitchy.com. I tried to implement it a while ago, but I did it wrong and it was buggy.)
On the technical side, most all of the permalinks, except for the In Brief section, should be converted to the new format. I have left the old pages up for now, so you may find some of them on the migrated posts with picture pages. They will be removed in a week or two.
The feed from FeedBurner has been updated, but if you were pointing to the direct feed from the site, the address has now changed to: http://celebitchy.com/feed/rss2/
Cele|bitchy is just over six months old and has over 1500 posts, so this migration was no small feat. It was a lot of fun getting everything to work though, and I hope it creates a better gossip experience for you!
Let me know what you think, and thanks for visiting and contributing your comments. Cele|bitchy would not exist without you.
Here are some pictures of Rachel Bilson and Adam Brody getting coffee [via] and preparing for Rachel's 25th birthday [via]