Visit msnbc.com for breaking news, world news, and news about the economy
Christina Aguilera and her yarn hair were on The Today Show this morning to promote her reality competition show The Voice. She really looks like a washed up drag queen now and she should put some work into toning down her look. XTina doesn't listen to advisors, and I'm sure she thinks she looks hot with shiny red lipstick, heavy liquid eyeliner and comically fake eyelashes. To Matt Lauer, XTina repeated her same old line about how people are judging her due to her inability to do her job or remain sober enough to remember her address or the lyrics to the National Anthem. She worked this into a discussion about the contestants and how they need to beware of the press now that they're semi-famous, as if it's all the press' fault for noticing that Aguilera has been a drunken mess. When Matt asked Christina if anyone had tried to stage an intervention after her public mishaps, she blamed that on "ex disgruntled employees" and said that anyone who was her true friend wouldn't dare question her when she's falling down drunk. At least that's what I got out of it, and it's consistent with what the tabloids have been reporting about how she fired everyone who told her she needed help.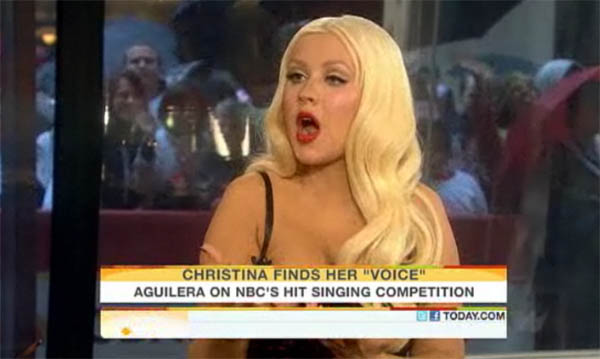 On what she would tell the contestants about fame
I just hope to be a positive influence in all of that. I think it comes from a great place, because this was a year of many highs and lows… going through a divorce in the public eye where many things are going to be magnified and speculated about and judged and these people need to know that… 'Hey if you want a career in doing this you have to roll with the punches…"

On if "the people who loved her tried to intervene" after her public mishaps
I think there were some definite ex disgruntled employees along the way that, you know, whenever things happen like this to you, some people just want to kick you when your down. You know, for me, I've been in this business a very long time… You're going to have your high moments and your low moments.

Right now I feel that I've found my true friends and the people who really are there for me and have stuck by me…

When you're going through a hard time you don't need people judging and ridiculing you. The people that are around you are going to be the ones to support you and love you through whatever you're going through.

Lauer calls her on her BS: "You did have those people, you had friends, because there were people who were not attacking you, who were genuinely concerned about you."

[Laughs and sticks her hand out] Well, only I know that. On a deeper level of whose intentions were what and after you've been in this business for quite some time you're able to weed out – Ok is this person on a power trip, feeding frenzy of 'this is what's good for you'? Some people like the drama of creating it around you to make themselves look better, like 'I saved her,' when really you just have to be a friend and support.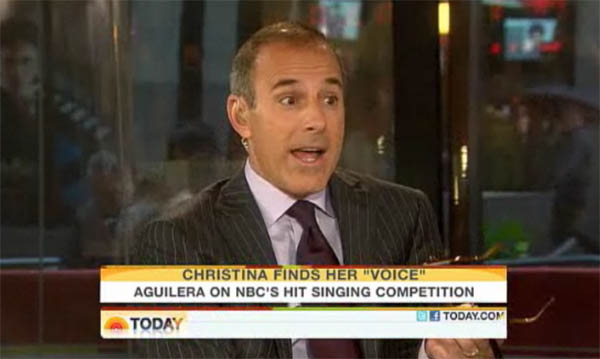 She's so snotty, self absorbed and condescending and I'm sure those people who are "ex employees" became so when they tried to call her on her bullsh*t.
Meanwhile XTina is still drinking up a storm, because she doesn't have a problem, get it? In Touch had details of one of her recent benders with her boyfriend, Matt Rutler, and how she screwed up a charity gig.
Christina Aguilera shocked onlookers by snubbing Mary J. Blige at the music legend's Belvedere-sponsored FFAWN benefit concert on May 1. "After warbling through one son, Christina left the stage without even acknowledging Mary or the charity," an eyewitness tells In Touch…

Christina and boyfriend Matthew Rutler, 25, arrived at the after-party at the Gansevoort Park Avenue hotel drunk – and three hours late! "She'd had bottles of champagne and vodka delivered to her room, where she and Matthew stayed for hours drinking," and inside source tells In Touch.

The following night [when she wasn't invited to the Met Gala] she spent the evening drowning her sorrows in a NYC pub. "She and Matt split a bottle of champagne, a bottle of red wine, and several beers," an onlooker at The Spotted Pig tells In Touch.
[From In Touch, print edition, May 23, 2011]
So Christina's true friends party with her, they don't tell her she needs to quit drinking once she starts screwing up important gigs. This is a woman who is heavily in denial.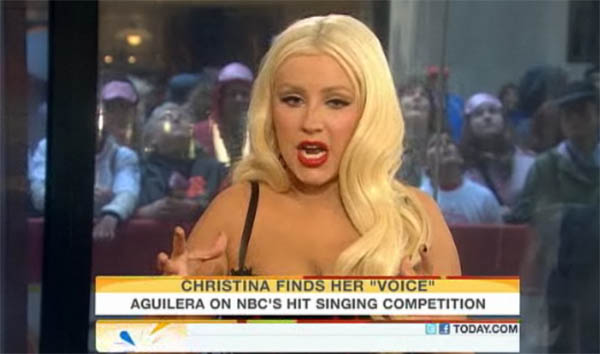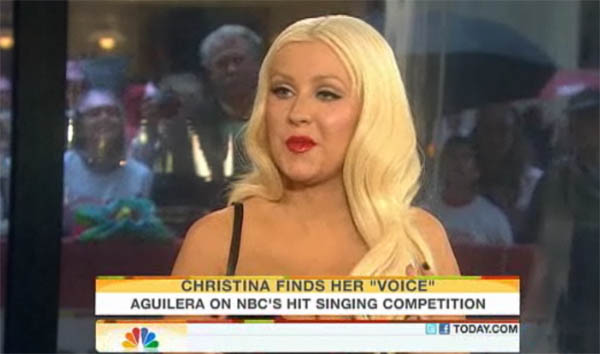 Christina is shown on 5/16/11 in New York. Camel toe! Credit: HRC/WENN and Fame