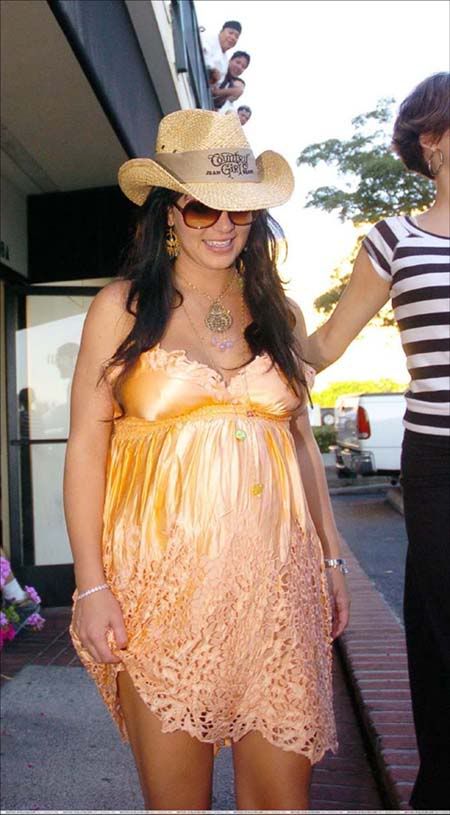 I would say that Britney is trying to poke fun at herself with this ridiculous cowboy hat with the words "Country Girl" on it in the font used for Cracker Barrel restaurants, but given the jewelry and dress combination it's unlikely. She has that dress in about five different colors, so it's not like it's a one-time oversight.
Britney and K-Fed are the Gen-Y Beverly Hillbillies. They have lots of money but no clue. In Kevin's case he's trying to prove that he has credibility by parroting the superficial aspects of a culture that completely rejects him. Britney is trying to give her country background some Hollywood style by grossly overaccessorizing. Both of them suffer from a lack of subtlety and no clear identity or sense of purpose.
Kevin has now landed a gig on CSI. Britney was the one who said she wanted to act after that god-awful performance on "Will and Grace," but now she supposedly wants to sing and dance again. Kevin wanted to "rap," but maybe after that debacle at the Teen Choice Awards he's trying to diversify:
People has a great quote from K-Fed about his reaction when CSI called and asked him if he wanted to be on the show: "
I pissed in my pants!
" I totally believe it, dude. K-Fed also says that CSI is "the only show that I really, really watch." Not exactly a ringing endorsement, is it? He'll play an arrogant teen who harasses investigators Nick and Warrick.
This is K-Fed's first acting/speaking role ever. I'm sure this makes other real, working actors feel great. This guy is a national joke for being a leech and he gets a speaking role??
Actually, it's not such a big deal to get a guest spot on CSI. There was a drug addict kid on Dr. Phil's show a couple of seasons ago. He cleaned up for like a month, and said his dream was to act, so Dr. Phil was able to land him a walk-in role on CSI:Miami. Now who do you think is more deserving of a guest role on primetime TV, Kevin Federline or a former drug addict who cleaned up his act?
Pictures of Britney in that god-awful outfit are after the jump.