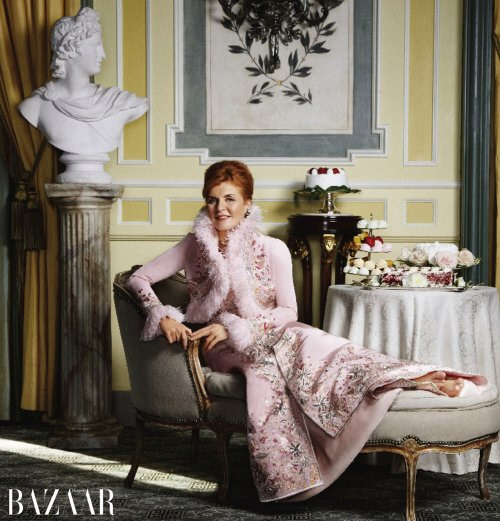 Sarah Ferguson has given yet another lie-filled, delusional, insane interview. This, coming on the heels of her wildly offensive Oprah interview in which she compared herself to Princess Diana and said that she was "glad" both she and Diana "missed the wedding" of Prince William and Kate Middleton. It was all very tacky and gross. Anyway, Fergie has a new series on Oprah's network called Finding Sarah, in which Fergie goes around to Oprah's new-agey, barky friends and gets advise. The full piece is here, but I've got the excerpts below. You can really get the flavor of how insane and sad she is, and how she desperately wants to be painted as a victim:
Fergie on not being invited to the wedding: "Ah, well," she says with a wistful smile and a shrug. "My girls"–the princesses Beatrice, 22, and Eugenie, 21–"are going. They're a part of the royal family, and they're a tremendous credit to me. People move on, you know?" she adds by way of expressing her feelings about not being one of the 1,900 guests. In fact, she has never met Kate Middleton. "I understand that they didn't invite me. I'm divorced from Prince Andrew. I think it's a new chapter and a fresh page. It's very good news and Diana would be very proud."

On being photographed for Bazaar: "I got rather shy and modest and feeling a bit round like a teapot," she says. Her struggles with her weight have been mercilessly documented, and she herself has written five books with Weight Watchers, for which she has been a spokesperson. "I felt very insecure, actually," she goes on. "I said, 'Oh, nothing's gonna fit.' I got Beatrice on the line, and I said, 'Beatrice, look, Mum's having a freak-out.' And so she spoke to the stylist and said, 'Look, it's okay, this is how you deal with Mum.'" Beatrice suggested finding a structured look that accentuated her mother's trim waist. "And she calmed everything down."

On being a mother: "The only thing I know I've done 100 percent right is be a good mother. I'm proud to say I'm the best mom I know. People say to me, 'What is your brand identity?' And I say, 'I'm a global mother.'"

On her scandal where she was caught on tape, selling access to the royal family: "It shocked me to the roots of my whole being," she says now of the scandal. Buckingham Palace issued a statement denying that Andrew had any prior knowledge of his ex-wife's activities, which Ferguson staunchly confirms. "He felt very, very sorry for me," she says. "He was so angry that I should have been trapped, 'cause he knows me. He knows I would never, ever put him in a position that would compromise him, ever!"

Fergie's lies continue: In an interview with Oprah Winfrey in the wake of the scandal, the duchess explained her behavior by saying she had been drinking and was desperate for money to help a friend and was herself facing "substantial" debts compounded by the collapse of her lifestyle company, Hartmoor. (Her income from her divorce settlement is reportedly only £15,000, around $24,750, a year.) Now she claims it was all a big misunderstanding. "I didn't do that, selling access," she says, furrowing her brow. The masquerading Indian mogul, she explains, "said he wanted to start a business with me, and I said, 'If you're going to invest in my business, with that comes my family, because we're all a team together.' But the way it came across in the video, it was so horrible, because they cut it and edited it and changed it, chopped it."

More lies: As if knowing this all sounds a bit like rewriting history, she adds, "It was a huge lapse in judgment. People misconstrue who you are," Ferguson says plaintively. "They think you're this, but in fact you're that. Yes, okay, you've made many mistakes, but it still doesn't mean that you're a bad person. You've just taken a few wrong turns."

Fergie on the Queen: "[She] is the most wonderful, forgiving, nonjudgmental person I know."

On her ex, The Duke of York: "He's a great man," Ferguson stresses, "and a first-rate father and the bestest friend." With help from Andrew, she says, she is once again debt free. "I love him. He's my soulmate. It's actually what we said in front of God at the altar: We honor and respect each other until death do us part. The only thing is, he has girlfriends and I have boyfriends." (She doesn't have a boyfriend now, but she says, "I would love a boyfriend.")

Regrets: "I would have fought for Andrew and I to be together after we got married and he went to sea [with the Royal Navy] and I saw him 40 days a year for the first five years of our marriage. I would have never let anyone come between us. Actually, one of the people [at Buckingham Palace], who shall remain nameless, said, 'Oh, for heaven's sake, you're just a naval wife. Put up with it. Everyone else has to.' I would say, 'No, I'm going to be with him.' I really was in love. We both were madly in love. I remember walking up the aisle," she says of their July 1986 wedding, "and how he turned round and looked at me in his naval uniform."

On her OWN show, Finding Sarah: Ferguson describes it as "a woman's search for really, truly knowing herself and how you find self-worth." Over six episodes, Ferguson asks self-improvement gurus like Dr. Phil, Suze Orman, and life coach Martha Beck to help her "get sorted." "Dr. Phil told me, 'You're an addict, Sarah,'" she says. "I looked at him, thinking, Rats, what kind of addiction do I have? And he said to approval and acceptance, and I went, Yay! It's fantastic, because you've now labeled my problem and I can deal with it. And Suze Orman," she adds, "she said you don't have a money problem; what you have is an addiction to giving out so much. I felt I had to buy a lot of presents because I never thought I was worthy. I think my financial problems have come from desperately trying to please, from my addiction to approval and to thinking that I'm not worthy, so I have to buy people's love. What I didn't have until Oprah came into my life," she adds, "and [the reason] I am so grateful to her, was the toolbox to know how to handle the twists in the road."

She won't sell out the royal family anymore: "It won't happen again," she says, "because I'm awake now. I'm aware of my behavior…. I was raised by the housekeeper… I'm very lucky, though. I have a very lucky life. I'm able to travel. I have great friends who have been very generous. I've got a wonderful family. Andrew and the girls are really the most extraordinary people you'll ever meet. So the fairy tale does go on," she says with a faint smile. "It's just that my fairy tale has a slightly different ending."
[From Harper's Bazaar]
So, basically, Finding Sarah is about people sitting around and telling Fergie that her biggest problem in life is that she simply GIVES TOO MUCH. That she LOVES TOO MUCH. That she's simply too generous. You know what this reminds me of? Heather Mills!! Aren't Fergie and Heather strikingly similar? They want to be seen as these incredible humanitarians whose biggest faults are simply their enormous hearts, when in reality, both share the same delusions of grandeur, the same hyper-narcissism, the same cracked-out hustle to get MORE, more money, more attention, more sympathy, more, more, more.
Here are some additional photos from Fergie's Bazaar shoot, plus some photos of her at last night's Amfar gala in Cannes.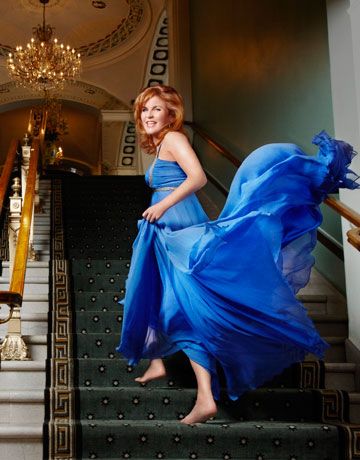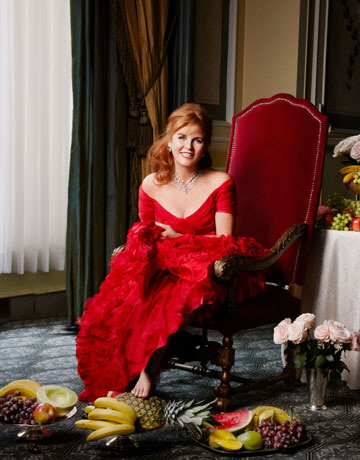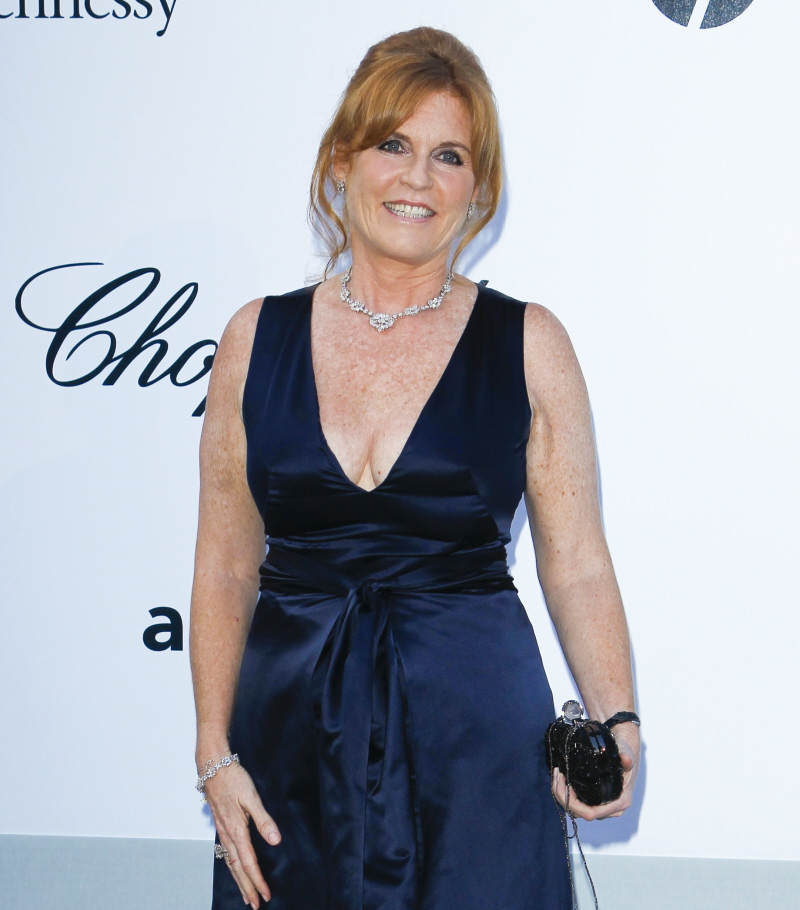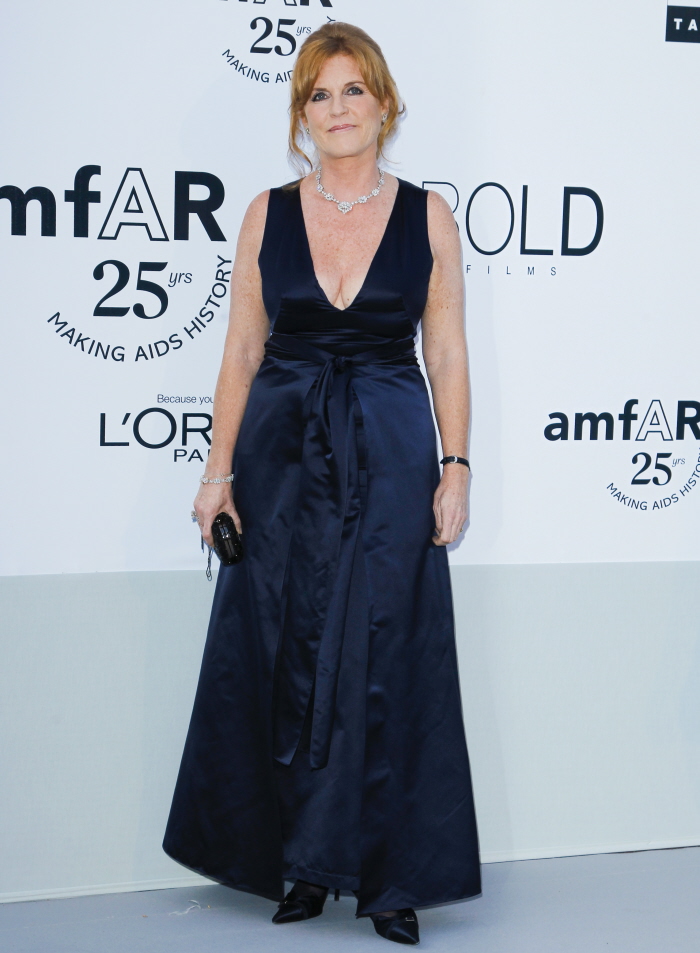 Photos courtesy of Harper's Bazaar and Fame.