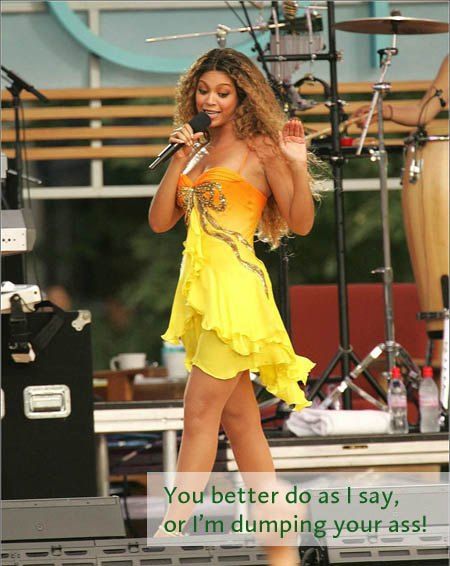 Beyonce is said to have told her fiance, Def Jam head Jay-Z, to quit his job! She's reportedly jealous of Jay-Z's very close working relationship with her rival, singer Rihanna. He helped make Rihanna a star, but Beyonce is fuming and wants him to step down as CEO:
Rumors of a romance between Jay Z and Rihanna have plagued Beyonce for months. Apparently the same rumors aren't affecting the Def Jam CEO and his protégé – who continue to have a close working relationship. But it now appears that Beyonce has had enough. MediaTakeOut.com learned that Beyonce has given Jay Z an ultimatum – to quit his job as head of Def Jam or find a new girlfriend.
MediaTakeOut.com spoke with a Def Jam executive who claims that Beyonce is pressuring Jay Z to step down as CEO. The source tells us, "Beyonce believes that the Rihanna rumors are affecting her public image and that the only way she can stop them is to get [Rihanna] away from her man." The source went on to explain, "[Jay Z] doesn't know what to do – he loves Beyonce, but he loves what he's doing at Def Jam too."
And Beyonce's stunning ultimatum couldn't be worse news for the record label. Before Jay Z took the reigns as head of Def Jam, the company was in serious financial trouble. Since the arrival of President Carter less than two years ago, however, Def Jam has become one of the most successful record labels – producing 6 platinum and 4 gold albums. The hip-hop CEO also refreshed Def Jam's roster by adding some of the hottest artists in urban music, including Ne-Yo, Rick Ross, Young Jeezy, Juelz Santana, Nas, and of course Rihanna.
But according to our Def Jam insider, the biggest loser in all of this may be Rihanna. The source explained, "Jay Z has really been pushing her career, and so far it's working … who knows if the next CEO would give her the same amount of attention."
MediaTakeOut has a good record with getting exclusives, so this could be true. I don't agree that Rihanna is the one who is going to lose, though. This is going to backfire on Beyonce. You never mess with a guy's job. Jay-Z didn't get where he is today by listening to bullshit from women telling him what to do. Beyonce is going to get called on this, and it's not going to be pretty.
Beyonce is reportedly planning a huge wedding with Jay-Z that will take place this fall on the Island of Anguilla.
I bet Jay-Z is going to tell her to mind her own business and not to mess with his career. If he doesn't take a stand now and actually does marry her, she's going to try to run his life.
Pictures from BeyonceWorld.net of Beyonce performing on the Ellen DeGeneres show's 5th anniversary premiere in New York. Look at ger whip that hair around. The episode airs on September 5th, which is Beyonce's birthday and the day her album, "B'Day" is out. That would explain the cake.