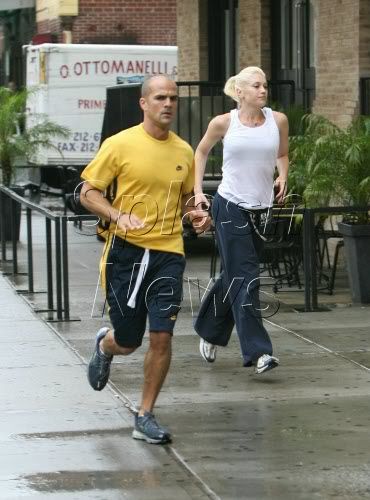 The MTV Video Music Awards are tomorrow, but new mommy Gwen Stefani won't be there. She's said to be pissed at her poor treatment at last year's show, when Kelly Clarkson scooped up all the awards and the camera kept panning in on Stefani's dissapointed face. Instead of sucking it up and showing up for her career, she's just staying home:
GWEN Stefani has had it with the MTV Video Music Awards. The "No Doubt" cutie is said to be "boycotting" tomorrow's show because of the shoddy treatment she got last year. "She had a ton of nominations and was under the impression she would be taking home at least one award," our insider said. "But every award, except that lame best-dressed award, went to Kelly Clarkson, and every time Kelly won, the camera went straight to Gwen. She felt set up." Stefani also thought she was going to close the show – another honor that went to Clarkson. Stefani's rep declined comment.
Aw, poor Gwen. It must suck to be a best selling recording artist charging exhorbitant amounts for clothing designs ripped off from hipper cultures and manufactured by sweatshop labor. If you can't get a little award once in a while, why bother showing up?
Here's Gwen taking a jog in NY with a trainer yesterday.
Images removed by request.
Update: Images restored, courtesy of Splash News Online.