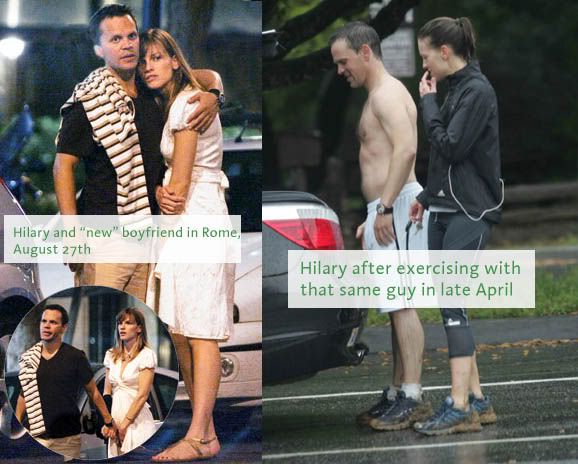 Back in late April we reported that Hilary Swank was seen out jogging with a new guy, and that he may have been a friend or trainer. She had filed for divorce from Chad at that point, but they made a couple of public appearances and people speculated that they were trying to rekindle their relationship. It didn't mean much that she was exercising with someone else, although she did help the guy change into a new shirt and they looked pretty happy together.
Hilary told Vanity Fair in July that Chad was an addict and that's what caused the rift in their relationship. (A commentor speculated that Chad Lowe is gay and helped Hilary get her start in showbiz after she became his beard. Another guy from a different IP address or maybe the same guy using a different computer or whatever claimed that Chad tried to pick him up at the gym. I don't know if it's true, I just report it.)
It turns out that guy she was exercising with was her Creative Artists Agent, and that he's married with a little kid. (cough *scumbag* cough) They're now together and were spotted in Rome getting all kissy-face:
After Hilary Swank's camp insisted she was "not romantically involved" with her separated Creative Artists Agency agent, John Campisi, 39, the pair proved their relationship is about way more than work by smooching on the street in Italy.
The two have recently engaged in other nonwork-related activities, including dining àdeux in Santa Monica, California, as well as sharing hiking trips, a swimming excursion and even a Beverly Hills shopping day.
But in Rome on August 27, after a few days of R&R in Lake Como, the couple's budding relationship was on full display. During their hand-in-hand stroll to dinner at Checco Il Carretiere, a witness tells Us, "she grabbed his head in her hands, pulled him close and kissed him sweetly." At another point, he wrapped his arms around her and cradled her.
Yet back home, reality may not be so rosy as the actress, 32 (who divorced hubby of eight years Chad Lowe, 38, in May), deals with what a source tells Us is her beau's recent split from wife Kirsten Campisi, 37 (the couple have a toddler together). As of August 25, John had not yet filed for divorce, but a source close to him says, "He wants to be with Hilary."
Good for Hilary for finding love again after maybe being the beard to a skinny gay guy for so long, but a married guy with a little kid? That's just wrong.
Here are pictures of Hilary and hew "new" boyfriend, John Campisi, exercising in late April. Maybe that's all it was at the time. Probably not.